Champions crowned at US Youth Soccer Midwest Presidents Cup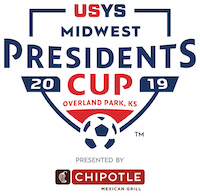 Schedules, Scores and Standings
Facebook | Twitter | Instagram | #USYSPCUP
OVERLAND PARK, Kan. – The 2019 US Youth Soccer Midwest Presidents Cup came to a finish on Monday in Overland Park, Kan.
The five-day event, which kicked off June 14, crowned 14 champions, 12 of which also secured berths in the 2019 US Youth Soccer National Presidents Cup presented by Chipotle, which will be played from July 10-14 at the Richard Siegel Soccer Complex in Murfreesboro, Tenn.
Illinois led the way with five Midwest Presidents Cup titles. They are followed by Minnesota with three, Indiana and South Dakota each with two champions and Missouri and North Dakota with one champion.
| | | |
| --- | --- | --- |
| Division | Champion | State |
| 13U Boys | SASA Spirits 20006 Blue 1 | IL |
| 13U Girls | Sporting Stl Academy-Bryant | MO |
| 14U Boys | LG Celtics First XI 05 (IL) | IL |
| 14U Girls | DASC 05 | SD |
| 15U Boys | Chicago Rush Select | IL |
| 15U Girls | Sporting Iowa 2004 Academy | IA |
| 16U Boys | Westside United FC 2003 | IN |
| 16U Girls | Three Rivers Rampage | MN |
| 17U Boys | ZYSA 02 Green | IN |
| 17U Girls | Chicago Fire Juniors West Red | IL |
| 18U Boys | Keliix Intra | MN |
| 18U Girls | Keliix-Intra Premier | MN |
| 19U Boys | TC Storm 00/01 | ND |
| 19U Girls | FC Lake County | IL |
Winning the age division means not only being crowned with a Midwest Regional title, but the 13U-18U teams have also earned a berth in the National Presidents Cup.
Championship Round Recaps:
13U Boys
After a close call in the semifinals, SASA Spirits 2006 Blue 1 (IL) got back to its dominant way, earning a, 3-0, shutout victory over Group B runner-ups DASC 2006 Boys (SD). Three different goal scorers helped guide SASA to victory starting with an early seventh minute goal from Vincent Pratt. Teammate Grant Selke scored what was his fifth of the tournament just three minute later before Jake Kepler rounded out the first half barrage of goals in the 25th minute. Neither team could find the back of the net in the second half and SASA now advances to participate at National Presidents Cup to represent the Midwest Region.
13U Girls
Despite conceding its first goal of the event, Sporting Stl Academy-Bryant (MO) defeated Indy Premier 06 Elite II (IN), 3-1, to claim the 13U Girls title. Sporting went ahead and never looked back as Lana Adams scored her 13U Girls leading fourth goal of the event. Addie Henderson and Grayson Wheeler added goals four minutes apart before Isabella Garcia was able to score what would be a consolation goal for Indy Premier. Sporting's defense held off any attempt of a comeback and the Missouri team claims the 13U girls title.
14U Boys 
After losing a close game to DASC 05 (SD) in group play, LG Celtics First XI 05 (IL) played hard to earn a 4-2 victory and some redemption in the 14U Boys final. DASC looked like it might run away with the final as it scored in the opening minute of play with a Bryon Ochoa goal. Bryson Prichett then increase the advantage as DASC took a 2-0 lead into halftime. LG Celtics battled back in the second half, locking down defensively and getting two goals just two minutes apart from Collin Sullivan and John Carr. As the game advanced to overtime, Carr completed his hat-trick, scoring twice to power Celtics through to victory. The three goals launched Carr to the top of the goal scoring chart with six goals during the event.
14U Girls
DASC 05 (SD) went a perfect five-for-five on its way to the 14U Girls Midwest Presidents Cup title. To win, DASC had to earn a close 2-1 victory over Group A runners-up FC America (IA) who proved they deserved a spot in the final. DASC could not stop age group leading goal scorer Morgan Russmann early as she notched her seventh goal to give FC America a 1-0 lead. Hailee Christensen answered just seven minutes later to level the score and it only took Christensen seven additional minutes to give her team a 2-1 lead headed into halftime. The two goals leave Christensen right behind Russmann in the scoring chart, with five goals during the event. DASC locked down its defense in the second half and held the 2-1 lead to earn the 14U Girls Midwest Presidents Cup title.
15U Boys
In the rematch of group play, Chicago Rush Select (IL) got a redemption win along with its 15U Boys Midwest Presidents Cup title with a tight 1-0 victory over Carl Rose Soccer Academy 04 United (MO). Chicago made its way to the semifinals after a tight kicks from the mark victory and grinded out another win. A goal in the fourth minute from Jack Walsh, his third of the event, gave Chicago an early 1-0 lead. Rush held on defensively to earn the clean sheet making Walsh's lone goal enough to give it the victory.
15U Girls
Sporting Iowa 2004 Girls Academy 1 (IA) used a quick flurry of goals early in the second half to guide it to a, 2-0, victory over KC Legends Academy (KS). After a scoreless first half, Anna Van Wyngarden notched a 15U Girls leading fourth goal of the event to put her team up 1-0. Within the next minute, Brissa Parra doubled Sporting's advantage. The two goals doubled what KC Legends had let in so far during the event and the defense did the rest to lock down the KC Legends attack to earn the 2-0 clean sheet victory.
16U Boys
Westside United FC 2003 Elite (IN) defeated Des Moines Menace Academy (IA), 2-1, in a tight 16U Boys final. Menace took the lead in the 12th minute behind a Eyifehn Forfor goal but Westside equalized a few minutes later in the 20th minute to send the teams into halftime at 1-1. Westside took the lead in the 54th minute on a Menace own goal and then held through the final whistle to claim the 16U Boys title. The win also left Westside a perfect 5-for-5 at the end of the event as it looks to carry that momentum to National Presidents Cup.
16U Girls
Three Rivers Rampage (MN) defeated Kansas Rush Academy 03 (KS), 3-1, to claim the 16U Girls Midwest Presidents Cup title. Ava Johnson scored her fourth goal of the event to give Rampage a 1-0 lead in the 26th minute as she muscled by a defender to finish close range against the keeper. Kansas tied the scoreline before halftime thanks to an Ainsley Gaughanfinish. In the second half, Cedar Jorgenson scored early to regain the lead for Rampage before teammate Taylor Donnay made it 3-1 midway through the second half. Rush almost pulled one back on a breakaway but the final shot was saved by an onrushing Kadyn Dilger and then follow up was cleared by the defense. Rampage held for the 3-1 final and now head to the National Presidents Cup.
17U Boys
It took overtime to separate ZYSA 02 Green (IN) and Elmbrook United Premier (WI) in the 17U Boys final but ZYSA ended as victors with two overtime goals. ZYSA took the lead in the first half on a Gavin Kiger goal and looked prime to pull off the victory late into the second half. Elmbrook had a different ending in mind as Drew Peterson scored the equalizer late into the second half. In overtime, ZYSA pulled away with goals from Lorenzo Martinez and Alexander Backhaus to secure the victory and it's spot at National Presidents Cup.
17U Girls
Chicago Fire Juniors West 2002 Red (IL) won, 2-0, against AFA Fillies Baez 02 (MO) to earn the 17U Girls Midwest Presidents Cup title. AFA, who had advanced as the wildcard from Group C looked to make the most of its time in the knock out rounds but went down 1-0 late in the second half after a Fire goal from Jessica Gruben. Gruben was not done scoring, and added a second half goal to seal the 2-0 victory. At the end of the event, Chicago fire has compiled 20 goals for and just two against and will look to continue that stretch as it moves onto National Presidents Cup.
18U Boys
After a multi-goal showing in yesterday's game, MidState Soccer Club (IL) got locked down as Keliix Intra (MN) leveraged a lone first half goal into a 1-0 victory. Ramzi Ouro-Akondo got on the end of a ball floating toward the MidState 18-yard box midway through the first half to break the deadlock. With the keeper rushing to get to the ball, Ouro-Akondo flicked a header up and over the keeper to make it 1-0 for the Minnesota side. MidState couldn't muster the right touches in the final third to break the deadlock through the final whistle and Keliix earns the 18U title and a spot at National Presidents Cup.
18U Girls
Keliix-Intra Premier (MN) will join the club's 18U Boys team at National Presidents Cup after a close, 1-0, overtime victory against Strikers Fox Valley 01 Premier (IL). Keliix showed it knew how to win a close overtime game in yesterday's semifinal and once again used that composure to earn another tight victory. After a scoreless regulation period of play, Avery Junker scored what would be the winning goal in the 98th minute of play. The Keliix defense held strong through the final whistle to earn the 18U girls title.
19U Boys
After a, 1-1, tie in group play between TC Storm 00/01 (ND) and Missouri Rush 2000 United Ferguson (MO) got a chance for a rematch in the 19U Boys final. Storm's Casey Haldis scored the lone first half goal and then was matched by Rush's Caleb Soots in the 65th minute to level the score. The match headed into overtime and Daniel Collins played the hero keeping the match going to kicks from the mark as he notched a goal in the 110th minute to help claim the 19U Boys Midwest Presidents Cup title for TC Storm.
For complete event results for the 2019 Midwest Presidents Cup, click here. For more information on all US Youth Soccer Regional and National Presidents Cup events, visit the US Youth Soccer Presidents Cup Homepage at www.usyouthsoccer.org/presidents-cup.
Note:  The US Youth Soccer Presidents Cup is a separate series of events from the US Youth Soccer National Championship Series.