Semifinals set at 2019 US Youth Soccer Eastern Presidents Cup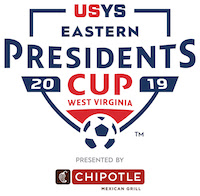 Schedule, Standings and Scores
Twitter | Facebook | Instagram | #USYSPCUP
WEST VIRGINIA — After three days of group play, semifinal matches are set at the 2019 US Youth Soccer Eastern Presidents Cup in West Virginia.
The five-day event, which takes place June 14-18, kicked off Friday with 12U through 18U Boys and Girls teams starting the action at the Shawnee Sports Complex and Barboursville Soccer Complex.
The event features more than 100 US Youth Soccer boys and girls teams competing for a regional title and a chance to advance to the 2019 US Youth Soccer National Presidents Cup, July 10-14 in Murfreesboro, Tenn.
Preliminary games concluded today and semifinal matches will take place on Monday, June 17. Regional champions will be crowned following final matches on Tuesday, June 18. The semifinal and final matches will be played at the Shawnee Sports Complex.
West Virginia Youth Soccer Association is hosting the event, and the 14 other East Region State Associations include Connecticut, Delaware, Maine, Maryland, Massachusetts, New Hampshire, New Jersey, Eastern New York, New York West, Eastern Pennsylvania, Pennsylvania West, Rhode Island, Vermont, and Virginia.
STA 2005 NPL (NJ) is advancing to the semifinals for the 14U Girls after facing tightly contested group play that featured all four teams with a 1-1-0 record on the third day. This team had to face adversity and bring the intensity in order to move on.
"It is going to take the same mentality, intensity, and mindset to advance to the finals. We fought back yesterday to give ourselves a chance to compete today," said head coach Tim Verschuren. "We went down 1-0 early and the girls showed resilience and how to deal with adversity. That is what we will need to be successful tomorrow and advance to the final match."
Highlights from Sunday:
12U Girls
With one spot up for grabs in Group A, Pipeline SC Black (MD) secured a semifinal spot after defeating GPS NJ South 07 Girls (NJ), 2-0. Pipeline took the lead just six minutes after the first whistle with a score from Iranie Jean-Cluade off a free kick assist by Ellis Reynolds. It was a back and forth game in the first half, but Pipeline was able to take the 1-0 lead to halftime. Jean-Cluade scored her second goal of the game in the 43rd minute after converting a penalty kick. Pipeline was able to hold on to the lead to secure a spot in the semifinals against Premier Soccer Club 12U Girls Gold in a Maryland matchup.
13U Girls
SAC Premier White (MD) and Epic 06 United (WV) went into today's match fighting for the last spot in the semifinals from Group A. SAC's 3-1 victory secured them their spot. Only 10 minutes into action, Isabella Farro scored to give SAC the lead. Jenna Valtrin scored with a chip shot over the goalie just four minutes later to extend the lead to two. Mollie Rebuck brought Epic within one in the 18th minute as SAC took the one goal lead to half. An insurance goal for SAC came in the 56thminute when Valtrin netted her second score of the day.  SAC will take on Penn Fusion Lehigh Valley 06 Girls (PA-E).
14U Girls
Following hard fought group play that went down to the final whistle of preliminary play, STA 2005 NPL (NJ) is advancing to the 14U Girls semifinals after posting a 2-1 win over Chester Springs United (PA-E). The first two goals came quick when Bailey Horvath found the back of the net off a through ball in just the second minute, giving Chester Springs the lead. Four minutes later, Sara Lehman scored the equalizer for STA off a free kick assist from Taylor Gollin. With 10 minutes left in the first half, STA took a one goal lead to halftime with the help of Gollin. Chester Springs had a chance to take the lead early in the second half off a free kick, but STA made the save. Midway through the second half a STA shot hit off the right post to give them an insurance goal. STA will face Hulmeville Heat (PA-E) in the semifinals.
15U Boys
In thrilling fashion, the VE Gunners (PA-E) advance to the 15U Boys semifinals after finishing with a 1-1 draw against SAC United Blue (MD). It was a physical battle from the start with Kelvin Arias putting SAC ahead in the eighth minute. SAC took that lead to halftime and held it for the entire game. With seconds left, Hagan Meyer played spoiler scoring the tap in equalizer in the 80th minute and lifting VE into the semifinals with the draw. VE is set to square off against Arlington SA (VA) in the semifinals.
+READ: US Youth Soccer Eastern Presidents Cup 2019 – Day 1 Recap
16U Girls
Keystone FC Elite 2003G (PA-E) is moving on to the 16U Girls semifinals after a 2-1 win over Beach FC 03G Black (VA). The two teams entered the final day of preliminary play with a 1-1-0 record and all eyes set on the final semifinal spot out of Group A. The game went scoreless for much of the first half until Sejla Podzic scored to give Keystone the lead with six minutes left in the half. In the 65th minute, Jhanae Colston scored the equalizer for Beach. Four minutes later Peyton Lubinsky scored the game winning and semifinal clinching goal for Keystone who will face Hulmeville SC Hot Shots (PA-E) in the semifinals.
17U Boys
After a three-way tie in Group A, Arlington White (VA) and Baltimore Celtic West (MD) are advancing to the 17U Boys semifinals. The two teams tied with Lionsville SC Jaguars (PA-E) with each team posting a 2-1-0 record in group play. Arlington and Baltimore advanced on goal differential. Arlington won, 3-0, against Lionsville on day three with goals from Leonardo Ochoa (27th minute), Yonathan Belihu (49th minute), and Sean McLellan (59th minute). Baltimore's, 7-0, win came against PFC Select (PA-W) that included a hat trick from Noah Roche (35th, 47th, and 78th minute). Baltimore plays Spartans 02 (NJ) and Arlington plays Century V Red 02 Boys (PA-W).
18U Boys
DC Stoddert Blue Metros (MD) and PWSI 01 Red Boys (VA) are advancing to the 18U Boys following a three-way tie in Group B with Lebanon Valley SC Warriors (PA-E). All three teams posted a 2-1-0 record in preliminary play with DC and PWSI advancing on goal differential. DC and PWSI squared off on the final day of group play with PWSI winning, 1-0. The lone goal of the game came from Christopher Benitez in the 56th minute. PWSI will face Deptford Premier Dtnamo (NJ) in the semifinals, while DC will face FPYC Eagles Blue (VA).
For complete event results for the East Presidents Cup, click here. For more information on all US Youth Soccer Regional and National Presidents Cup events, visit the US Youth Soccer Presidents Cup Homepage at www.usyouthsoccer.org/presidents-cup.
Note:  The US Youth Soccer Presidents Cup is a separate series of events from the US Youth Soccer National Championship Series.