Finals matchups set at US Youth Soccer Eastern Presidents Cup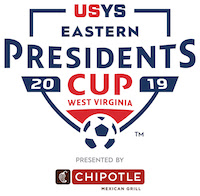 Schedule, Standings and Scores
Twitter | Facebook | Instagram | #USYSPCUP
WEST VIRGINIA — After an exciting day of semifinal matches, final matchups are set at the 2019 US Youth Soccer Eastern Presidents Cup in West Virginia.
The five-day event, which takes place June 14-18, kicked off Friday with 12U through 18U Boys and Girls teams starting the action at the Shawnee Sports Complex and Barboursville Soccer Complex.
The event features more than 100 US Youth Soccer boys and girls teams competing for a regional title and a chance to advance to the 2019 US Youth Soccer National Presidents Cup, July 10-14 in Murfreesboro, Tenn.
Preliminary games concluded today and semifinal matches will take place on Monday, June 17. Regional champions will be crowned following final matches on Tuesday, June 18. The semifinal and final matches will be played at the Shawnee Sports Complex.
West Virginia Youth Soccer Association is hosting the event, and the 14 other East Region State Associations include Connecticut, Delaware, Maine, Maryland, Massachusetts, New Hampshire, New Jersey, Eastern New York, New York West, Eastern Pennsylvania, Pennsylvania West, Rhode Island, Vermont, and Virginia.
Highlights from Monday:
12U Girls
Empire FC (WV) posted a one goal shutout in the semifinals against Winchester United 07G Orange (VA). The game winning goal came late from Leah Paugh to push them into the finals. Premier Soccer Club 12U Girls Gold (MD) secured a finals berth with a 3-1 victory over Pipeline SC Black (MD). The three goals came from three different players — Alexandra Wilson, Allison Mace and Nia Hudson.
12U Boys
Keagan Penny scored twice for Southern Chester County Dragons (PA-E) in overtime against Penn FC Youth 2007 M Black (PA-E) to lead Southern Chester to the finals. Burke Athletic Club United (VA) won in a close, 2-1, game over Ironbound Alliance (NJ) to advance to the next round. Jett Ehlert scored early to give them the lead, while Aaron Meyn scored the late game winner.
13U Girls
In two close semifinal matches, SAC Premier White (MD) and Century V West (PA-W) are facing off in the finals. SAC's Kamryn Beimel netted the equalizer and the winning goal came from Morgan Stein against Penn Fusion Lehigh Valley 06 Girls (PA-E). In a Pennsylvania West matchup, Century shutout Beadling East White, 2-0 with both goals coming off the foot of Kamela Ward who leads the 12U Girls with eight goals. Century won, 5-3, in preliminary play against SAC with Ward posting a hat trick. Bella Gold and Gabriella Finch each scored for Century. SAC's goals came from Ada Morris, Mamie Curran and Julia Purdue.
13U Boys
After scoreless play in regulation and overtime, Victory Express 2006 Thunder (PA-W) advances to the final after winning in kicks from the mark over CFC Dortmund (PA-E). They will face Pipeline SC 2006 Boys Black (MD) who posted a semifinal match score of 4-0 against FC Bucks Red Knights (PA-E). Two of the four goals came from Conor Moran, while Nathan Toland and Thomas Nock each scored once.
14U Girls
After each team posted shutouts in the semifinals, STA 2005 (NJ) and Century V East 05G (PA-W). STA scored the lone goal in their semifinal match against Hulmeville Heat (PA-E) off the foot of Julianne Cifrodella. Century scored twice with against HotSpurs West (PA-W) with goals from Kemyll Walker and Lily Grace Goodworth. In preliminary play, Century beat STA, 3-1, with two goals from Daniella Garner and a goal from Ella Shorkey. Cifrodella scored found the back of the net for STA.
14U Boys
Shutouts from Ukrainian Nationals Boys 05 Red (PA-E) and Premier Soccer Club Navy 05 Boys (MD) push both teams to the final match. Ukrainian scored three goals against Loudoun 05B Black (VA). Riley Martin found the back of the net twice while Nolan Helsel netted the third. Martin leads the 14U Boys with five goals. Eli Carpenter and Jacob Goff each scored once for Premier against GPSNJ Clearview (NJ).
15U Girls
Wethersfield Breakers (CT) bested Victory Express (PA-W) 2-1 in the semifinals. Alanah Townsend and Kathleen Brush both scored for Wethersfield. Valley SC Voodoo (PA-E) recorded five goals and a shutout over Arlington 2004G White (VA) behind goals from five different players. Karly Sheahan, Jada Sokel, Sarah Fisher, Kyra Lesko and Erin Edwards each scored for Valley. Fisher netted her 15U Girls leading third goal of the tournament. Valley and Wethersfield will face each other in the 15U Girls final. Valley scored twice in a 2-1 win over Wethersfield in group play. Fisher scored twice in that match while Brush scored the lone goal for Wethersfield.
15U Boys
VE Gunners (PA-E) are making a 15U Boys final appearance following a thrilling semifinal match against Arlington SA (VA). The two teams each scored twice in regulation to send the team to overtime. Neither team was able to find the back of the net in extra time as VE won in kicks from the mark. VE will take on SAC United Blue (MD) who shutout Washington United Fury 04 Elite (NJ) and posted three goals. Kelvin Arias scored twice, earning his 15U Boys leading sixth goal, and Wesley Nieto netted the third. VE and SAC ended with a 1-1 draw on the last day of preliminary play.
16U Girls
Following a shutout performance in the semifinals, the 16U Girls final will be Keystone FC Elite 2003G against Rancocas Valley United Premier (NJ). Keystone posted a c5-0 shutout over Hulmeville SC Hot Shots (PA-E) that featured a hat trick from Lindsey Swagner and a goal from Sejla Podzic for her 16U Girls leading fourth goal. The lone goal in Rancocas matchup against Centre Union (PA-W) came by way of Logan Shaw. Rancocas won the preliminary game meeting between them and Keystone, 1-0, off a goal from Olivia Falicki.
16U Boys
TAFC 03 BATA (VA) and Alliance Premier (MD) will face off in the 16U Boys final. TAFC won in a 4-0 shutout against GPSNJ Clearview (NJ) that included two goals from Joshua Espinoza-Veliz who tied for first in the age group with five goals. Leo Quintanillo socred twice in Alliance's 5-1 victory over FC Ballyhoo Black (PA-E).
17U Girls
The 17U Girls final features Rage United SC Xtreme (PA-E) and Twin County SA Storm (NJ) after each team only conceded one goal in their semifinal match. Rage posted four goals in their win over Beach FC 02G Black (VA) with each goal coming from a different player. Twin County won 2-1 over Victory Express (PA-W) with goals from Allison Bentleyand Heather Van Deventer. Rage topped Twin County in group play with the lone goal coming from Emerson Coyne.
17U Boys
Two semifinals that were the tale of two tapes for the 17U Boys, Arlington White (VA) and Spartans 02 (NJ) will meet in the final match. Arlington recorded a 6-1 win against Century V Red 02 Boys (PA-W). Kenrik Charles Rivera, Gibson Lusk and Dorin Kickbush all scored twice to lead Arlington. In a physical battle that came down to the wire, Spartans pulled off the feat in kicks from the mark against Baltimore Celtic West (MD). The teams went to overtime scoreless when the Spartans took the lead with a Kodie Sarkodie goal in the 92nd minute. Baltimore tied the game on a goal from Thomas Funka in the 118th minute to send the game to kicks from the mark.
18U Girls
After both teams posted five goals in the semifinals, Century V Red (PA-W) will square off against CSA-Monmouth 2001 G EDP Showcase (NJ) in the 18U Girls final. CSA won, 5-2, against MUFC 2001 Elite (MD) that included a hat trick from Kathleyn Bertoldo. Century had four different players score en route to a 5-1 win over Victory Express (PA-W). CSA bested Century, 4-0, in preliminary play behind a two-goal performance from Renee Ochoa.
18U Boys
PWSI 01 Red Boys (VA) and DC Stoddert Blue Metros (MD) will meet for the second time this week in the 18U Boys final. PWSI advance after a 3-2 victory over Deptford Premier Dynamo behind two goals from Alan Hernandez. DC is moving on after earning a 2-1 win over FPYC Eagles Blue (VA). Hayden Shepperd and Liam Thompson each found the back of the net to give DC the win. PWSI shutout DC, 1-0, in group play with a goal from Christopher Benitez.
For complete event results for the East Presidents Cup, click here. For more information on all US Youth Soccer Regional and National Presidents Cup events, visit the US Youth Soccer Presidents Cup Homepage at www.usyouthsoccer.org/presidents-cup.
Note:  The US Youth Soccer Presidents Cup is a separate series of events from the US Youth Soccer National Championship Series.