Capital Fall Classic: PA Classics Premier 95 run the table despite scant prep time
By Charles Boehm
RICHMOND, VA. — Joe Longenecker barely had enough time to learn all the names on his new Under-17 boys team before taking them to their first tournament of the season.
It didn't matter.
Despite having just a few training sessions under their belts, Longenecker's PA Classics Premier 95 (Penn.) squad rolled to a championship in the Mens U-18 High School Classic division at the Capital Fall Classic in Richmond, Va. over the weekend.
A dominant performance over Virginia side Mechanicsville United FC Sabers in their opening match was not reflected in the scoreline, as a litany of scoring chances went unfinished before Ben Jennings finally broke through off a second-half corner kick. That had much to do with the Sabers' last-ditch defending, though Longenecker also noted that field space constraints may play a role as well.
"In the winter, we have one and a half turf fields," he said. "So we train in about 35 by 35 spaces at this time of year. We don't get a lot of shooting in when we're training in a 35 by 35 space! But they did very well."
Pressuring high up the field and using the wings effectively, Premier 95 went on to win all four of their matches, scoring 13 goals and allowing three in victories over Mechanicsville United, VISTA Vapors, Chesterfield United FC 95B and Culpeper Comets.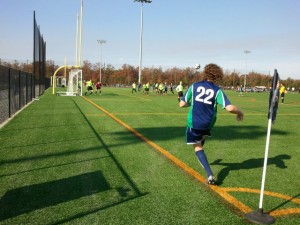 "Our high school season just ended in Pennsylvania, so we've only had one week's worth of practice, basically," explained Longenecker to Soccer Wire. "Some of these guys haven't even practiced together as a team yet. So it's a way of getting us some games early on where the weather's hopefully going to be nice – which it is. It gets us out of cold Pennsylvania: we trained on Wednesday, it snowed. This is much, much nicer."
To be fair, even Richmond locals were amazed by the River City's weekend weather, with sunshine and unseasonably warm temperatures climbing as high as 70 degrees. PA Classics will likely experience frostier climates as they work their way through a busy schedule of winter tournaments.
"[Capital Fall Classic] is a great opening-season event for us to get our legs underneath us, especially with the U-17 team, before we start playing some college showcases," said Longenecker.
"I haven't coached these guys before I started with them a week ago. There's a lot we need to work on, but we're getting there."