Division I Men's Soccer NCAA bracket reveals several surprises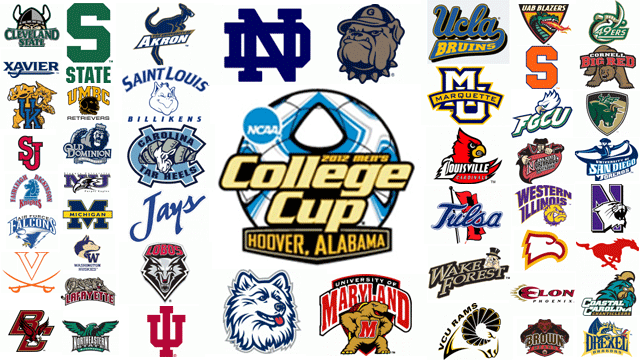 INDIANAPOLIS— The field and bracket for the 2012 NCAA Division I Men's Soccer Championship was announced Monday by the NCAA Division I Men's Soccer Committee, which awarded the tournament's No. 1 seed to Notre Dame. The Fighting Irish enter the tournament with a record of 16-3-1 and are in search of their first national championship in school history.
[ + View selection show video on ncaa.com ]
The Big East Conference placed seven other teams in the field, including third-seeded Georgetown (17-3-1), No. 4 Connecticut (15-3-1), seventh-seeded Marquette (16-3-1) and No. 10 Louisville (12-5-1). Marquette is making its second tournament appearance, with the first one coming in 1997. Other at-large selections from the league were South Florida (8-5-4), St. John's (10-4-4) and Syracuse (12-6), which is in for the first time since making its tournament debut in 1984.
Three Atlantic Coast Conference teams are among the top-16 seeds, with No. 2 Maryland (17-1-2) leading the way. Defending national champion North Carolina (15-3-2) earned the No. 9 seed, while Wake Forest (11-3-5) is seeded 15th. At-large selections Boston College (8-5-5) and Virginia (9-6-4) gave the ACC five teams in the tournament.
Three leagues placed four teams into the field, including the Atlantic 10 Conference. No. 8 Saint Louis (16-4-0) and No. 14 VCU (12-3-5) join Charlotte, which advanced to the national championship game last year and got an at-large bid on the strength of a 14-3-3 record; and Xavier, which enters the tournament with a 13-2-5 mark and earned an at-large bid as well. No. 11 Tulsa (13-5-1) leads the quartet of Conference USA teams in the field, joining UAB (10-7-2), Kentucky (10-8-2) and SMU (10-5-4). No. 16 Indiana (11-5-3), Northwestern (11-5-4), Michigan State (11-9-1) and Michigan (10-9-1) will represent the Big Ten Conference in the tournament.
The Colonial Athletic Association placed three teams into the field, including tournament champion Northeastern (13-2-4), which earned its way into the field for the second time in school history after earning its first bid 10 years ago. Other CAA teams chosen were Old Dominion (11-3-2) and Drexel (12-3-3), which is making its third appearance and first since 1972. Twenty-two conferences were awarded automatic bids for the 2012 tournament. The remaining 26 teams were selected as at-large participants.
Other top teams include fifth-seeded Akron, which enters the tournament with a record of 17-1-2; No. 6 UCLA, which is in the field for the 30th consecutive year won the Pac-12 Conference with a 13-2-3 record; No. 12 Creighton, who finished 15-3-2 while capturing the Missouri Valley Conference title; and No. 13 New Mexico, champions of the Mountain Pacific Sports Federation with a record of 16-3-1. The 16 seeded teams receive a first-round bye.
The only team making its tournament debut is Metro Atlantic Athletic Conference champion Niagara, which enters the tournament with a record of 13-1-4. The Purple Eagles are one of 48 tournament teams hoping to advance to the NCAA Men's College Cup, which will be played for the second consecutive year at Regions Field in Hoover, Ala., Dec. 7 and 9. UAB and the Alabama Sports Foundation will again serve as hosts.
All first-round games will be played Thursday, Nov. 15, while all second-round action will take place Sunday, Nov. 18.