BVB International Academy announces School of Excellence National Pools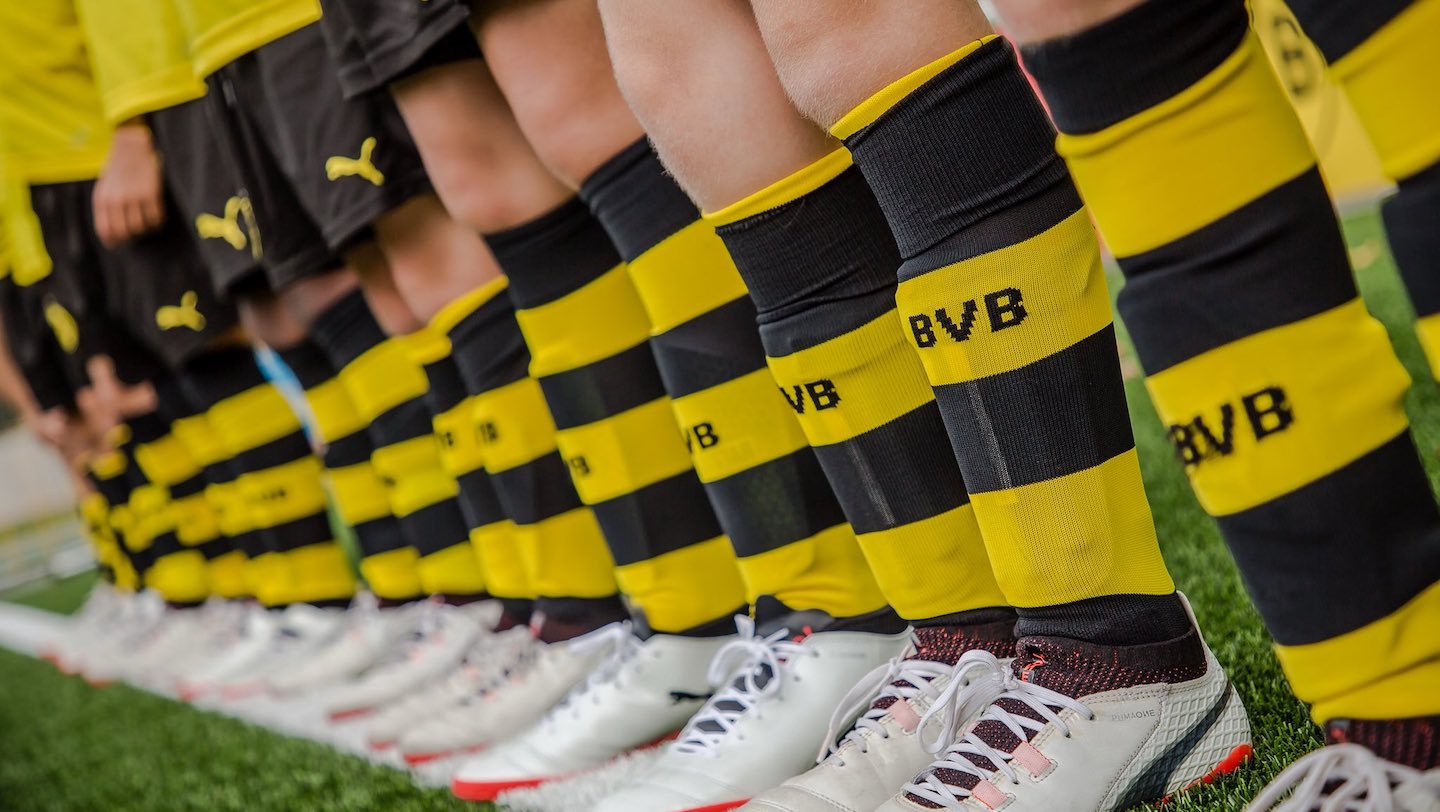 BVB International Academy announced the final selection for the BVB IA School of Excellence National Pools and Team Trip for 2023.
After many months of hard work, competition, evaluations, and time dedicated to making themselves the very best player they can be, their hard work has been recognized through the selection process within the Talent ID program. These players began the selection process in the fall of 2022 culminating in being selected to participate in the National ID event in Dallas, Texas.
The School of Excellence is dedicated to identifying the highest level of talent within the BVB International Academy by the leadership of each of the 12 affiliate clubs as well as by current Borussia Dortmund Youth Academy and coaches. Throughout the process, the players are asked to compete within their age group for the opportunity to be selected for their regional pools.
Once selected at the regional level, they then travel to compete for a national pool position. As the competition progresses, the talent pool is concentrated so that by the end, approximately 350 players come together to compete for the National Pool rosters. From the National Pool then 18 boys and 18 girls are selected as the School of Excellence 2023 Team.
This year, the School of Excellence (SOE) Trip for the boys consists of the 2007, 2008, 2009 age groups, and for the girls, players were selected from the 2004/2005, 2006 and 2007 age groups.
The School of Excellence was started in 2019 as a part of the real and authentic professional player pathway that BVB International Academy (BVBIA) provides for our players. Together with our College Athlete Placement (CAP) program, BVB IA offers players the full range of opportunities from the earliest ages of 4 years old as Mini Bees to the CAP Program and School of Excellence Program for the high school players. From attending college as a student-athlete to the opportunity to play professionally, both the boys and the girls programs offer the unique opportunities of being partnered with one of the very best professional European clubs in the world.
These 36 deserving players selected for the School of Excellence trip will experience first-hand the highest levels of competition and training while on their 7 day trip to Dortmund, Germany. They will train at the Youth Academy, compete against the academy / professional teams and have the opportunity to be a part of the professional European experience very few players ever see.
The players will also have an opportunity to encounter the culture, heritage and traditions of Borussia Dortmund and feel the heartbeat of the club as they traverse the city of Dortmund. These 36 players will attend a BVB game at their home field – Signal Iduna.
See below for a look at each of the rosters, ahead of the trip which is scheduled to take place from March 12-20.
BOY'S NATIONAL POOL
| | | |
| --- | --- | --- |
| Xavi Lisek | Nasir Yasin | Jaxx Weinstein |
| Omarrio Kennoy Brown '13 | Fynn Holloway | Samuel Gonzalez |
| Valentin Vasquez | Jaun Bluhn | Matthew Rodriguez |
| Derek Mayorga | Eli Egeonu | Ryker Seekamp |
| Braylin Marin | Adyen Anwar | Gunner Smith |
| Samuel Block | Gavin Turnage | Cash Saylor |
| Liam McClean | Aaron Johnson | Kaiden Fadley |
| Roman Renud | Gian Blanchard | Jorge Ibarra |
| Mason Williams | Mayon Beaty | Fernando Portillo |
| Raad Safa | Logan Schroeder | Deacon Debois |
| Sami Safa | Nate Hanks | Parker Fitzgerald |
| Santiago Rodriguez | Victor Acevedo-Kunz | Sina Sepahi |
| | Keane Hoffmann | Preston Baucom |
| | Jakub Urbanowicz | Brian Corona |
| | Moses Palaci | Karol Mazur |
| | Michael Ciezki | Mason Hooper |
| | Eli Mierzejewski | Nolan Ptaszkiewiz |
| | Alan Dybas | Sam Shorkey |
| | Eamon O'Connor | Aiden Alexander |
| | Luke Garven | Bantam Davis |
| | Leo Cook | |
GIRL'S NATIONAL POOLS
| | |
| --- | --- |
| Nileyah Leyva '10 | Gabriella Olivares '08 |
| Riley Macfee '10 | Grace Copeland '08 |
| Alexis Amigon '10 | Gianna Revetta '08 |
| Harper Carnahan '10 | Wesley Porter '08 |
| Kaitlyn Williams '10 | Georgia Theriot '08 |
| Nevaeh Gradilla '10 | Victoria Shipp '08 |
| Avery Linstrom '10 | Alyssa Valdez '08 |
| Ryan Pitts '11 | Maddy Hill '08 |
| Ayla Jeff '11 | Bailee Sisson '08 |
| Ellie Lebe '10 | Haylee Lancaster '08 |
| Ali Joyce '10 | Pricilla Garcia '08 |
| Ellianna Arnold '10 | Jillian Hernandez '08 |
| Tori Yurt '10 | Isabelle Alarcon '08 |
| Ava Mack '10 | Anna Li '08 |
| | Kassidi Johnson '09 |
| | Alexis Giles '09 |
| | Isabella Warren '09 |
| | Hazel Rutherford '09 |
| | Laylah Ruiz '09 |
| | Kiara Mendoza '09 |
| | Sydney Washington '09 |
| | Brooke McMurren '08 |
GIRL'S SCHOOL OF EXCELLENCE NATIONAL TEAM
| | |
| --- | --- |
| Yumari Hernadez | 2007 |
| Kayla Shaw | 2004 |
| Alyssa Ward | 2006 |
| Cassidy Guha | 2005 |
| Skylar Henley | 2006 |
| Courtlyn Cook | 2006 |
| Christina (Tina) Clark | 2005 |
| Shalagh Guha | 2007 |
| Ariella (Ella) Adams | 2005 |
| Tatum Self | 2005 |
| Hadley Carpenter | 2005 |
| Reagan Cox | 2006 |
| Angelina Rispone | 2007 |
| Taliah Pellizzari | 2007 |
| Ella Shorkey | 2005 |
| Gianna Harris | 2007 |
| Sophia Cabral | 2006 |
| Gracie Davis | 2007 |
GIRL'S NATIONAL POOL PLAYERS
| | |
| --- | --- |
| Elizabeth Meisner | 2007 |
| Sydney Ridnoir | 2006 |
| Arianna Borneo | 2007 |
| Kaitlyn Brady | 2007 |
| Kayla Martinez | 2006 |
| Valentina Navette | 2006 |
| Daniella Gardner | 2005 |
| Izzy Van Zanten | 2005 |
| Alicia McMurren | 2005 |
| Sadie Ozymy | 2006 |
| Sydanni Bauer | 2007 |
| Shonali Rao | 2007 |
BOY'S SCHOOL OF EXCELLENCE NATIONAL TEAM
| | |
| --- | --- |
| AJ Rosen | 2007 |
| Elijah Gradilla | 2008 |
| Zahni Dembrow | 2007 |
| Rashane Braidy | 2008 |
| Luca Fuerte | 2008 |
| Kasim Merchant | 2008 |
| Albert Calzada | 2008 |
| Josh Rojas | 2007 |
| Caiden Jurek | 2007 |
| Jeremiah Jones | 2007 |
| Aldair Flowers | 2007 |
| Julio Garcia | 2009 |
| Nias Blanton | 2009 |
| Talan Weston | 2008 |
| James Mastrangelo | 2008 |
| Michael Leibla-Gonzales | 2008 |
| Dominiq Garza | 2007 |
| Samuel Sedeh | 2009 |
BOY'S NATIONAL POOL PLAYERS
| | |
| --- | --- |
| Wyatt Scharff | 2008 |
| Jasper Piepergerdes | 2008 |
| Ian Lieb | 2009 |
| Aydan Fisher | 2007 |
| Dayton Tran | 2009 |
| Sulitan Surete | 2008 |
| Gilberto Villa | 2008 |
| Axel Alvarado | 2009 |
| Kaiden Helm | 2009 |
| Cort Laurence | 2007 |
| DJ Summons | 2007 |
| Tallyn Lord | 2007 |