Boston College men's soccer coach Ed Kelly retires after 32 seasons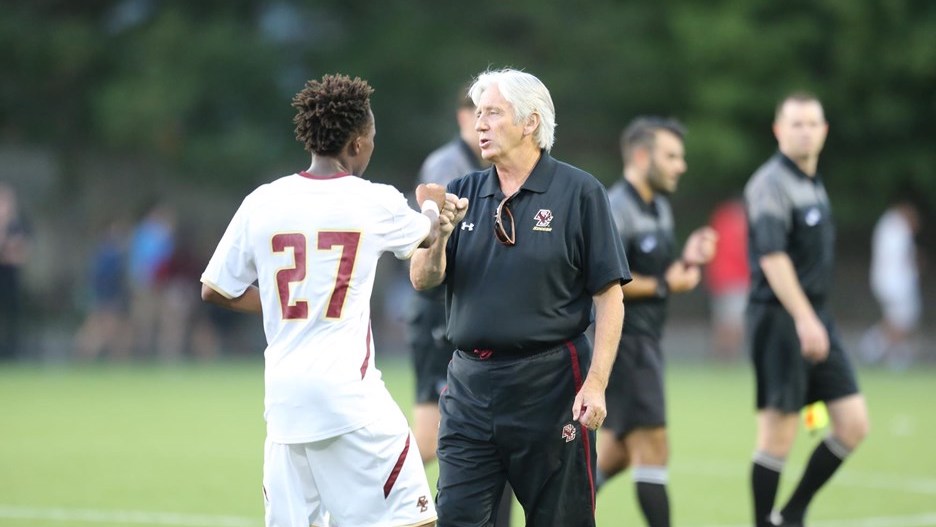 CHESTNUT HILL, Mass. – William V. Campbell Director of Athletics Martin Jarmond announced that Boston College men's soccer head coach Ed Kelly has retired.
"We appreciate Ed's years of service and all of the hard work he put into building our men's soccer program," said Jarmond. "To leave with the most wins in school history and conference championships in the Big East and ACC, Ed's place in our soccer history is cemented. We wish Ed the best as he begins his next chapter."
Kelly took over the program at Boston College in 1988 and amassed a record of 289-239-67, the most victories in program history. He leaves coaching with 35 years of service and an overall record of 329-252-73. He is one of 15 active coaches with 325 or more career wins.
"I've often wondered if I would recognize when it was time to retire. That day has arrived and it is time to step aside to give an opportunity to someone else," said Kelly. "Hopefully another Eagle who understands what a special place the Heights is and who will lead the program to continued success.
"I have loved my 32 seasons at Boston College and it will always have a special place in my heart. The experience has changed my life for the good; my three children Jessica, Lauren and Luke have all graduated from the school. I am very proud of what I have accomplished on the field during my career but my biggest joy was helping the many student athletes who have come into my life."
I'd like to especially thank my wife, Ann Kelly, as none of this would have been possible without her love and support over the past 48 years."
During Kelly's time at the Heights, the team earned 13 NCAA Tournament berths, led the squad to four Sweet 16 appearances in 2002, 2004, 2009, and 2015 and advanced to the Elite 8 in 2002 and 2015. In 2007, the Eagles were ranked No. 1 in the country after winning the 2007 ACC regular season title as well as the 2007 ACC Championship. He was named the ACC Coach of the Year in 2007.
While under Kelly's direction, BC teams have won 10 or more games in 14 seasons. The 2002 team set the program record for most wins in a single season when the Eagles finished with an 18-5-0 record. The success of the team in 2002 earned Kelly the Soccer American National Coach of the Year Award. NSCAA also honored Kelly as Regional Coach of the Year in 2000, 2002, 2007, and 2011.
Kelly also led the team to three Big East Championships in 1990, 2000 and 2002. He was the conference coach of the year three times – 1989, 1990, and 2000. Prior to his time at BC, he won two Big East Championships at Seton Hall.
He has coached two Big East Offensive Player of the Year recipients – Paul Keegan (1994) and Casey Schmidt (2000) and one Big East Defensive Player of the Year – Guy Melamed (2004). When BC moved to the ACC, Kelly had two Offensive Player of the Year talents in Charlie Davies (2006) and Alejandro Bedoya (2007) as well as one ACC Freshman of the Year honoree in Zeiko Lewis (2013).
Kelly has also coached eight NSCAA All-Americans, including: Reuben Ayarna (2007), Alejandro Bedoya (2007 & 2008), Charlie Davies (2006), Chris Hamblin (2000) Paul Keegan (1993 & 1995), Sherron Manswell (2007), and Guy Melamed (2002 & 2004).
A national search for Kelly's replacement will begin immediately.