Big Ten leader Purdue stuns Iowa in overtime for 6th straight victory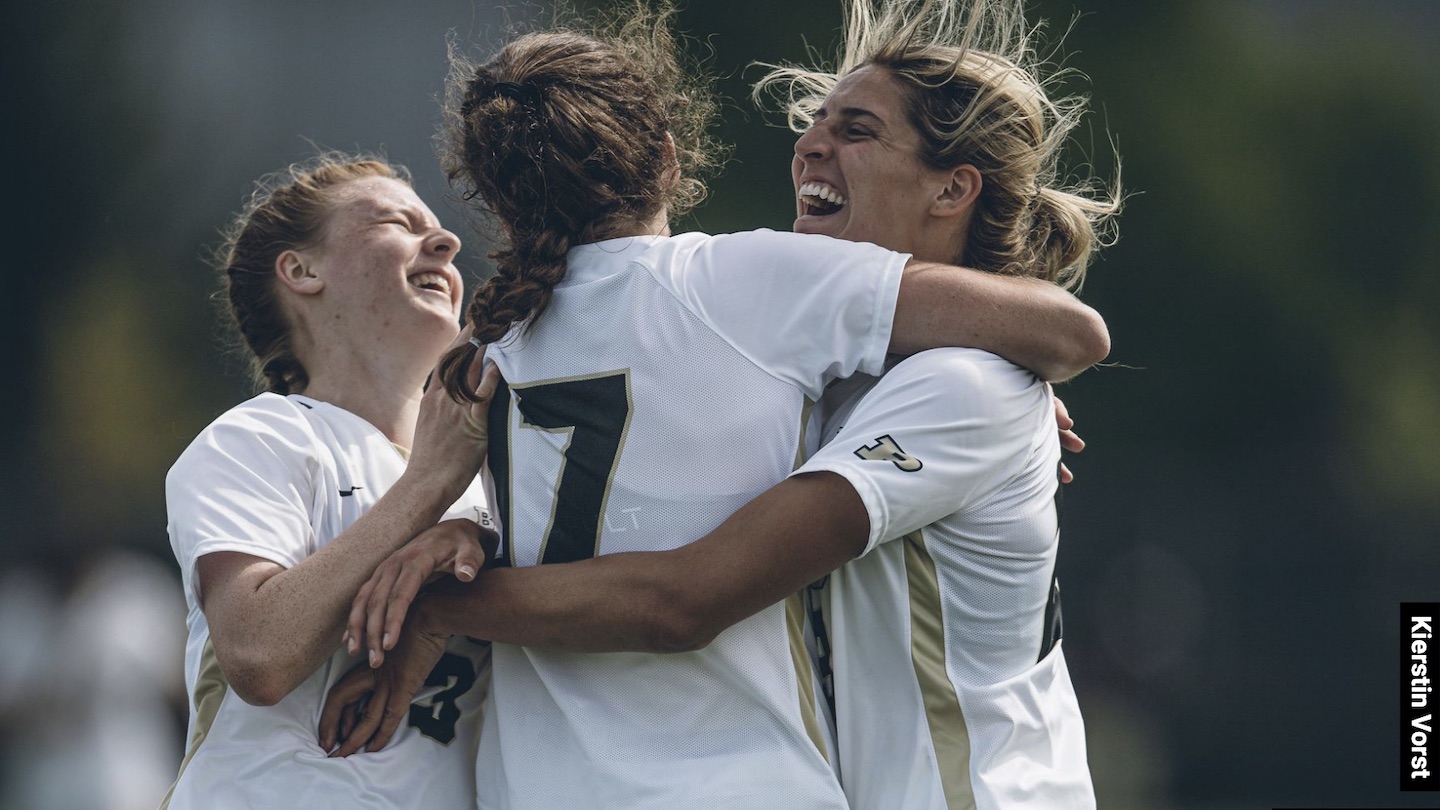 WEST LAFAYETTE, Ind. – A 90th-minute match-tying goal by senior forward Sarah Griffith and the golden goal in overtime by senior midfielder Teagan Jones extended the Purdue soccer team's win streak to six consecutive matches with a 2-1 victory over Iowa on Sunday afternoon at Folk Field.
The Boilermakers (8-1-2, 3-0-0 Big Ten) are undefeated at home and have won eight of their last nine matches. Purdue is off to its best start to the regular season since 2007 and is 3-0 in Big Ten play also for the first time since 2007. Through the first two weekends of conference competition, the Old Gold and Black sit alone atop the Big Ten standings with nine points, and they are one of two teams without a loss or tie.
Sunday's win came in dramatic, come-from-behind fashion, as Griffith's seventh goal of the year tied the match at 1-1 with 18.9 seconds left in regulation. Jones won it in the 98th minute with her first goal in 2021 and the third of her career. Griffith and Jones' heroics came after the Hawkeyes (7-3-1, 1-2-0 Big Ten) scored the game's first goal in the 87th minute.
Unstoppable.

Sarah Griffith's 7th goal of the season sent the match to overtime with 18.9 seconds left!#BoilerUp 🚂⚽️ pic.twitter.com/geLyejubJ9

— Purdue Soccer (@PurdueSoccer) September 26, 2021
"It felt good to finally get that goal at the end, we had created a couple of really great chances but didn't finish," Purdue coach Drew Roff said. "Iowa capitalized on an opportunity they had, so certainly towards the end was a bit of desperation time. Less than a minute to go and you have the ball in your own half, you know you're going to have to pull out a little bit of magic. Fortunately we had a nice ball into the box to put them under pressure, and fortunately Sarah Griffith got that touch. Once that happened, you feel confident going into overtime. Any time you're able to tie up a game late like that, you feel like your team is going to have the momentum and the other team's probably going to be a little bit deflated. We just really emphasized 'let's put them away in that first overtime,' and Teagan Jones made the play that we needed.
"It was a gritty team performance, it wasn't always our best soccer on the day, to be fair, but Iowa contributed to that, I thought they came in, they played hard, they played well, and we're just really happy that we were able to find a way."
Iowa took a 1-0 lead at 86:25, as Alyssa Walker got a long pass from Natalie Massa at midfield. Walker dribbled several times into the box and scored the match's first goal.
The Boilermakers found the equalizer just over three minutes later, at 89:41, thanks to Griffith. Sophomore defender Nicole Kevdzija sent a long ball into the 18-yard box from just past midfield, where it bounced once before being headed by an Iowa defender. As the ball fell to the turf near the far corner of the goal box, Griffith came charging in and quickly took a shot that went into the near corner of the goal. As the bouncing shot went past a diving Hawkeye keeper to tie the match, just 18.9 seconds were left on the Folk Field scoreboard.
In overtime, Jones became the second hero with her first career game-winning goal at 97:43. As Iowa cleared an earlier chance in the final third by Purdue, the ball was sent back in by a Boilermaker defender towards the Big Ten logo, outside the corner of the 18-yard box on the far side of the field. Junior defender Lauren Holleran made a short pass to Griffith, who quickly one-touched another short pass to sophomore midfielder Emily Mathews. The ball was then sent back to Holleran, and she lofted a long cross into the box to Jones. It bounced once to her, at the near corner of the six-yard box, and Jones connected on the ball in the air and sent a bouncing shot across the goal box into the far corner of the net.
Jones' golden goal was assisted by Mathews and Holleran. It is Mathews' team-high-tying third assist of the season and Holleran's second.
"Teagan Jones, who is a great leader for us, really puts her heart and soul into every training session, every game," Roff added. "When players like that are rewarded and get to have a big moment like that, it makes it that much more special. Obviously, at that point, any kind of ball that goes in the back of the net we're thrilled, but I thought it was fitting that Teagan played a really good game and had some shots from that holding midfield position. She had some shots on the day, so it shows that she had a great attacking mentality, and she got into a good position and was able to put it home for us, so I'm really happy for her."
Teagan Jones, the overtime hero!#BoilerUp 🚂⚽️ pic.twitter.com/WVmLrYUKYk

— Purdue Soccer (@PurdueSoccer) September 26, 2021
Both teams had 17 shots, while Purdue had a 5-4 advantage in shots on goal. Iowa had an 8-4 edge in shots in the first half, while Purdue had the advantage in the second half, 9-7, and overtime, 4-2. The Boilermakers had six corners to the Hawkeyes' two.
Jones had a match-high seven shots, and Griffith was second with six shots and a match-best three shots on goal. Senior goalkeeper Marisa Bova made two saves and the Boilermaker defense cleared another shot off the line.
Up next, the Boilermakers welcome Michigan to Folk Field on Thursday, September 30, at 7 p.m. ET. The matchup is the team's annual Hammer Down Cancer game. Admission is free for all fans to every regular-season home match in 2021.