Bernadette McCrudden wins ENY Girls Competitive Coach of the Year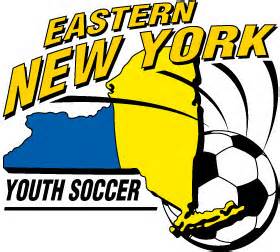 (Via ENYYSA) – The Eastern New York Youth Soccer Association (ENYYSA) has announced that Bernadette McCrudden of the Red Hook Dragons, from the East Hudson Youth Soccer League (EHYSL), is being honored as the 2016 Girls Competitive Coach of the Year.
Bernadette has been coaching for the Red Hook Soccer Club during the past decade and the college team she played on, Cortland State, advanced to the Division 3 national championship game in 1999.
Team parent Amy Gilbert wrote, "Bernadette imparts her passion and understanding of the game to the girls on her team. She knows their strengths and weaknesses. She has worked with each of the girls one-on-one, giving them pointers and encouragement."
"In the spring of 2014, Bernadette proposed to the team that they compete in the Gothia Cup in Gothenburg, Sweden. The girls and parents were all in. Throughout the following year, the team held numerous fundraisers. We sold coffee and snacks at Saturday morning intramural games, raffled gift baskets, had a yard sale, an Applebee's breakfast and countless other activities to raise money for the trip. In the end, every girl's airline ticket was paid for. Going to Sweden and playing soccer was an unforgettable experience. For my daughter, going to Sweden with her soccer team was the first time she flew."
"Throughout the six-plus years that the girls on the Red Dragons have played together, there have been many good times and hard times. We have seen girls move, had parents go through illnesses and girls suffer injuries. Bernadette consistently thinks of the girls on the team, and by extension, of their families as well. Under her leadership, the families on the team have pulled together in all sorts of situations."
She will be formally honored by Eastern New York at the Holiday Party on Sunday, December 4 at Marina del Rey in the Bronx.