PWSI appoints Mike Cullina as new Executive Director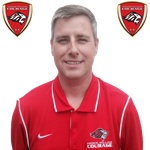 The Prince William Courage have appointed Director of Soccer Mike Cullina as the club's new Executive Director.
Cullina steps in for Mike Yeatts, who announced his departure from the Executive Director position in August after a successful seven-year run, and over 20 total years of service to the club in multiple capacities. Cullina, who joined PWSI as Boys Director of Coaching in 2013, is a member of the US Club Soccer Board of Directors, a USSF "A" License Coach and serves as President of the Virginia NPL / Virginia Premier League.
Having worked closely with Yeatts for several years and given his already high level of involvement in the soccer decision making at PWSI, Cullina said he does not expect much to change in terms of the club's overall operation.
"We really appreciate Mike [Yeatts'] contributions to the club and hope to continue building on his work moving forward," Cullina said. "As is always the case with all of our competitive and recreational programs, we are going to keep focusing on making the right decisions for our players. We have very high standards for ourselves in how we serve our players on and off the field."
+Read: PWSI exec Mike Yeatts steps away from soccer, leaving rich legacy
Along with his close ties to US Club Soccer both regionally and nationally, Cullina played an integral role in the formation of the Virginia Development Academy (VDA). The VDA is a partnership between PWSI, the Virginia Soccer Association (VSA) and Chantilly Youth Soccer (CYA), in which the clubs combine their coaches and players to compete in the U.S. Soccer Development Academy at the U-12, U-13 and U-14 levels. VDA was also recently accepted as a founding member club for the Girls' Development Academy, which is set to kick off its inaugural season in the fall of 2017.
Prior to joining PWSI, Cullina worked for Ohio Elite Soccer Academy where he served as Boys Director of Coaching and Director of Tournaments from 2008-2013. He also served on the US Youth Soccer Region II ODP staff for 16 years and was the Director of Coaching & Player Development at the Nebraska State Soccer Association. Additionally, he is a certified referee with experience at the NCAA Division I level.
With one of the area's largest recreational programs providing competition for more than 5,000 total players, a tournament series including seven annual events, and a travel program positioned within some of the top regional and national leagues, Cullina feels PWSI is poised to continue its growth in the coming years.
"We have a lot of great partnerships and relationships, and feel that collaboration in player development is the best way forward," Cullina said.