Beach FC (VA) enjoys opportunity at ECNL Boys Regional League Showcase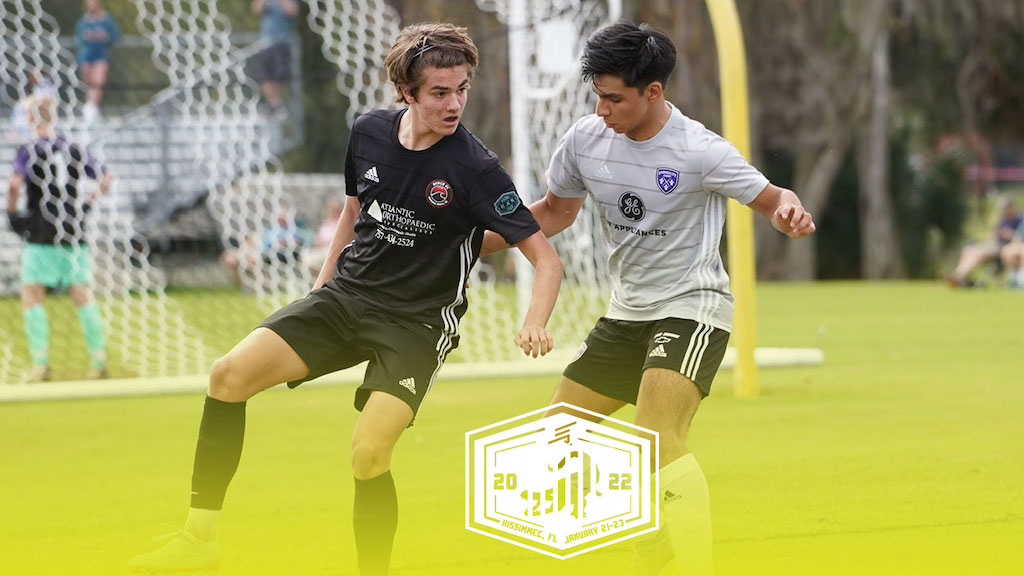 The ECNL Boys Regional League is holding its first-ever national event at ECNL Florida this weekend, with more than 50 clubs and more than 95 teams participating.
The three-day showcase, happening congruently with ECNL Florida – Club Competition, has brought in college coaches and spectators from around the country. Clubs can also use this opportunity to get their players in front of coaches from the next level, all while playing against unfamiliar opponents and schemes to truly test each squad.
At ECNL Florida – Regional League this season, one club that stands out is Beach FC (VA). The club ranks at the top or near the top of nearly every age group in the Virginia Regional League, and has already found success at ECNL Florida. The team's U18/19 squad is 2-0 on the weekend, while the U17 is 1-1.
For the club, earning three wins in four games is encouraging, especially after getting plenty of wins during the club's fall games. But the club doesn't just pay attention to the games, but rather the process of earning those wins.
"We've been really happy with our season so far," said Ryan Sniegoski, Beach FC (VA) Boys Senior Director. "We're extremely excited with how the fall turned out. Our U13s and U14s went undefeated and won their league, and the U16s won their playoffs too. Now we just have to keep going on the same path. But we push not just the results, but what we do in training, because that's what leads to the results. We're getting better at our curriculum, methodologies and philosophies. And if we keep doing that, I think we'll be really successful in the spring as well."
ECNL Florida – Regional League can be that springboard for Beach FC (VA), allowing them to scout the competition and test the club against tough opponents. But what's also very promising for the club is that this success has come in the organization's first season in the ECNL Regional League.
"The entire environment has been great," Sniegoski said. "There are really good facilities, great referring and here at ECNL Florida, it's been a very professional event. All of our players, parents and coaches have really enjoyed their time in the league so far."
Especially at ECNL Florida – Regional League, it's been a breath of fresh air to be playing clubs outside of the Virginia Regional League. Playing unfamiliar clubs allows Beach FC (VA) to experience different strategies, formations and challenges throughout 90 minutes, which only helps to build up the club.
"We've had a lot of success in our Virginia Regional League, but it's also good to get out of your comfort zone and play teams you don't know," Sniegoski said. "It's been beneficial to us to play those different clubs, and it's been really encouraging to see how our two teams have responded. And doing so with those college coaches in attendance, it's even more important."
Despite being in the ECNL Regional League for just one season, Beach FC (VA) can already see the success the league has had on the club. Even before joining the ECNL, Beach FC (VA) believe the two aligned on one main characteristic: family. Sniegoski said family is a big part of Beach FC (VA) and in the few short months the club's been in the Regional League, it's apparent it's also a major part of the ECNL.
"The ECNL talks about being a family, and I tell everyone at our club, we're one big family that works together and is very ambitious and motivated," Sniegoski said. "So we're extremely proud, from top to bottom, to be a part of this league. It's all about providing pathways to get these kids that are super ambitious to the next level."
And that's where the ECNL Florida Event comes in. The first-ever ECNL Regional League national event brought in college coaches from around the country to watch these athletes compete. That effort did not go unnoticed by the clubs or the athletes.
"Any time we can come to an event like this, when so many college coaches are gonna be in attendance, it's big," Sniegoski said. "The kids were very excited. They just want a chance to prove themselves. They're ambitious kids that want to play college soccer and to get that opportunity. So to be down here, with college coaches from all different levels and all different areas of the country, it's really exciting."
It's not just about getting them to the next level, though. It's about making sure they can have success at the next level. Giving their athletes the tools to succeed at the next level is a point of emphasis at Beach FC (VA).
"These kids have to understand it's a learning process," Sniegoski said. "We have an incredible learning environment. We're teaching concepts at a young age which can be very beneficial when they're going to college. They're learning how to break down video, how to speak on the tactical aspects of the game, and in the early years of college, that's huge. They won't have to learn a lot of that stuff; they already know it."
ECNL Florida – Regional League is just the first event of what will become a staple in the ECNL Boys Regional League. And in their first season in the Regional League, Beach FC (VA) is ecstatic to have joined the ECNL, with its eyes set on many more successful years in the future.
"The ECNL, it's not just about playing and winning games," Sniegoski said. "It's the bigger picture of everything you're trying to do and doing what's best for your players. You have to show that you not only have good players, but you can play a quality brand of soccer as well, and that you and your club can be as professional as possible. Being in the ECNL and having success, it's proof that we're a club that has an emphasis on the right things, in the highest league in the United States. And we're very excited and proud about that fact."
To view the complete scores and schedule from ECNL Florida – Regional League, click here.