Austin FC Academy expands to five age groups for 2021-22 season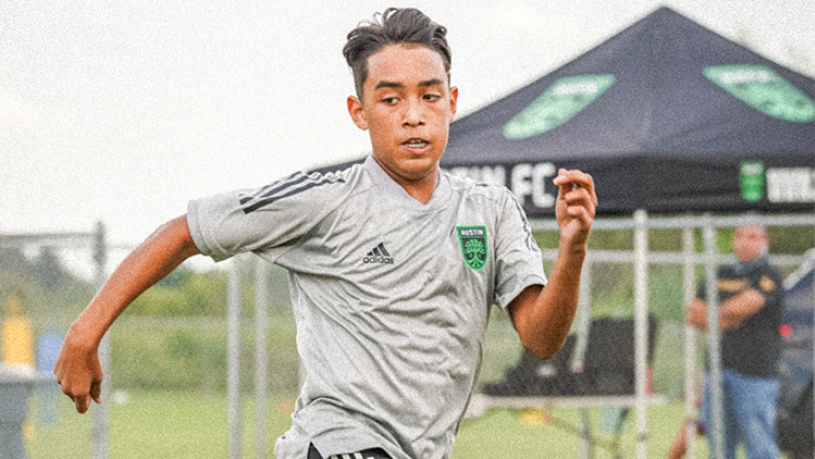 Austin, Texas – Austin FC announced the expansion of the Austin FC Academy to include the U-12 (born in 2010/2011) and U-17 (born in 2005/2006) age groups for the 2021-22 season.
With the expansion, the Austin FC Academy now features five (5) age groups: U-12, U-13, U-14, U-15, and U-17. With the addition of the new U-12 team, the current U-13 team will move to U-14, U-14s to U-15, and U-15s to U-17. Full rosters for each age group will be announced later in 2021.
"The addition of the U-12 and U-17 rosters to Austin FC's Academy is a decisive step in the formation of a comprehensive professional Academy youth soccer system," commented Tyson Wahl, Austin FC's Academy General Manager. "We are proud to offer an expanded pathway to professional soccer to the many talented Central Texas players who will compete in our academy system. We are one year closer to realizing our goal of seeing at least one player per season move from Austin FC Academy to the Austin FC first team. This expansion for 2021-2022 will further help us in developing the next generation of elite players from our region."
"Having five age groups at Austin FC's Academy in such short time speaks volumes about the level of commitment our Club has to local youth talent," commented Claudio Reyna, Austin FC's Sporting Director. "Our goal is to continue forming these talented players and offer them the best opportunity to develop their skills and support their aspirations to become professional soccer players."
Austin FC Academy is the fully funded development academy that began competition in the Fall of 2019 with the U-14 team participating in the U.S. Soccer Development Academy (USSDA). It later expanded to include the U-13, U-14, and U-15 teams in 2020 under MLS NEXT.
With the expansion, four (4) of the five (5) Austin FC Academy teams will compete in MLS NEXT, apart from the U-12 team. Major League Soccer (MLS) manages, organizes, and controls the MLS NEXT system of youth soccer, which was launched in 2020.
See below the 2021-2022 U-12 and U-13 rosters:
2021-2022 U-12 Roster (2010/11)
| NAME | CLUB |
| --- | --- |
| Edwin Platero | FC Barcelona Austin |
| Christian Zuniga | FC Barcelona Austin |
| Carlos Lopez | FC Barcelona Austin |
| Jack Greenville | FC Westlake |
| Caleb Welch | FC Westlake |
| Josiah Garcia | Capital City Soccer Club |
| Camden Spitzer | Capital City Soccer Club |
| Kelby Spitzer | Capital City Soccer Club |
| Wesley Hamilton | Captial City Soccer Club |
| Ryan Diaz | Lonestar Soccer Club |
| Johnny Bautista | Lonestar Soccer Club |
| Diego Garcia | Lonestar Soccer Club |
| Nico Siqueiros | Lonestar Soccer Club |
| Luke Andre | Lonestar Soccer Club |
| Lukas Mendez | Lonestar Soccer Club |
| Boaz Zimmerman | Lonestar Soccer Club |
| Blue Davis | Lonestar Soccer Club |
| Zayden Seyhoon | Lonestar Soccer Club |
| Blaise Iwakoshi | Lonestar Soccer Club |
| Jayden Nguyen | Lonestar Soccer Club |
| Alex Moore | Lonestar Soccer Club |
| Ariel Portillo | Lonestar Soccer Club |
| Gavin Meraz | Lonestar Soccer Club |
| Liam Payne | Lonestar Soccer Club |
2021-2022 U-13 Roster (2009)
| NAME | CLUB |
| --- | --- |
| Kevin Espinoza | Lonestar Soccer Club |
| Tristan Montalbo | Lonestar Soccer Club |
| Ethan Miranda | Lonestar Soccer Club |
| Jorge Rivera | Lonestar Soccer Club |
| Daniel Wright | Lonestar Soccer Club |
| Ty Rouen | Lonestar Soccer Club |
| David Aschenbeck | Lonestar Soccer Club |
| Isaac Velasquez | Lonestar Soccer Club |
| Luke Williams | Lonestar Soccer Club |
| Jaxon Radcliff | Lonestar Soccer Club |
| Tiano Vela | New Mexico Pateadores |
| Isaiah Tatum | Juventus Academy San Antonio |
| Kike De La Cruz | Rayados Laredo Soccer Academy |
| Adin Memic | FC Barcelona Austin |
| Caleb Doane | Lake Travis Elite |
| Robbie MacFarland | Tigres San Antonio |
| Christian Ayala | Capital City Soccer Club |
| Jonathan Ayala | Capital City Soccer Club |
| Cesar Alejandro Balderas | Capital City Soccer Club |