All finalists decided at US Youth Soccer National Championships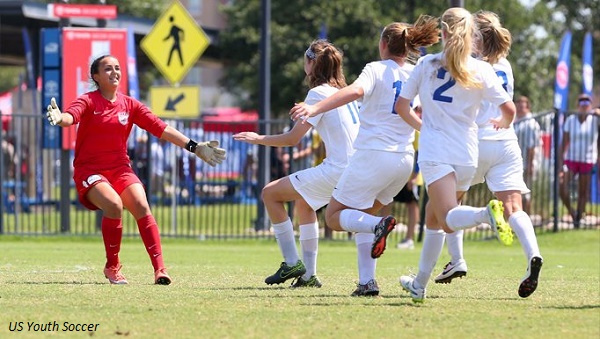 FRISCO, Texas (Via US Youth Soccer) — After several thrilling semifinal games Saturday morning at the Toyota Soccer Center in Frisco, Texas, all final matchups are set at the 2016 US Youth Soccer National Championships.
The morning's excitement will be raised to another level this evening when the champions in the Under-13 and Under-19 age groups are decided. Tonight's championship matches begin at 7 p.m. CT with the Under-13 Boys final. The Under-19 Girls final kicks off at 7:15 p.m., followed by the Under-13 Girls final at 7:30 p.m. and the Under-19 Boys James P. McGuire Cup final at 8 p.m.
Defending champions FC Golden State (CA-S) will compete for the Under-19 Boys James P. McGuire Cup against FC Florida 96/97 Elite (FL).
+Read: Group standings solidified at US Youth Soccer National Championships
All 2016 National Championship finals can be seen live online at http://championships.usyouthsoccer.org/live/.
Several teams are one step closer to realizing the ultimate youth soccer dream after securing a spot in Sunday'sfinal matches with semifinal victories on Saturday morning. Two defending champions — Under-14 Boys Baltimore Darby 01/02 (MD) and Under-14 Girls PSG MI Gators 02 Orange (MI) — are among the finalists in the Under-14 through Under-18 age groups and will have a chance to repeat as the National Champions on Sunday.
Santa Barbara SC White (CA-S) will also compete in the Under-18 Boys final match as they look for their third National Championship title after winning in 2012 and 2013.
+Read: US Youth Soccer National Championships Day 2 Recap
A few highlights from Saturday's semifinal matches…
Under-14 Girls
After both Under-14 Girls semifinal games went to extra time, BRYC 01 Elite (VA) and PSG MI Gators 02 Orange (MI) came out victorious to fill the final match field. During the first semifinal match, BRYC finished regulation against USA Stars 02 (CA-N) in a 1-1 tie with first half goals from BRYC's Victoria Weber and USA Stars' Janae DeFazio. As the score remained tied after two overtime periods, BRYC won the kicks from the mark, 2-1, for an overall 2-1 match victory.
On the other end of semifinals, 2015 National Champions PSG and Tennessee SC 20 (TN) went to overtime after PSG's Madison Medalle scored in the ninth minute and Tennessee SC's Hannah Morton scored early in the second half. Alexia Czerwien from PSG earned the game winner for the 2-1 victory. BRYC and PSG already faced each other in group play as the match resulted in a 1-0 PSG win.
Under-15 Girls
After two semifinal matches full of Region II teams, the Under-15 Girls final game will feature CUP Gold 00/01 (OH-S) and Midwest United FC 01 Royal (MI). CUP Gold advanced to the finals after defeating Campton United Navy (IL), 3-1 with goals from Olivia Scheper, Brittany Duncan and Jordyn Rhodes and one Campton United goal from Rachael Lutter. CUP Gold went undefeated throughout group play to win their bracket, and they have totaled 11 goals and allowed only two.
In the other semifinal game, Midwest United took a 2-1 victory over FC Pride 01 Elite (IN). The goals came from Midwest United's Jennifer Blitchok and Ariana Garcia and FC Pride's Kelsie James. Midwest United made it out of their group in the first seed after going 2-0-1, and they have scored eight goals while allowing three. Previously at the Region II Championships, Midwest United defeated CUP Gold, 2-0 in the semifinals.
Under-16 Girls
Carlsbad Elite 99 (CA-S) and La Roca Premier PO (UT) will battle for the Under-16 Girls National Championship title. Carlsbad claimed a spot in Sunday's final after a Jessica Wright overtime goal earned the 1-0 semifinal win against Florida Krush Black (FL). Carlsbad finished group play as the bracket frontrunner with a 2-1-0 record.
The 2015 National Championships finalist, La Roca, advanced to Sunday's championship match after tallying two goals against FCKC Pink Panthers Elite (MO) in the semifinals. Both goals came early in the second half from Macy Martinez and Olivia Wade. La Roca posted a 2-0-1 record in group play, winning the bracket, and look to remain undefeated going into the final game.
Under-17 Girls
The Under-17 Girls National Championship match will be a battle between YMS Premier Xplosion 98 (PA-E) and Beach FC 98 Academy (CA-S). YMS snuck into the finals with a 1-0 win over CR S Burgundy Rapids (NC) as the lone goal came from Rebecca Rossett in the 24th minute.
In the second Under-17 Girls semifinal, Beach FC escaped with a close 2-1 win against Beadling Bulldogs (PA-W). Beach FC's Kimberly Butland scored in the second minute of the match, and Whitney Davis made it a 2-0 game in the 11th minute. Seven minutes later, Makena Silber from Beadling cut into the lead, although Beadling fought to tie up the match, Beach FC held them off for the victory.
YMS and Beach each won their brackets after three preliminary games. While this is the first National Championships appearance for Beach FC, YMS looks to earn its first title after reaching the finals the past three years.
Under-18 Girls
Carlsbad Elite 97/98 (CA-S) and Tennessee SC 16 (TN) will take the field for the Under-18 Girls National Championship final on Sunday. Carlsbad qualified after earning a 2-1 win over KHA Red (OH-S) in the semifinals. Summer Bales gave Carlsbad the lead in the first half, and Morgan Jackson from KHA tied up the match in the second half, but it was a Hadley Sbrega goal in the 81st minute that earned Carlsbad the victory. Carlsbad finished group play 2-0-1 for the first seed, scoring 11 goals and allowing two. They have earned a third place medal in the last three years and will fight in their first final match on Sunday.
Four-time Region III Champions Tennessee SC defeated Ambassadors FC (OH-N), 2-0 in the other Under-18 Girls semifinal match. After a scoreless first half, Peyton DePriest and Emily Zipay scored within two minutes of each other in the second half for the victory. Tennessee SC earned a 2-1-0 record in group play for the first seed going into the semifinals, and it returns to the National final after coming up short as an Under-14 side in 2012.
Under-14 Boys
Baltimore Darby 01/02 (MD) is headed back to the finals for a second straight year after defeating Raiders City (IL), 2-1. Age group leading goal scorer Theodore Ndje scored the opener in the 14th minute of play and teammate Richard Nichols made it 2-0 in the 33rd. Raiders pulled one back in the 35th minute but couldn't find an equalizer and the score would finish 2-1 in favor of the Maryland side.
In the other Under-14 Boys semifinal, it took overtime to separate LVSA 02 Red (NV) and Valparaiso United FC 02 JG (AZ). In a back and forth game, Valparaiso started with a 4th minute goal from Jarod Eaton. The lead didn't last long as less than 60 seconds later, Antonio Gomez leveled for LVSA. Valparaiso continued the goal scoring flurry when Denis Conteh scored just 7 minutes later. Lincoln Aquino leveled the scoring in the dying minutes of the game to send the game to overtime. Conteh played the hero for Valparaiso and scored just three minutes into OT to send the Arizona team into the final.
Valparaiso will now face defending champions Baltimore Darby 01/02 (MD) in Sunday's Under-14 Boys final.
Under-15 Boys
A late game winner was all that separated McLean 00 Hotspur Green (VA) And Sparta 01 JK (UT). After a close match, a McLean shot in the 80th minute bounced off the post and to teammate Raphael Leslau who made no mistake in finishing his chance to give his side the 1-0 victory.
+Read: Late goal sends McLean U-15 Boys to US Youth Soccer title match
CFA Raiders (IL) defeated United FA 01 Premier (GA) 2-1 in the other Under-15 Boys semifinal. Chicago scored first in the 11th minute with a Josiah Ash goal. Maury Ibarra tied it up in the 52nd minute but Chicago's Evangelo Spartiaris scored the goal that would be the game-winner just four minutes later. Chicago held on defensively and finished off its 2-1 victory.
Chicago will now face McLean in both team's first National Championships final.
+Read: Chicago Fire Academy U-15 Boys earn US Youth Soccer finals berth
Under-16 Boys
Dix Hills Hurricanes (NY-E) defeated United FA Premier (GA) 1-0 to advance to the Under-16 Boys final and earn a spot in the final in its first trip to the National Championships. With both teams battling it out, it took late dramatics to decide a winner. A PK was called in the 75th minute in favor of Dix Hills. Dix Hills' Leo Musacchia stepped up and calmly finished his effort to give his team the 1-0 win.
Loudoun Red (VA) got off to a hot start in its Under-16 Boys semifinal against OP Green (OH-S). Evans Moyo scored in just the 9th minute of play, with teammate Bardia Kimiavi making it 2-0 just before the half. Christopher Debruyne scored in the 41st minute to make it 3-0, but OP Green's Ryan Burke killed any chances of a clean sheet with a consolation goal in the 59th minute.
+Read: Dix Hills Hurricanes U-16 Boys advance to US Youth Soccer finals
Loudoun and Dix Hills will face each other in an all Region I Under-16 Boys National Championships final.
Under-17 Boys
Pipeline Black (MD) defeated Maryland rivals and defending National Champions Baltimore Celtic 98/99 (MD) 1-0 to advance to the Under-17 Boys National Championships final. The lone goal of the game came late on a Thomas Walker goal in the 77th minute. Pipeline held the clean sheet to claim the 1-0 victory.
Ian Mejia put Seattle United 98 Copa (WA) ahead of Loudoun 98 Red (VA) just 10 minutes in the other Under-17 Boys semifinal. It looked like Seattle may escape with a victory, but Loudoun's Stephen Foss scored late in the 87thminute to level the score. After a scoreless overtime, the game had to be decided by kicks to the mark. Both teams looked confident, striking great penalties but Seattle go unlucky when it saw their fifth attempt hit the crossbar and bounce out. Reece Cooke stepped up and calmly slotted his kick to the bottom right corner to earn the win.
Pipeline and Loudoun will now play Sunday for the Under-17 Boys National Championship. This game will be a rematch of the 2016 Region I finals, where Pipeline defeated Loudoun 4-1.
Under-18 Boys
FC Golden State Platinum (CA-S) defeated Arlington Impact Red (VA) 3-0 to advance to the Under-18 Boys National Championship. Oskar Nikoghosyan opened the scoring in the 20th minute, with teammate Anthony Lopez scoring just before halftime in the 45th minute. Lopez added a second in the 85th minute to complete the 3-0 victory.
Santa Barbara SC White (CA-S) return to the National Championships final for the first time since winning back-to-back titles in 2012-2013 and falling short in the semifinals in 2014-2015. Santa Barbara defeated National League Blue Champions Lehigh Valley United 97 (PA-E) 4-1 in today's semifinal to advance to Sunday's final. Sahid Conteh and Dennis Cole gave Santa Barbara a 2-0 first half lead. Juan Pablo Alvarez extended the lead to 3-0 in the 52ndminute but Steven Gaber brought an end to the clean sheet in the 83rd minute. Rodney tacked on a final goal in the 87th minute to bring the final score to 4-1
Santa Barbara will be looking to earn its third National Championship title in five year when it faces FC Golden State Platinum in tomorrow's Under-18 Boys National Championships final.
2016 US Youth Soccer National Championships | Semifinal Results
| | | | | | |
| --- | --- | --- | --- | --- | --- |
| U-14 Girls | | | | | |
| BRYC 01 Elite | VA | 2 (PK) | USA Stars 02 | CA-N | 1 |
| Tennessee SC 20 | TN | 1 | PSG MI Gators 02 Orange | MI | 2 |
| | | | | | |
| U-14 Boys | | | | | |
| LVSA 02 Red | NV | 2 | Valparaiso United FC 02 JG | AZ | 3 |
| Raiders City | IL | 1 | Baltimore Darby 01/02 | MD | 2 |
| | | | | | |
| U-15 Girls | | | | | |
| CUP Gold 00/01 | OH-S | 3 | Campton United Navy | IL | 1 |
| Midwest United FC 01 Royal | MI | 2 | FC Pride 01 Elite | IN | 1 |
| | | | | | |
| U-15 Boys | | | | | |
| CFA Raiders | IL | 2 | United FA 01 Premier | GA | 1 |
| Sparta 01 JK | UT | 0 | McLean 00 Green | VA | 1 |
| | | | | | |
| U-16 Girls | | | | | |
| Carlsbad Elite 99 | CA-S | 1 | Florida Krush Black | FL | 0 |
| La Roca Premier PO | UT | 2 | FCKC Pink Panthers Elite | MO | 0 |
| | | | | | |
| U-16 Boys | | | | | |
| United FA Premier | GA | 0 | Dix Hills Hurricanes | NY-E | 1 |
| OP Green | OH-S | 1 | Loudoun Red | VA | 3 |
| | | | | | |
| U-17 Girls | | | | | |
| YMS Premier Xplosion 98 | PA-E | 1 | CR S Burgundy Rapids | NC | 0 |
| Beach FC 98 Academy | CA-S | 2 | Beadling Bulldogs | PA-W | 1 |
| | | | | | |
| U-17 Boys | | | | | |
| Pipeline Black | MD | 1 | Baltimore Celtic 98/99 | MD | 0 |
| Loudoun 98 Red | VA | 2 (PK) | Seattle United 98 Copa | WA | 1 |
| | | | | | |
| U-18 Girls | | | | | |
| Carlsbad Elite 97/98 | CA-S | 2 | KHA Red | OH-S | 1 |
| Tennessee SC 16 | TN | 2 | Ambassadors FC | OH-N | 0 |
| | | | | | |
| U-18 Boys | | | | | |
| FC Golden State Platinum | CA-S | 3 | Arlington Impact Red | VA | 0 |
| Santa Barbara SC White | CA-S | 4 | Lehigh Valley United 97 | PA-E | 1 |
2016 US Youth Soccer National Championships | Finals Schedule
Saturday, July 30

7:00 PM

U13
Boys
Strikers FC Chingirian
CA-S
02 CASL Academy Juniors
NC
Field 5

7:15 PM

U19
Girls
So Cal Blues Dodge
CA-S
McLean 96 Green
VA
Field 6

7:30 PM

U13
Girls
So Cal Blues 02 Baker
CA-S
Solar Chelsea Red
TX-N
Field 7

8:00 PM

U19
Boys
FC Golden State
CA-S
FC Florida 96/97 Elite
FL
Field 4

Sunday

,

July 31

8:00 AM

U14
Girls
BRYC 01 Elite
VA
PSG MI Gators 02 Orange
MI
Field 5

8:15 AM

U14
Boys
Valparaiso United FC 02 JG
AZ
Baltimore Darby 01/02
MD
Field 6

8:30 AM

U16
Boys
Dix Hills Hurricanes
NY-E
Loudoun Red
VA
Field 7

8:40 AM

U17
Girls
YMS Premier Xplosion 98
PA-E
Beach FC 98 Academy
CA-S
Field 4

9:00 AM

U18
Boys
FC Golden State Platinum
CA-S
Santa Barbara SC White
CA-S
Field 8

9:40 AM

U17
Boys
Pipeline Black
MD
Loudoun 98 Red
VA
Field 5

9:50 AM

U16
Girls
Carlsbad Elite 99
CA-S
La Roca Premier PO
UT
Field 6

10:20 AM

U18
Girls
Carlsbad Elite 97/98
CA-S
Tennessee SC 16
TN
Field 7

10:40 AM

U15
Boys
CFA Raiders
IL
McLean 00 Green
VA
Field 4

11:10 AM

U15
Girls
CUP Gold 00/01
OH-S
Midwest United FC 01 Royal
MI
Field 8
*Central Time