First four champions crowned at US Youth Soccer National Championships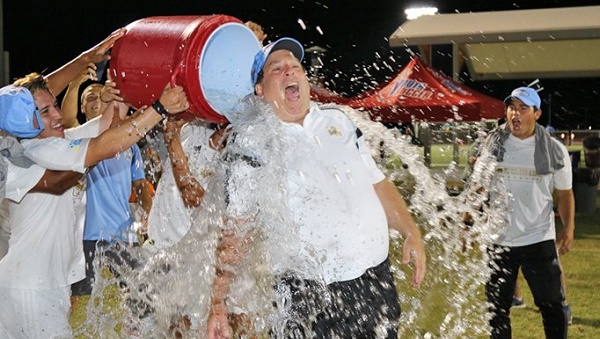 FRISCO, Texas (Via US Youth Soccer) — Four of the 14 champions were crowned Saturday night at the 2016 US Youth Soccer National Championships at the Toyota Soccer Center in Frisco, Texas.
2016 US Youth Soccer National Champions
Under-13 Girls | Solar Chelsea Red (TX-N)
Under-13 Boys | 02 CASL Academy Juniors (NC)
Under-19 Girls | So Cal Blues Dodge (CA-S)
Under-19 Boys | FC Golden State (CA-S)
FC Golden State (CA-S) edged FC Florida 96/97 Elite (FL), 3-1, to capture the 81st Under-19 Boys James P. McGuire Cup championship. The victory gave FC Golden State their second consecutive National Championship title.
On Sunday, the Under-14 through Under-18 Boys and Girls Championship matches will take place at the Toyota Soccer Center, with games scheduled to kick off from 8 a.m. to 11:10 a.m.
+Read: All finalists decided at US Youth Soccer National Championships
All National Championship finals can be seen live online at http://championships.usyouthsoccer.org/live/.
Highlights from Saturday's final matches…
Under-13 Girls: So Cal Blues 02 Baker (CA-S) 1-3 Solar Chelsea Red (TX-N)
Solar Chelsea Red (TX-N) won the Under-13 Girls National Championship tonight 3-1 in extra time against So Cal Blues 02 Baker (CA-S).
Solar, playing in front of an enormous local crowd, used that energy to keep up a frenetic pace throughout the game. Solar had two chances early as Trinity Byars and Quinn Cornog combined but were denied both times with stellar goalkeeping by So Cal's Reezyn Turk. So Cal had a great opportunity in the first half, as Simone Jackson ripped a shot to the bottom right corner but was saved by a diving Rachel Bump to keep the score at 0-0. So Cal took the lead in the 46th minute when Reilyn Turner got a ball and finished to the back post. Solar leveled the scoreline just five minutes later on a beautiful team play. Raigen Powell avoided defenders into the So Cal side of the field. Powell found Alexis Missimo who connected with a streaking Trinity Byars, who finished beautifully. Turk was called into action multiple times, making great saves keeping So Cal in the game as Solar controlled possession. As the game went into overtime, Byars gave her team the victory as a long ball into the box got knocked back across the face of goal by Missimo right to Bryars, who finished from close range. Cornog added an insurance goal for North Texas when she headed home a crossed ball into the upper left corner. The Blues couldn't find any true offensive chances and time expired with Solar becoming the Under-13 Girls US Youth Soccer National Champions.
"A game like this is about heart," said Chris Pulpaneck, head coach of Solar Chelsea. "It's about who's going to have some energy and that extra bit of fight in them and our girls dug deep and worked hard and got some goals in the end. It's unbelievable to be National Champions."
+Read: Chicago Fire Academy U-15 Boys earn US Youth Soccer finals berth
Under-13 Boys: Strikers FC Chingirian (CA-S) 1-2 02 CASL Academy Juniors (NC)
02 CASL Academy Juniors (NC) earned the National Championship title with a 2-1 win over Strikers FC Chingirian (CA-S), as the Under-13 Boys championship match started off with urgency from the first whistle, and the play never slowed down from there. Previously in group play, Strikers defeated CASL, 2-0, on Thursday, and the Cal South team had gone undefeated in the three games. CASL claimed the early lead in the fifth minute when Jason Smith stood on the back post during a corner kick and headed the ball into the net. Strikers immediately retaliated when a ball bounced over, catching the CASL defense off guard, for Reagan Wortmann to run on and slot into the goal. CASL stole the lead right back as Ian Holdaway took the ball down the sideline and found Adam Armour in the middle of the 18-yard box to slide his shot past the Strikers goalkeeper.
The second half featured gutsy performances from both teams as they each were hungry for a goal. Strikers nearly tied the match when they had a follow-up shot that was called back for offside, and CASL generated a few close opportunities right in front of the goal, which either hit the goal post or skimmed right over the crossbar. Although the Strikers applied high pressure in the final minutes of the match, CASL's defense and goalkeeper Robert Alphin remained solid and made some crucial saves to hold the lead.
"I couldn't be more blessed," CASL head coach Mark Jonas said. "It was a blessing from God. I've had some of these boys since they were six or seven-years-old. It's surreal at this moment. I'm so proud of them. It's incredible. Time couldn't have moved any slower, and the boys fought to the end."
+Read: Dix Hills Hurricanes U-16 Boys advance to US Youth Soccer finals
Under-19 Girls: So Cal Blues Dodge (CA-S) 5-0 McLean 96 Green (VA)
So Cal Blues Dodge (CA-S) defeated McLean 96 Green (VA) 5-0 to claim the Under-19 Girls US Youth Soccer National Championships. This marks the third time a So Cal Blues team has reached the Under-19 Girls National Championships since 2012, but the first time the club win the national title.
"It's great. I'm so happy they created a memory they will remember for rest of their life," So Cal Blues head coach Randy Dodge said.  "This is a fantastic group. We had a great week and to finish it off with a national title is incredible."
The 2016 Region IV Champions began the scoring just seven minutes in the game when University of Oregon player Marissa Everett got deep inside the McLean box before slipping a pass to Under-17 U.S. Youth National Team player Karina Rodriguez, who sent her shot into the open net for the 1-0 lead. Everett was it again the second half when her shot from 30 yards out went through the McLean keeper's hands to give the Southern California side the 2-0 lead.
University of Southern California player Nicole Rosen gave So Cal Blues the 3-0 lead after receiving a cross from the top of the box before rifling her shot into the back of the net. Pacific University player Hannah Stammer gave Blues its fourth goal after sliding her shot past the oncoming keeper, and Anika Rodriguez score her third goal of the tournament off a free-kick in the final minutes. U.S. Under-19 Youth National Team player Ally Prisock and the So Cal Blues back line kept its third clean sheet of the tournament.
+Read: Late goal sends McLean U-15 Boys to US Youth Soccer title match
Under-19 Boys: FC Golden State (CA-S) 3-1 FC Florida 96/97 Elite (FL)
In the Under-19 Boys final, FC Golden State (CA-S) used a big first half to come away with a 3-1 victory over FC Florida 96/97 Elite (FL) and lift the McGuire Cup trophy. The title marked Golden State's second straight National Championship, as the Cal South side defended the title it earned as an Under-18 side a year ago.
Saturday's game began with a very quick pace, as the teams exchanged moments of possession in their respective attacking halves. Golden State grabbed an advantage in the 20th minute when Pedro Fonseca buried his chance in front of goal, and Fonseca doubled the Cal South side's lead shortly after by converting a penalty kick. Maicon Abreu pushed the lead to 3-0 in the 35th minute when he made a run to the near post and headed a corner past the Florida keeper.
FC Florida, which has proven to be a strong second half team this week, lived up to that billing on Saturday night. However, Golden State did well to absorb the pressure and maintain its three-goal lead for much of the game. It wasn't until the 78th minute that John Schroeder broke through to put FC Florida on the board and cut the lead to 3-1. However, Golden State saw out the final 15 minutes of play and held on for its second straight National Championship.
"You never really think it's going to happen," FC Golden State coach Robert Friedland said. "So when you actually come to realization and know the boys have worked two years in a row and done what they've done, there can't be a better feeling."
2016 US Youth Soccer National Championships | Saturday Finals
| | | | | | | | |
| --- | --- | --- | --- | --- | --- | --- | --- |
| U13 | Boys | Strikers FC Chingirian | CA-S | 1 | 02 CASL Academy Juniors | NC | 2 |
| U13 | Girls | So Cal Blues 02 Baker | CA-S | 1 | Solar Chelsea Red | TX-N | 3 |
| U19 | Boys | FC Golden State | CA-S | 3 | FC Florida 96/97 Elite | FL | 1 |
| U19 | Girls | So Cal Blues Dodge | CA-S | 5 | McLean 96 Green | VA | 0 |
2016 US Youth Soccer National Championships
Finals Schedule | Sunday, July 31
| | | | | | | | |
| --- | --- | --- | --- | --- | --- | --- | --- |
| 8:00 AM | U14 | Girls | BRYC 01 Elite | VA | PSG MI Gators 02 Orange | MI | Field 5 |
| 8:15 AM | U14 | Boys | Valparaiso United FC 02 JG | AZ | Baltimore Darby 01/02 | MD | Field 6 |
| 8:30 AM | U16 | Boys | Dix Hills Hurricanes | NY-E | Loudoun Red | VA | Field 7 |
| 8:40 AM | U17 | Girls | YMS Premier Xplosion 98 | PA-E | Beach FC 98 Academy | CA-S | Field 4 |
| 9:00 AM | U18 | Boys | FC Golden State Platinum | CA-S | Santa Barbara SC White | CA-S | Field 8 |
| 9:40 AM | U17 | Boys | Pipeline Black | MD | Loudoun 98 Red | VA | Field 5 |
| 9:50 AM | U16 | Girls | Carlsbad Elite 99 | CA-S | La Roca Premier PO | UT | Field 6 |
| 10:20 AM | U18 | Girls | Carlsbad Elite 97/98 | CA-S | Tennessee SC 16 | TN | Field 7 |
| 10:40 AM | U15 | Boys | CFA Raiders | IL | McLean 00 Green | VA | Field 4 |
| 11:10 AM | U15 | Girls | CUP Gold 00/01 | OH-S | Midwest United FC 01 Royal | MI | Field 8 |
*Central Time