adidas Blue Chip Showcase to host some 400 teams, 500 college coaches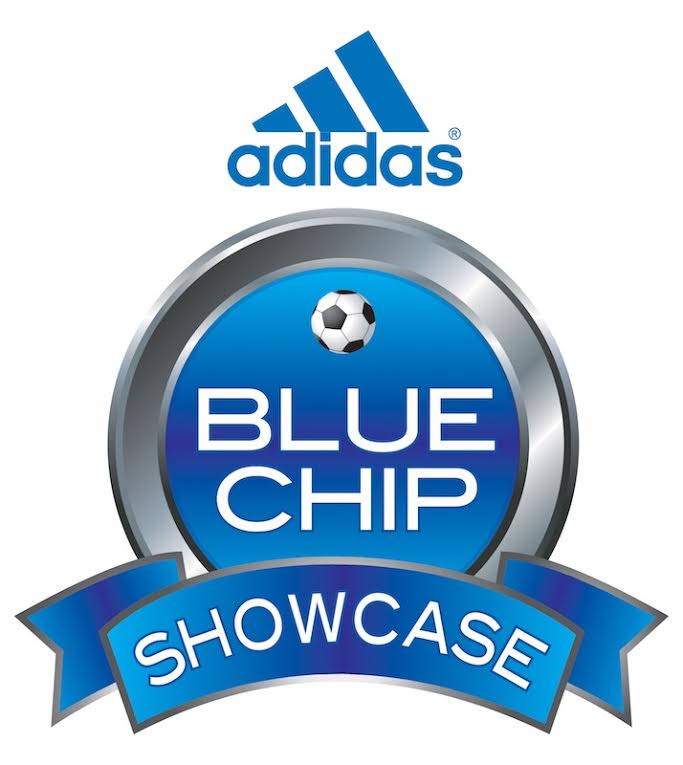 (Via Kings Hammer SC) – The 2016 edition of the adidas Blue Chip Showcase will host nearly 400 teams from throughout the U.S. and Canada.  Teams will compete in and around Oxford, OH to showcase their talents in front of hundreds of college coaches.  The women's event takes place April 15-17 and the men's is April 22-24.
Women's: Accepted Teams | College Coaches
Men's: Accepted Teams | College Coaches
The adidas Blue Chip Showcase, one of the premier college soccer recruiting showcases in the U.S., is set to host 500 college coaches seeking players that will fit into their respective programs. 
The showcase, open to elite level U14 – U19 men's and women's teams, will bring together 140 clubs from 21 states and 15 clubs from Canada. Participating clubs will travel from Alabama, Georgia, Iowa, Illinois, Indiana, Kansas, Kentucky, Maryland, Michigan, Minnesota, Missouri, Mississippi, New York, Oklahoma, Ohio, Pennsylvania, South Carolina, Tennessee, Virginia, Wisconsin, West Virginia and Canada.
+Read: Youth Soccer Top 25 Twitter Rankings entering March 2016
These teams also come from many of the top youth leagues around the country, including the US Youth Soccer National League, Region I Champions League, Region II Midwest Regional League, Region III Premier League, and US Club Soccer National Premier Leagues. US Youth Soccer State Cup, Regional Cup, and National Championship teams have also been accepted to the event.
The adidas Blue Chip Showcase is in its 25th year and is run by the Kings Hammer Soccer Club, which is based in Cincinnati, OH and Northern KY.  The showcase, which turned down over 130 teams this year, will look to expand in 2017 when it utilizes a new thirteen field soccer complex located in Batavia, OH.
+Read: Kings Hammer SC announces 40 college commitments for 2016
2016 PARTICIPATING CLUBS
Canada – AG London, Darlington SC, Erin Mills, King City Royals, London Youth Whitecaps, Oakville SC, Oshawa Kicks SC, Ottawa South United, Pickering SC, Richmond Hill, Saltfleet Stoney Creek, Supernova FC, Toronto Lynx SC, Vaughan Azzurri, Woodbridge Strikers
Alabama – Birmingham United
Georgia – AFC Lightning, Darlington Soccer Academy
Iowa – Iowa Rush
Illinois – Campton United SC, Chicago Fire Juniors, Chicago Inferno, Chicago Inter, CL Force, Cruzeiro Chicago, Eclipse Elite, Eleven United, FC United, Galaxy SC, GLSA Libertyville FC, NSA Hawks, Chicago Sockers FC,
Indiana – Alliance FC, Carmel FC, ECU, FC Pride, Fort Wayne United, Hoosier FC, Indiana Fire Juniors, Indiana Invaders, Indy Premier SC, Sporting SI, Three Lions United, Westside United, ZYSA
Kansas – Sporting BV
Kentucky – Derby City, Javanon, KY Fire Juniors, Kings Hammer SC, Lexington FC, United 1996 FC
Maryland – Bethesda SC
Michigan – Alliance FC, Ann Arbor United, Canton Celtic, Force FC, Michigan Impact, Michigan Jaguars, Michigan Rush, Michigan Wolves-Hawks, Plymouth Reign, PSG MI Nova, Waza FC
Minnesota – Maplebrook, Minnesota Twinstars Academy, MN Thunder, Rev Academy, Shattuck St. Mary's, St. Croix Academy, Tonka United Premier, Woodbury SC
Missouri – Lou Fusz FC, Sporting STL, St. Louis Scott Gallagher
Mississippi – South Mississippi SC FC United
New York West – Empire United Buffalo, Empire United Rochester, GPS – New York, Lockport FC, Rochester Futbol, Syracuse Development Academy
Oklahoma – Oklahoma FC
Ohio North – AC Premier, Ambassadors FC, Challenger Crew Jrs., Challenger FC North, Cleveland CSA Impact, Cleveland Futbol, Cleveland Inferno, Cleveland United SC, Cleveland Whitecaps, Excalibur SC, GTFC Impact, Metro FC Toledo, Ohio Premier, Pacesetter, Pennine United, Soccer Vision Academy, Team Challenger, Toledo Celtics
Ohio South – Barcelona United Academy, Beechmont, Blast FC, BSA Celtic, Cincinnati Soccer Alliance, Cincinnati United Premier, Classics Eagles FC, Club Ohio, Columbus Crew SC, FC 42 Academy, FOSC, Kings Hammer SC, Metro FC, NWC Alliance, Ohio Elite, Ohio Galaxies FC, Ohio Premier, Pride FC, Total Futbol Academy, Tri-State Futbol Alliance, Warren County
Pennsylvania East – Huntingdon Valley, Keystone FC, LDC United Italia, South Central PA
Pennsylvania West – Allegheny Force FC, Arsenal FC, Beadling SC, Century V, North United, PA Crew Academy, Pittsburgh Riverhounds, Stars United SC
South Carolina – Carolina Elite
Tennessee – Arlington, Clarksville, Collierville, FC Alliance, Tennessee SC,
Virginia – ABGC Annandale United, FC Virginia, SYC Stampede
Wisconsin – Bavarian Milwaukee, Croatian Eagles, Elm Grove, FC Wisconsin, North Shore United, Rush Wisconsin, SC Waukesha, Strike FC,
West Virginia – Fury Fighters, MUSC Revolution, West Virginia Futbol