Eastern New York 99 Boys win ODP National Championship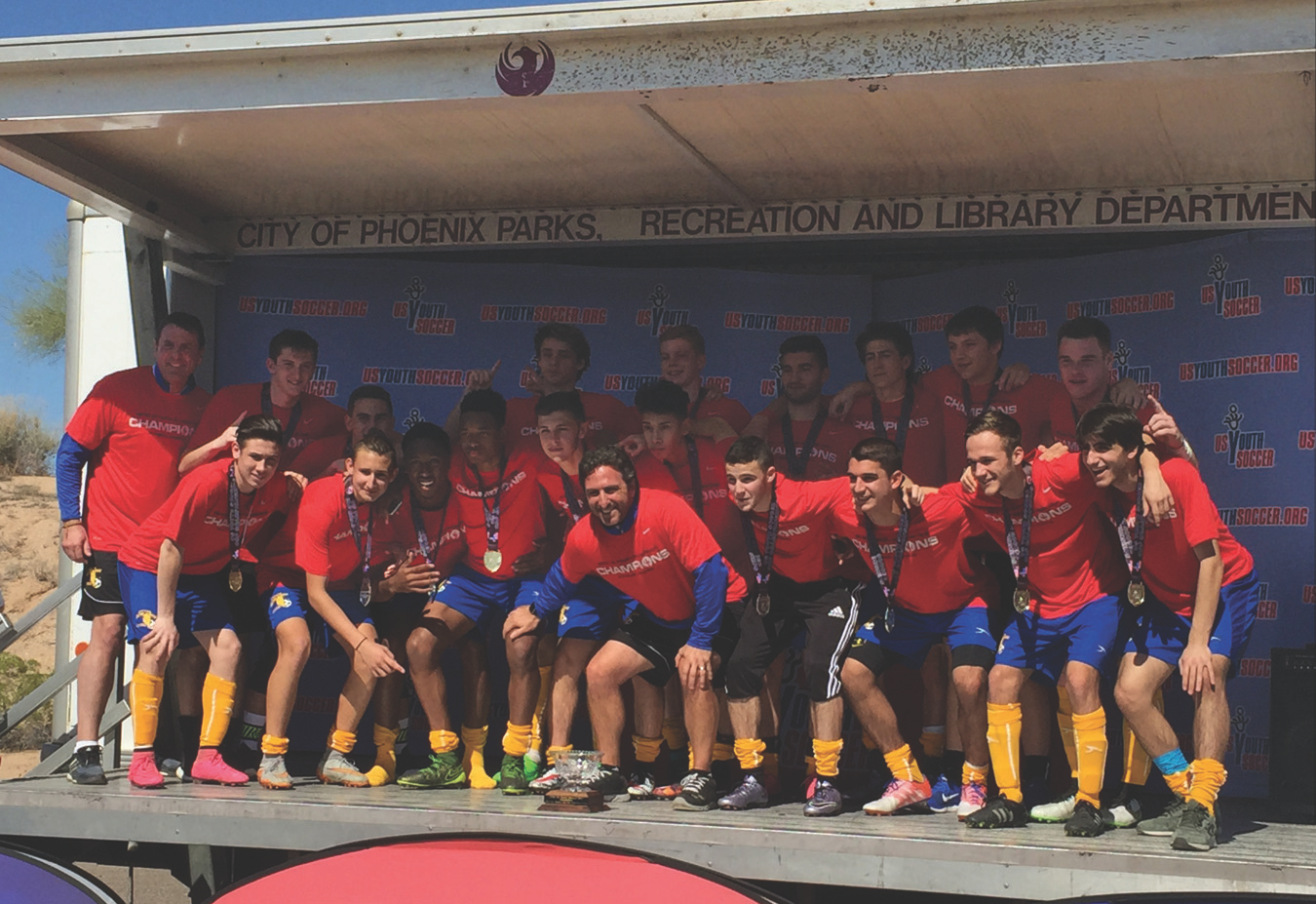 (Via ENYYSA) – The phrase that "Defense wins championships," could not be truer for the 1999 Boys South ODP Team from the Eastern New York Youth Soccer Association (ENYYSA), who have returned home to New York as national champions.
Eastern New York played two scoreless ties and won the shootout of both games at the Olympic Development Program (ODP) Nationals in Phoenix from February 26 to 28. They did it even with having a player sent off early in the second half both games so they played most of the second half and all of 30 minutes of overtime down a player.
A big hero of ODP Nationals was Eastern New York goalkeeper Tyler McElhinney of Jericho, who had a shutout during 240 minutes of play, saved three penalty kicks in the shootout and scored on both his shootout attempts. Pablo Napoli Borrero from Brooklyn scored the fifth and final penalty kick of each shootout to give Eastern New York the wins.
"This was the best group of kids I have ever coached in three decades of coaching," commented Ralph Pascarella, head coach of 1999 Boys South ODP. "All 18 guys bought into team first and everybody played a role and contributed, through two overtime games and two shootouts. Blake Aronson and Matt Sloan were great leaders on the field and Tyler McElhinney would have gotten MVP if the Final Four had that award."
+Read: Undefeated BW Gottschee U-17/18 side eyes redemption, not perfection
In the semifinal against North Carolina, even though Eastern New York was down a player for much of the game, they had the better of play and advanced from the shootout, 5-4. In the championship game against Minnesota, Eastern New York had the disadvantage of playing two overtime games in 36 hours, was also down a player for most of the game, yet they won the shootout, 4-3, after another scoreless tie.
Eastern New York's 2000 Girls South ODP Team had problems getting acclimated to the Arizona heat during the semifinal and lost, 5-0, to Cal South, the eventual champion. But our girls did much better in the third place game, shutting out Illinois, 2-0, with Maya Scholnick of Manhattan and Sarah Tappeto from Merrick scoring the goals.
"Both of our teams represented Eastern New York extremely well with a very high quality of play and great sportsmanship," commented ODP Chairperson Jim Volpe.
+Read: Champions crowned at US Youth Soccer ODP Championships
ODP is considered the highest level of competition in the state. Each year, players must be re-evaluated by the ODP professional staff of coaches for a position on each age-specific team. The identification process ends each summer with the most elite players within Region 1 competing for a position on the regional team. Players are then identified by United States Soccer Federation (USSF) staff coaches for possible entry to the national teams program. Yet even those players who do not make the Region 1 or the national teams often use ODP as a springboard to college scholarships and even on to professional soccer.