ACC men's soccer Preseason Poll, Players to Watch List unveiled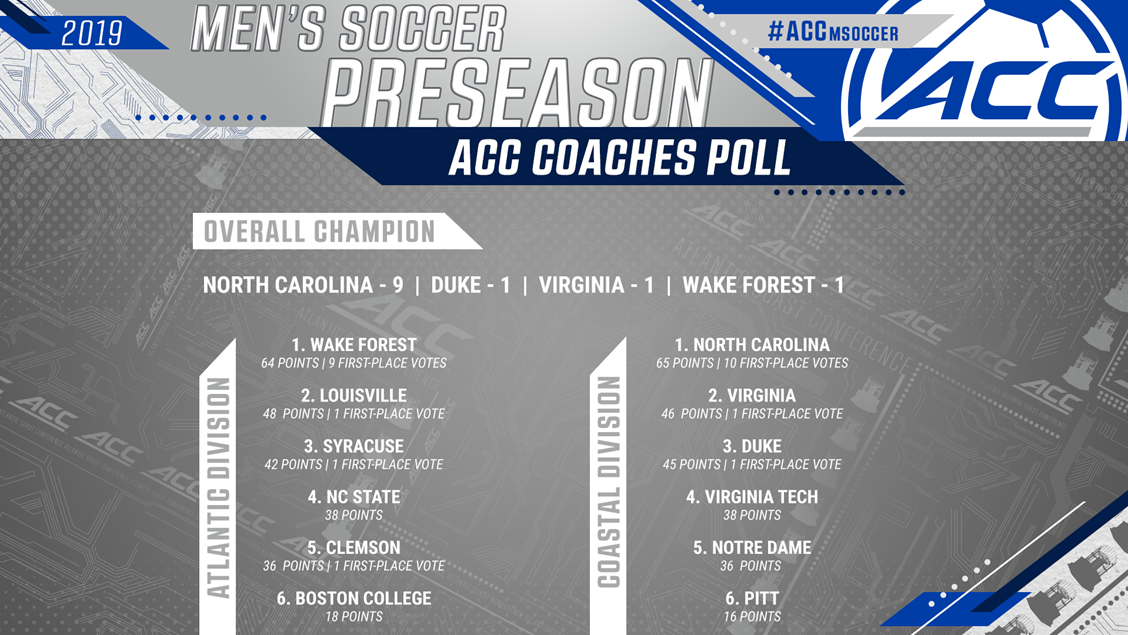 GREENSBORO, N.C. (TheACC.com) – Following a vote of the league's 12 head coaches, North Carolina has been picked as the preseason favorite to capture the 2019 Atlantic Coast Conference Championship. This marks the fourth straight preseason in which UNC was predicted to win the conference title.
North Carolina received nine of the 12 first-place votes to win the 2019 championship. Duke, Virginia and Wake Forest each garnered one vote.
The Tar Heels also were the favorite to win the Coastal Division, while Wake Forest was picked as the favorite to prevail in the Atlantic Division.
UNC scored 10 of the 12 first-place votes and 65 points to earn the favorite status in the Coastal Division. Virginia (46 points) and Duke (45) each garnered one first-place vote and were picked second and third, respectively in the division. Virginia Tech (38), Notre Dame (36) and Pitt (16) followed in fourth through sixth, respectively.
Wake Forest claimed nine first-place votes and 64 points to serve as the favorite in the Atlantic Division. Louisville, Syracuse and Clemson each received one first-place vote. The 2018 ACC Champion, Louisville, totaled 48 points to stand second in the division in the preseason poll. Syracuse (42), NC State (38), Clemson (36) and Boston College (18) comprise the third through sixth slots.
Five student-athletes from the ACC were selected to the MAC Hermann Trophy Watch List, the most of any conference: Duke senior forward Daniele Proch, Wake Forest senior midfielder Bruno Lapa, Louisville junior forward Emil Elvoreth, NC State junior midfielder David Loera and North Carolina senior midfielder/defender Mauricio Pineda. Four of those student-athletes are represented on the conference's 2019 Preseason Watch List, which is comprised one of student-athlete from each ACC program.
The ACC Championship begins Nov. 5 and 6 with first-round matches. The quarterfinals are slated for Sunday, Nov. 10 and the semifinals for Wednesday, Nov. 13. After the preliminary rounds are contested at campus sites, the ACC Championship match will be held Sunday, Nov. 17 at WakeMed Soccer Park in Cary, North Carolina.
The ACC topped all leagues with seven men's soccer programs among the United Soccer Coaches NCAA Division I Preseason Top 25. ACC teams comprised seven of the top 16 teams in the poll: Wake Forest (4), North Carolina (6), Notre Dame (9), Duke (10), Virginia (12), Louisville (14) and Virginia Tech (16). In all, 10 of the ACC's 12 men's soccer teams received votes in the initial poll. NC State, Syracuse and Clemson each received votes but were just outside of the top 25.
The ACC's 2019 season officially gets underway Thursday, August 29, when Boston College plays host to Quinnipiac. Ten ACC squads open August 30, while Notre Dame kicks off its season August 31.
2019 ACC Men's Soccer Preseason Coaches Poll
Overall Champion
North Carolina, 9
Duke, 1
Virginia, 1
Wake Forest, 1
Atlantic Division
Wake Forest, 64 (9)
Louisville, 48 (1)
Syracuse, 42 (1)
NC State, 38
Clemson, 36 (1)
Boston College 18
Coastal Division
North Carolina, 65 (10)
Virginia, 46 (1)
Duke, 45 (1)
Virginia Tech, 38
Notre Dame, 36
Pitt, 16
First-place votes in parentheses
2019 Preseason Watch List
Kristofer Konradsson, Boston College, W/F, Sophomore, Gardabaer, Iceland
Malick Mbaye, Clemson, D, Senior, Dakar, Senegal
Daniele Proch, Duke, F, Senior, Riva Del Garda, Italy
Lamine Conte, Louisville, M/D, Senior, Conakary, Guinea
Mauricio Pineda, North Carolina, M/D, Senior, Bolingbrook, Ill.
David Loera, NC State, M, Junior, Orlando, Fla.
Felicien Dumas, Notre Dame, D, Graduate Student, Tokyo, Japan
Edward Kizza, Pitt, F, Junior, Kampala, Uganda
Ryan Raposo, Syracuse, M, Sophomore, Hamilton, Ontario
Joe Bell, Virginia, M, Junior, Wanaka, New Zealand
Kristo Strickler, Virginia Tech, F, Junior, Hilliard, Ohio
Bruno Lapa, Wake Forest, M, Senior, Curitiba, Brazil