USWNT: Young technician Morgan Brian carries hopes for a better Women's World Cup future – and present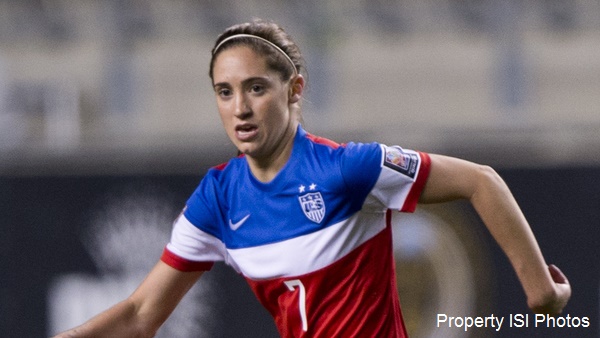 With the U.S. Women's National Team clinging to old ways and the rest of the women's soccer world advancing rapidly, it's easy to get gloomy about the future as the 2015 Women's World Cup unfolds this month.
[player_box id=25475 leftright=right]The Title IX-fueled head start the U.S. enjoyed for so long has vanished, and the rest of the planet is slowly but surely surpassing the USWNT with a more technical, intricate level of play – or so goes the line of thinking. Some even suggest that the current squad will be the USA's last World Cup contenders for the foreseeable future.
+READ: Dure: Can U.S. Women ditch "Whack it to Wambach" style?
The Yanks' tepid performances in Canada haven't done too much to discourage this sort of fretting. But it appears that one important beacon of hope will step back into the starting 11 in Friday night's quarterfinal showdown with China (7:30 p.m. ET, broadcast live on Fox/NBC Universo).
Morgan Brian is the odds-on replacement for the suspended Lauren Holiday in central midfield. And while the team's youngest player hasn't quite grabbed the brass ring in her three appearances (one start) thus far in this tournament, her ascension into the lineup offers promising signs – of her own personal growth as well as the future of a team caught between two very different generations.
Imposing in neither size nor speed, Morgan is a gifted orchestrator of play, a classic No. 10 with nuanced elements to her game that have traditionally eluded many products of the United States' enormous yet flawed youth system.
Strikingly, she achieved this in a relatively small soccer scene (the Jacksonville, Florida area) without playing in the Elite Clubs National League or adhering to the year-round calendar that has become a reality in the youth game's top echelons.
"I played a lot of different sports. I played basketball all four years of high school, and I really enjoyed it … it helped me not get burned out on soccer," Brian told me before the USWNT departed for Canada. "I grew up in Georgia and played high school soccer in Florida, so when I played high school sports they overlapped. So when I played basketball, I would take off from soccer.
"Sometimes I would come back from basketball and be better at soccer than I was before – mentally I was fresh, I really wanted to play soccer," she added, noting that she also played volleyball and softball at various stages in her adolescence. "Obviously I would play once or twice a week and I'd go out and kick a ball for fun, but I wasn't practicing with the team."
+READ: Morgan Brian named U.S. Soccer 2014 Young Female Athlete of the Year
Brian commuted from little St. Simon's Island, Georgia to the Jacksonville area to play for Ponde Vedra Storm and Clay County Soccer Club, where she also played up in age, as many as four years. She won myriad team and individual honors, but more importantly developed her game under veteran coach Luis Torres, who has said that Brian and her Storm team "changed the landscape of soccer in Jacksonville" with their excellence.
"My club coach, I think, has a lot to do with my soccer IQ and my technical ability," Brian said. "My club team was a good soccer team. When we were growing up, there wasn't a lot of teams that were so technical and playing good, free-flowing, creative soccer. So [Torres] would always put us in really tight spaces, possession-wise.
"If you watch a team training possession, if you think the square is small, then you should've watched our trainings. We would be like, 'This is so small' – we couldn't take one touch without someone clobbering us. But 20 minutes later, we're pinging the ball. It teaches you, when you're younger – if you have a bad touch and you get clobbered, you learn because you have to take the touch away from the pressure.
"The spaces kind of taught themselves, and I think that was something huge in my development," she continued. "We played in a lot of small-sided games to goal, and a lot of times he wouldn't stop us, he'd let us play for 30 minutes straight, no coaching … We were smart enough to realize that if you make a mistake, you try something different."
Mastery of the ball was constantly emphasized as well, a focus that continued as she became the youngest player on the 2008 US U-17 World Cup squad and was recruited to the slick-passing ethos of coach Steve Swanson at the University of Virginia.
"Even with Steve at Virginia, technical was huge, and one-on-one all the time," recalled Brian.
She headlines a generation which has grown up in a far larger, more savvy soccer culture than the one her 30-something teammates did.
+READ: NCAA stars Morgan Brian, Leo Stolz win 2014 MAC Hermann Trophy
Her age crop – which includes defender Julie Johnston, the breakout star of this summer thus far – has even won a FIFA World Cup trophy already, at U-20 level in 2012, and they did so by beating Germany, the USA's bogey team, in the tournament final.
Her veteran teammates have taken notice.
"Life is so different for these kids nowadays. They're having to specialize in something so early. I didn't. I played basketball, I played soccer, baseball, softball, football, hockey," midfielder Shannon Boxx, who turns 38 this month, said.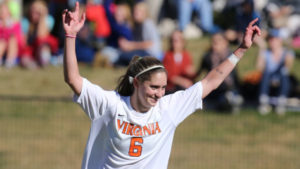 "It's a shame that has to be the way it is, but also these kids are getting so much better training in these specialized sports than I ever did.
"My 26-year-old self – that's when I made the national team – if I was 26 and that same person now, I don't know if I would've made it. The level has just improved so much, the technical side. I was athletic and I was hard and I could get fit, and that's what helped me it as a 26-year-old. I've developed my technical side over the last 10, 12 years on the national team, but you're looking at Christen Press, you're looking at Morgan Brian – they are so technical. I don't think I was that technical when I was their age. So it's great to see that the game is growing."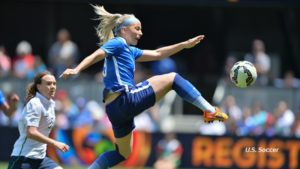 Johnston, 23, has wowed observers with her quick adaptation to the rarified air of the WWC, anchoring a stout U.S. back line which has allowed just one goal in four matches thus far. Brian's unflappable nature hints at a similar mentality: She's already won one World Cup, so why not go and win another?
"They're the same, pretty much, in terms of the format, the competition, everything like that. It's the same," she said before allowing herself a self-conscious chuckle. "Obviously this is the real World Cup, and it's not a youth World Cup, so it is different … But it's something that we've had experience playing in, with the youth.
+READ: Dougherty: USWNT no longer the world's best
"Winning the World Cup with the 20s was one of the highlights of our [her and Johnston's] careers so far, and in terms of the chemistry of the team, just fun. We had so much fun playing with that team," added Brian. "We learned a lot from it – and also, we lost a game in group play. So I think we've been through those times where it's not gone our way, and it ended up working out. … You can still bounce back and pull through it."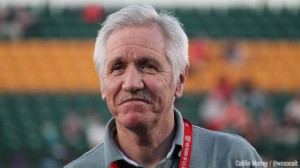 Less than a year ago, it seemed that Brian was destined to be an end-of-bench reserve – at best – on this World Cup squad. USWNT coach Tom Sermanni had sparked a youth movement by calling her and the likes of Crystal Dunn, Kristie Mewis and Erika Tymrak into the team in 2013, only for Brian's role to be tapered down after Jill Ellis took over following Sermanni's abrupt dismissal. Ellis offered polite praise, but didn't use her much in CONCACAF World Cup qualifying last year.
Yet here she is, set to start her second WWC match in the heart of the USWNT midfield.
"I think that when she first came on she maybe wasn't sure on me – or a lot of players at that point," said Brian of Ellis when we spoke last month. "She was still trying to figure everyone out.
"But I think in qualifying, towards the end I feel like I proved myself to her. She told me, too: A lot of players proved themselves over a certain period of time and she kind of had an 'aha moment.' So hopefully by now I've proven myself."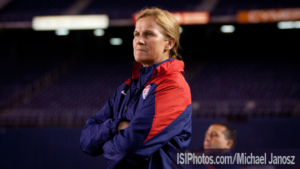 Ellis' use of Brian has raised eyebrows, however. Last year she looked to shoehorn her – as with the creative Holiday – into a more defensive holding role, and against Sweden in the group stage, Brian started in a right-sided role that did not suit her strengths.
But for now, the onus to adapt has been placed on the player, not the coach.
"I love to attack. I've always played attacking mid, my entire life," Brian told me. "So with the system we play, I think the outside position is more attacking for me, which I love to do. But I told Jill, she knows I will do whatever I need to do for the World Cup and whatever she needs me to do."
+READ: LeBolt: Is the USWNT too old to win a Women's World Cup?
In contrast to the guarded, careful answers offered up by some of her teammates, Brian was remarkably honest when I asked her about the adjustment she had to make from Virginia's tiki taka-style passing to the more direct approach usually preferred by the USWNT.
"It's just different. I've been on a lot of teams that have played like Virginia in that sense, and I think this team at some points in time does do that," said Brian. "And we can do that, we have the ability and the players to do that kind of stuff. But for me as a player, I think it's a good thing to experience all different types and be able to break a team down in different ways instead of just always playing really good soccer."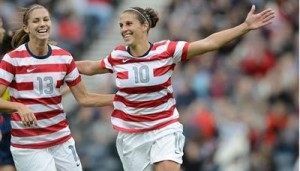 Decorated veteran Carli Lloyd currently owns the USWNT No. 10 jersey – both literally and tactically – that appears to be Brian's destiny, and the contrast in the two players' skillsets defines their team's generational shift. Lloyd is a hard-running, powerful presence with a nose for goal, while Morgan looks to string together passes and play the killer final ball.
+READ: Good enough is good enough, but something amiss in USWNT's WWC run
"I think [Boxx] is right – there's a lot of technical players coming up and I think the game is changing," said Brian. "So that's something that, we have a mix right now, so it's kind of hard in that sense."
For better or worse, the old guard isn't relinquishing ownership just yet, and they may yet prove themselves to be the best team in this tournament after all. But for those seeking a glimpse of a more evolved path ahead, Brian is the vanguard.
College Recruiting Commitment Tracker