U.S. Soccer sues U.S. Women's National Team's union: What you need to know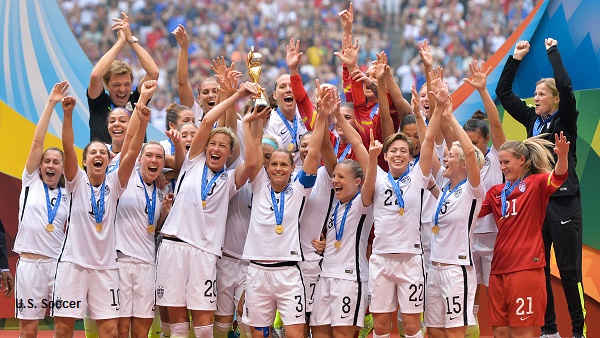 By now you've probably seen the startling news that the U.S. Soccer Federation has sued the United States Women's National Soccer Team Players Association in federal court, amid negotiations over the USWNT's collective bargaining agreement.
The defending Olympic gold medalists and Women's World Cup champions have already arrived in Frisco, Texas ahead of the opening of the 2016 CONCACAF Olympic qualifying tournament next week, the first competitive occasion of what's shaped up as a massive year for their program. But Wednesday's filing now pushes this long-simmering labor dispute into the spotlight, elbowing on-the-field concerns to the side.
+READ: U.S. Soccer files lawsuit on CBA dispute with WNT Players Association
U.S. Soccer's main legal representatives, Latham & Watkins LLP, have taken this action "to confirm the existence of the current collective bargaining agreement (CBA) that has been in place since 2013 and is set to expire on Dec. 31, 2016," according to a statement released by the federation.
This litigation is only the first volley in what figures to be a drawn-out, contentious negotiating process, and it centers on complex and often-confusing concepts of labor law. But we at SoccerWire.com have consulted with several legal professionals and read pages and pages of analysis on this situation to help you make sense of it. Here's a rundown of important points, including links to important coverage elsewhere.
* At odds: U.S. Soccer want stability; the USWNTers want flexibility
As Sports Illustrated's Grant Wahl notes, "the optics don't look great" when America's proverbial soccer sweethearts are sued by their own federation on "National Girls and Women in Sports Day." But the fed says it has done so "reluctantly," and only out of necessity, in response to what it essentially sees as a threat by Rich Nichols, the players union's (relatively) new executive director, to clear a legal path for the union to stage a strike or similar action this year should CBA negotiations go badly.
Conversely, the fed – which craves stability and performance from the players during a year with many important, lucrative and highly visible games – believes that the USWNT are specifically barred from doing so until 2017. All this would also apply to the national teamers' participation in the NWSL pro league, which is part of their contractual obligations.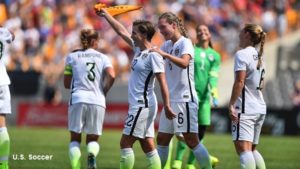 The USWNT's previous CBA expired in 2012. But the players and federation have continued to abide by its terms via a memorandum of understanding, a placeholder of sorts that nominally extends the status quo through 2016. The "MOU" enshrines important financial and contractual agreements in the CBA that govern how USMNT players are selected, paid, treated and beyond – and in return, they are bound by a "no-strike clause" while it is in place.
But the actual language of the MOU is vague in a few important places, and Nichols thinks the players union isn't actually required to stay on the job until the end of the calendar year. He contends that they can decide when the MOU expires, and in a letter sent to USSF on December 23, he wrote that the union would consider the MOU terminated if a new CBA wasn't agreed to, or at least within sight, within 60 days – which would mean that the USWNT is no longer bound by the no-strike clause as of Feb. 24. That would give the players powerful leverage. Can you imagine the defending gold medalists being forced to withdraw from the Olympics because of a labor stoppage?
"There's an antagonistic treatment of players that is almost foundational with the fed as we know it."
"The ability to withhold the labor of the Olympic team and NWSL's biggest stars right before the start of the tournament and season would give the union maximum leverage to address whatever issues it believes needed to be addressed," writes labor attorney and soccer historian Steve Holyrod for The Philly Soccer Page.
"As someone who makes a living representing labor unions, I applaud the aggressive and imaginative approach that the [players union] is pursuing here."
*Rich Nichols is loaded for bear, but the fed's attorneys are veteran combatants
The USWNT fired their longtime attorney John Lengel and replaced him with Nichols in November 2014. It seems the players – who've grown more and more irritated by what they perceive as inferior treatment to their male counterparts on the USMNT despite their world-beating performances – wanted a representative with more teeth. And Lengel probably got canned in part due to some statements he made in an arbitration hearing that the federation's attorneys are now using against the union, to prove that before Nichols showed up, everyone saw that the MOU was just as binding as the CBA and that it runs through this year.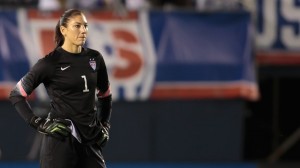 Nichols has maintained that he never threatened the fed with a strike, and merely disagrees with the fed's interpretation of the MOU.
"The players are committed to the US team and they just want to be treated fairly," he told the Guardian for another must-read piece on this issue. "I did not issue any threat about any action that we would take at all. All I did do was I made it quite clear that we are going to preserve our legal rights in this collective bargaining negotiation. I don't threaten."
Seeing a frugal, confident, entrenched federation in front of him, Nichols was probably rattling some cages – and the fed's lawyers responded in kind by filing suit on a hair trigger. The USSF has not hesitated to utilize Latham & Watkins – a high-powered, well-connected firm – in scorched-earth fashion before. Even now, they are exhausting seemingly every avenue at their disposal to prolong, via appeal, a long-running piece of litigation with the USMNT's union over image and advertising rights triggered by a proposed ad for a tequila company.
At this point, even if the fed get a judge to overturn multiple prior rulings for the union in that tequila case, their victory would only last until the current USMNT CBA expires in 2018. But they're still keeping the union bogged down in the matter – which, ironically, hinges on the fed contending that the terms of a previous labor agreement do not apply, the opposite of what they're arguing in the women's national team case.
*The players are angry, and the fed doesn't like to compromise
If all this legal maneuvering has your eyes glazed over, here's a more general reading of the temperature.
"There's an antagonistic treatment of players that is almost foundational with the fed as we know it," one source with ample knowledge and experience of the USSF told me.
Sitting at the top of their respective national pyramids as they do, most soccer federations around the world are used to wielding power with a strong hand. U.S. Soccer is no exception – and might be an even stronger actor than most in this regard, given that they've historically had to be more active than most federations, such as their founding and management of the NWSL.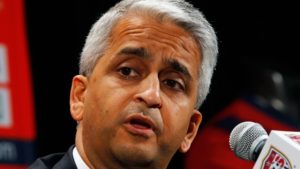 The fed almost always gets its way, on the domestic scene at least. But the USWNT is tougher, more successful, more popular and more committed – maybe even militant, at this point – than any backyard adversary the USSF has faced off against. Not only are they three-time World Cup winners and perennial Olympic titans, they have been irritated over and over again lately, from the "TurfGate" artificial-turf fiascos to their long-running frustration about flying in coach on occasions when the USMNT would ride in business class.
The federation's suit managed to inflame that state of affairs twice over this week – not only by filing suit, but by allowing the litigation documents to be released with players' addresses and other personal information not redacted, a galling error Megan Rapinoe called "disrespectful and unacceptable."
Team (and union) leaders like Rapinoe, Hope Solo, Carli Lloyd and Becky Sauerbrunn are the best in the world in their occupation, and with much of mainstream America highly sympathetic to their cause, are uninclined to make many compromises at this point. Even if the USSF wins this week's legal challenge, as many seem to think is the most likely outcome, it will mean only a modest decrease in the players' leverage.
They're ready to go to the mat, even in the midst of a busy year, and with good reason. After the Olympics, there are few major international events until World Cup 2019 qualifying picks up, so there's no time like the present to pick a fight with the fed.
College Recruiting Commitment Tracker