U.S. Soccer Girls' DA officials discuss goals for the new league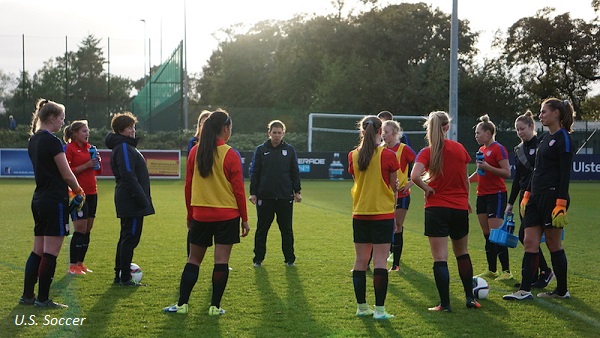 This past Saturday marked the kick-off of U.S. Soccer's first-ever Girls' Development Academy season. The opening season will see 69 clubs and 276 teams play across four different age groups: U-14, U-15, U-16/U-17, and U-18/U-19. Each age group will be broken into seven different geographical divisions so as to limit travel time. Select matches will also be available via U.S. Soccer's Facebook page.
In a teleconference with members of the media last week, Girls' DA Director Miriam Hickey, U.S. Soccer Women's Technical Director April Heinrichs, and U.S. Soccer Academy Director Jared Micklos spoke about this new venture and why the timing was right for creating the Girls' DA, ten year after the creation of the Boys Development Academy.
"Sometimes you focus on your strengths and sometimes you focus on your weaknesses. So you are looking at  a number of different factors in analyzing what is the right time," said Micklos. "In 2006, the team at that point felt that it was the right time for the boys program to initiate and per some conversations over time we felt that this was the right time for the girls. There wasn't a specific answer of 'boys versus girls' it was more the research that was done in launching it in one gender to help help learn and use it as a laboratory in terms what worked and what didn't."
+READ: U.S. YNT scouting in DMV heightens with new USSDA Technical Advisor Rob Elliott
"There has never been a doubt about starting a Girls Academy. It has more been a matter of 'when'," he said. "It was a matter of timing and when was the best time and that included everyone within our leadership team. In the last two years we had more specific conversations about it and we felt like now was the best time for a number of different reasons. With the current landscape, the player development environment specifically with in this case females we thought that we had enough success with the boys side and enough learning lessons that we were at a point where we could duplicate and take a lot of best practices to create the right environment for females."
So what will this system look like and how much influence will U.S. Soccer have over the style of play? Hickey said that U.S. Soccer will not dictate the style of play and that clubs will have the ability to choose what style fits them. Clubs will also have the ability to use fields that have either artificial or natural grass. However she did note that there are things that they are looking for in terms of development of the player. "What we will look for are players that make decisions in any challenging situations on the field at the highest pace possible and that is different for each position," she said. "We have what we call 'key qualities' that we are looking in players that we will share with each club. But every club is a little different and we stress that each club will do what is best for each individual player and make sure that she has a development plan that is best for her."
"We are looking for players that use both feet, all surfaces of their feet so they use the inside and outside of their feet and the sole of their feet," Heinrichs added. "A player that can freeze the game with the sole of their foot and change directions with and without the ball is a very agile player. So we are looking for players that look like that. We are looking for players that understand how to strike the ball with the outside of their feet and how to use their in-step. Those are two very different techniques. But if we can get our clubs to teach these techniques in isolation at younger and younger age groups they will move through our Girls Development program and our Youth National Team program with more tools and more techniques and make better decisions."
Each player in the GDA will be set up with Development Plans from their coaches. The plans will mirror a similar effort that U.S. Soccer has set in place with their Youth National Team where players have goals set up after a series of interviews with their coaches. Players will then receive a copy of the plan that they can bring home with them and share with their  parents. Heinrichs described it as a means of showing the player that "they own the plans. So that we are showing a means of self-awareness and self-regulation at a very young age."
Coaches and Academy Directors will also receive additional training and assistance through U.S. Soccer's Youth Technical Advisors. "The Technical Advisors primary role will be club support," said Heinrichs. "What that means is they are going to go in and talk to the Academy Directors and Coaches and sharing things like best practices and creating training sessions or curriculums. The Technical Advisors are a piece of the support that has never been there for club coaches."
The National Women's Soccer League and Major League Soccer will both play prominent roles in this new venture. The DA will feature 12 sides affiliated with nine NWSL sides (Boston Breaker, Houston Dash, FC Kansas City, North Carolina Courage, Orlando Pride, Portland Thorns, Seattle Reign, Sky Blue FC, and the Washington Spirit) for the inaugural season. In addition four MLS sides will field sides for the 2017-2018 campaign (LAFC, Los Angeles Galaxy, New York City FC, and the San Jose Earthquakes).
While the 2017-2018 Girls Development Academy campaign is only week old U.S. Soccer is already towards next season and expansion. Micklos said that U.S. Soccer will start accepting applications in October and will make any decisions on expansion in the first half of 2018. They also currently do not have a set number of sides that they are looking to cap the number of teams in the GDA at.
As for the players the hope seemed across all parties that this will lead to better players coming through the system. "We do expect players over time will be more well-rounded and will be able to compete internationally," said Hickey.
Heinrichs would add, "When U.S. Soccer makes a decision to create a platform like the Girls Development Academy we pour resources into it. We pour people and braintrusts into it. We are trying to put the players first."
College Recruiting Commitment Tracker