Tuli: Bethesda DA U-15/16s' stellar season ends in nat'l quarterfinals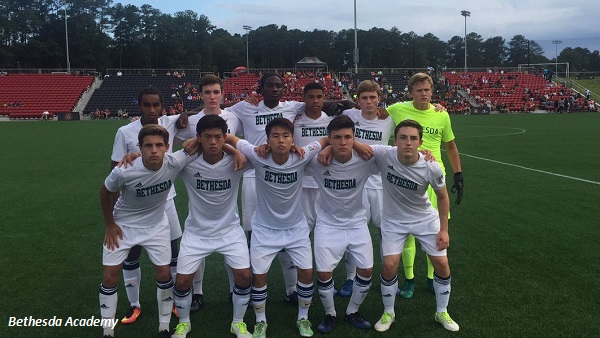 By Kismet Tuli, Special to SoccerWire.com
Bethesda SC's U-15/16 Development Academy team saw their season end last week with a disappointing 4-1 loss at Atlanta United in the national quarterfinals.
But the Maryland side – who built the deepest postseason run of any D.C./Maryland/Virginia DA team and were the only non-MLS team in their age group to reach the knockout stages – can look back with pride on a memorable year marked by a dramatic second-half surge.
Bethesda were sitting at a mediocre 6-6-2 record after a fall season in which they struggled for consistency, leaving them on the outside looking in on a playoff spot. Consistency is exactly what they found after the winter break, however.
They proceeded to go 10-0-2 in the spring season – defeating local sides D.C. United and Baltimore Armour as well as all their divisional opponents, en route to not only securing a playoff spot but securing the Atlantic Division title on the final day of the season with a win over Northeast Division side New York City FC.
Bethesda's impressive form only continued from there as they rolled into the playoffs as favorites to win their group. They duly obliged, with wins over Real So Cal and Capital Area Railhawks (N.C.), as well as a tie against Oakwood SC. That was enough to win the group, and capture their place in the national quarterfinals against Atlanta United.
+READ: Baltimore Armour, Bethesda carry DMV flag with pride at DA playoffs
Ten days after defeating CASL 3-0 to win their DA playoff group, the Bethesda 16s were Atlanta bound for a win-or-else game at the brand-new, $60-million Children's Healthcare of Atlanta Training Ground that the MLS expansion club opened in mid-April.
The 16s got to Atlanta a day early and were able to take advantage of the gorgeous facility the day before.
16s have arrived in Atlanta. Pre-game training for tomorrow's knockout round game. pic.twitter.com/ElsaxbWRjp

— Bethesda Academy (@BethesdaAcademy) July 5, 2017

Heading into the game, it had been made clear that Atlanta were chasing their spot at the national final four in Carson, California at full throttle, as they brought in Homegrown player Andrew Carleton from their pro team for his first appearance with the ATL UTD 16s this year.
Come out support me and the boys at the Atl training ground as we take on Bethesda in the #academyplayoffs quarter finals tomorrow at 7🔴⚫️

— Andrew Carleton (@andrewcarleton7) July 5, 2017

The home team featured many other notable players, including Carleton's fellow HGP George Bello and U.S. U-17 National Team winger Zyen Jones, who spent most of the past year at U.S. Soccer's residency program in Bradenton, Florida.
Starting 11 v Atl United pic.twitter.com/6Gt6cJs9DM

— Bethesda Academy (@BethesdaAcademy) July 6, 2017

The game started off quickly in Atlanta United's favor, as they nearly scored off a long shot from Bello and pressured Bethesda hard inside their own half.
Big Save From Cole McNally To Keep It At 0's Early On pic.twitter.com/gdpzGaVLX7

— DMV Soccer (@DMVsoccer96) July 6, 2017

Twelve minutes in, the game was sent into a weather delay due to lightning in the area, but once the sides came back out it took Atlanta just five minutes to grab a goal, with Dylan Gaither knocking in a cross to give the home side the 1-0 advantage.
Just 16 minutes later, Carleton finished into an empty net after a sweeping counterattack before James Brighton headed in a third to give Atlanta a resounding lead a minute before the half.
Alessandro Allen nearly handed Bethesda a lifeline early in the second half, but Atlanta United's goalkeeper made the first save before a defender saved Allen's second shot off the line.
Asensio to the rescue 👊

Heroic defending to keep the clean sheet intact pic.twitter.com/eFQGzHg0lf

— ATLUTD Academy (@AcademyATLUTD) July 7, 2017

Some 10 minutes later, Jones would all but end the game after a short corner-kick routine freed Carleton, who hit a low cross into the box with Jones providing the finish this time, making it 4-0.
Atlanta United would soon win a penalty kick, only for Jackson Conway to fire it over the bar, before Bethesda's Gabe Segal grabbed his team-leading 24th goal of the year in the 78th minute to deny Atlanta United a clean sheet.
The season may not have ended the way Bethesda might've liked, but making it all the way to the national quarterfinals and a division title is an achievement in itself.
They will return a majority of this group to the U18s next season, bar team captain Joe King, who is headed to Messiah, and will look to come back just as strong and make another run at the national championship come fall.
@BethesdaAcademy @futboldelrey @ussoccer_acad @DMVsoccer96 It has been such a journey! Thank you pic.twitter.com/SQVa5S4GY6

— Shoshanna King (@shoshannaking) July 7, 2017
College Recruiting Commitment Tracker