Tuli: Baltimore Armour, Bethesda carry DMV flag with pride at DA playoffs
By Kismet Tuli, Special to SoccerWire.com
After strong regular seasons in the U.S. Soccer Development Academy's Atlantic Division, four D.C./Maryland/Virginia-area teams qualified for the DA playoffs in Westfield, Indiana.
After having failed to qualify for the 2016 playoffs altogether, both Baltimore Armour and the Bethesda Academy sent their U15/16 and U17/18 sides to Grand Park in hopes of winning their playoff groups and claiming a spot in the national quarterfinals.
The came, they saw, they conquered. 👑 These 16 teams are now one step closer to becoming Academy Champions.

More 👉 https://t.co/L00xoTiDGQ pic.twitter.com/IM7GdUWjBz

— Development Academy (@ussoccer_acad) June 27, 2017

Three matchdays later, and for the first time since the infamous 2013-2014 Bethesda-Olney Under-18 side, the Bethesda U16s claimed a spot in the DA's final eight after going 2-0-1 on the week and winning their group via a convincing 3-0 victory on the final day of group play.
After several seasons on the lower end of the Atlantic Division table, the Baltimore Armour academy sides came out guns blazing for the 2016-2017 season. The 17/18 sides combined for nearly triple the number of wins than the year before and had their goal difference increase by 131 goals.
The Armour 16s went 14-7-5 in the regular season and grabbed the fifth wildcard spot in the process, before being placed in a rugged playoff group with Crew SC Academy Wolves, New York City FC & two-time defending national champions FC Dallas.
[+READ: USSDA East Conference Recap: 2017 Development Academy Playoffs]
The 16s got off to an amazing start in the playoffs, going up 2-0 on FC Dallas off goals from Mark Cantor and Alex Stevenson inside the first 20 minutes. But Armour shipped two goals in first-half stoppage time to go into the break tied before FC Dallas ran away with the game, scoring three second-half goals and winning the game 5-2 before taking the whole group and sealing their spot once again in the Development Academy quarterfinals.
Not many kids even get the chance to play the 2x defending champs pic.twitter.com/9f2Liqps6m

— Baltimore Armour (@bmorearmour) June 22, 2017

Looking to rebound from the FC Dallas defeat, head coach Mike Lookingland and his Armour side went up early again on Crew SC Wolves off a team-leading 18th goal of the season from striker Christian Sorto, only to give up a late goal in second-half stoppage time and finish with a 1-1 tie, effectively ending their chances of progression to the next round.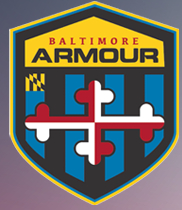 With only pride to play for heading into the final game, the 16s came out with a strong performance and tied MLS side New York City FC and took third place in one of the toughest groups in the U15/16 age group at this year's playoffs.
After picking up the core of the Pipeline SC U17s that won the US Youth Soccer National Championship last year, as well as head coach Santino Quaranta, the Baltimore Armour U17/18s went from the cellar of the Atlantic Division to second place and the eighth playoff seed nationwide. The Armour 18s started off the fall red-hot, winning six of their first seven games en route to a 16-win season and a Pot 1 (as one of the top eight teams nationwide) seeding for the playoffs.
The 18s opened up their playoff campaign with a game against the eventual group winners, MLS' Colorado Rapids, and got off to a slow start, conceding in the 8th minute only for Dominic Duncan to score one of his two goals on the day two minutes later to tie it up.
[+READ: 16 teams advance to Development Academy Playoffs knockout round]
Armour held firm against a strong Rapids side and took the lead in the 77th minute off another Duncan goal, only for Colorado to grab a goal a minute later and an eventual winner in stoppage time.
With it all to play for heading into matchday two, Armour got off to a slow start and conceded once again in the early stages of the game only for Duncan to come up big yet again and score right before the half for his ninth goal in 14 games after leaving the D.C. United Academy in the fall.
Ten minutes after the half, the Chicago Fire scored once again, but some late heroics from Loyola commit and team captain Jake Dengler gave the Armour more life as he scored twice in second-half stoppage time and helped Armour claim a memorable 3-2 victory.
16s & 18s finishing off playoffs w/ a cookout! #wearebethesda pic.twitter.com/Um3bAzw6y4

— Bethesda Academy (@BethesdaAcademy) June 27, 2017

Hoping for a result from another game and a victory of their own to progress, the Baltimore side went into their game vs. CASL, the nation's highest-scoring team, high on confidence. But Armour fell 4-0 in a game whose story wasn't truly told by the score line, as they battled hard against a CASL side that averaged 3.36 goals per game across the entire season.
The Armour 18s will graduate players to several top NCAA programs with standouts headed to Kentucky, Delaware, Cincinnati, Loyola, South Florida, UMBC, Army, Navy, Maryland, George Washington and Princeton.
The Bethesda Academy U16s and 18s both qualified for the DA Playoffs with strong performances this spring, after being outside the playoff picture in the 2015-2016 season. The Bethesda SC U17/18 side qualified for the playoffs through a wildcard spot after finishing the season with a 13-7-5 record and were placed in a group with Crossfire Premier, New England Revolution and Weston FC.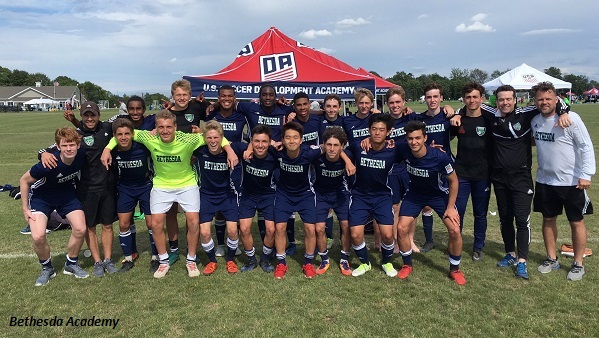 Bethesda battled hard but conceded two goals in five minutes en route to a 2-0 loss to Weston FC in their first game of the playoffs before falling to the New England Revolution 4-0 in their next game.
Heading into their last group game, the 18s had already lost their chance at further qualification and faced eventual group winners Crossfire Premier and produced a strong effort. After going down 1-0, the Maryland side tied the game up in the 52nd minute off a cross-turned-goal from James Madison commit Nicolas Short before Crossfire grabbed an eventual game winner with 15 minutes to go in the game.
The Bethesda 18s graduate players to top programs across the country including Louisville, George Mason, Duquesne, Harvard, Maryland, Cornell, Clemson, Georgetown, George Washington, James Madison, Williams and American.
The Bethesda SC U16s did what every team dreams about when they come together for pre-season in August: went 10-0-2 in the spring to turn around their 6-6-2 fall record, on course to not only dominating the Atlantic Division but picking up the division championship with a regular-season finale win at Richard Montgomery High School over NYCFC.
Lead by U.S. U-16 national team forward Gabe Segal, who scored 23 of the team's 38 goals during the regular season, the BSC U16s went into the playoffs heavily favored to win their group and came out on top with a strong showing in all three games against Real So Cal, Oakwood SC and Capital Area Railhawks.
The 16s opened up their playoff campaign with a strong 1-0 win over Real So Cal, with Segal feeding Baraka Kiingi for the eventual game winner in the 32nd minute. Bethesda then faced some adversity as they went 1-0 down to eventual runners-up Oakwood SC, only for Messiah commit and team captain Joseph King Jr. to save the day and grab the most important point of the week with the game-tying goal.
Couldn't make it to Westfield, IN for the #AcademyPlayoffs? Perfect excuse for a watch party! Even the 🐶 is rooting for @BethesdaAcademy! pic.twitter.com/zG1yazQJ9l

— Development Academy (@ussoccer_acad) June 26, 2017

Headed into the final match day Bethesda had to win their game by more goals than Oakwood, or hope for Oakwood to drop points to go through to the next round and win their group – and they did just that. Oakwood defeated Real So Cal 2-0, but Bethesda racked up a better goal differential by beating Capital Area Railhawks 3-0.
Headed into halftime, Bethesda were tied 0-0 with CASL. But set pieces would turn the game in Bethesda's favor with three set-piece goals in the second half – two from Uriel Zeitz and one from Jherson Machado, giving Bethesda the victory they needed in order to win their group at the DA playoffs and secure advancement to the national quarterfinals.
It looked like they'd get to host their quarterfinal game due to winning their division. But on Tuesday word dropped that Bethesda will travel to Atlanta United to face the MLS expansion team's academy side on July 6.
16s travel to atlanta united for the @ussoccer_acad national quarter-final.

— Bethesda Academy (@BethesdaAcademy) June 27, 2017

Congrats to the Bethesda 16s on repping the DMV well in Indiana and keeping their season going into July. They will travel south next week knowing a spot in the national final four at the StubHub Center in Carson, California is on the line.
Additional congrats are in order for the Baltimore Armour and Bethesda SC U18 sides who completed great seasons only to fall in the playoffs. And best of luck to all college-bound players from those two sides as they continue their soccer and academic careers this fall!
College Recruiting Commitment Tracker