Tragedy, tripping and Trump: What soccer can teach us about Europe's migrant crisis

What a world crisis we have on our hands in Southern Europe. Just when I thought we had reached an all-time low, I saw this video footage of a Hungarian camerawoman tripping a desperate father carrying his son, refugees fleeing from police at a border crossing point. When the incident was caught on film the video went viral, and the whole world was outraged.
The tripping foul did get the camera woman fired, but the media attention that resulted allowed the identification of this man as Osama Abdul Mohsen, and his 7-year-old son, Zaid. It turns out Mr. Mohsen had once coached top-tier professional soccer in Syria. Hearing this, Miguel Galan, director of Spain's national soccer coach training center, arranged for Mohsen to come to Spain and work at their training center.
+READ: LeBolt: September is "Youth Soccer Month" – and bad press is killing us!
Spain knows a good find when they stumble upon one.
"Hopefully, this will serve as an example to the rest of Europe," director Miguel said, according to the Associated Press. "We need to help these people."
It is amazing how our game can sometimes unite us. And sometimes not.
Listen to Republican presidential candidate Donald Trump's controversial statements about Mexico and its people, and a stake is quickly driven into that goodwill. Mexican television network TV Azteca made quick work to troll his quotes for a hilarious hype video to preview the United States-Mexico soccer match to be played on October 10, a hugely-hyped match where the winner earns a spot in the 2017 Confederations Cup:
It's amazing the power of media to help, hype, humor and make downright fools of us.
I'd like to think that our sport has it right, and it should give Mr. Trump something to think about. Trump's message of stereotype, privilege and power goes against the movement in our schools, communities,  sport and culture, that says inclusivity is essential. We need to welcome what's different, so we can learn from it and learn how to live with it.
Our U.S. youth sports leadership believes our best and healthiest future lies in expanding the pool of players by including more kids, more cultures, and all abilities, without discriminating or stereotyping.
So how do we do this and remain diligent to engage and develop all participants? If we just fling open our doors, we'll surely be overrun by everyone, right? There are only so many resources available.
+READ: LeBolt: Strategies to ace your first college soccer recruiting visit
Well, since there is plenty of political debate going on out there, I'll step out of that ring into a field of study I know. Let's consider an established model of a highly functional, extremely efficient, finely tuned system, that creates and maintains perfect balance. In fact, our lives depend on it: the human cell.
It sustains its integrity by means of what's known as a selectively permeable membrane, which is highly sensitive to what enters and what exits. By design, and without favoritism or bias, it identifies and evaluates the characteristics of each particle seeking entry or exit. Large or highly charged particles need a channel or transport mechanism. Lipid soluble particles need no channel, they simply dissolve in the membrane to make their way through. Water diffuses according to a gradient.
Everything, coming and going, is monitored and balanced by the membrane standing guard. This is critical to survival. If the membrane is injured and collapses, it will be overrun, disorder reins and the cell dies. A healthy working membrane is essential for the cell to stay alive, grow, develop and thrive.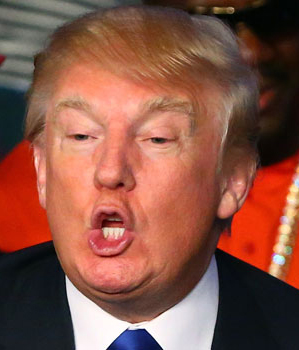 But that's not all. Everything that enters has a designated job: construction, destruction, management, transportation, fueling, storage, directing traffic, waste removal, communication, recycling, maintenance, quality control, protection and more.
Certainly these are all things Mr. Trump understands completely. So does every country, every municipality and ironically, probably so does every coach. Systems that work often look very much like each other, on the inside.
Everything has a purpose, everything operates with perfect efficiency. If it doesn't, regulators tip things aright. In biology, we call this homeostasis.
+READ: LeBolt: Should your kid be a specialist, or general practitioner?
The U.S. doesn't need to be a doormat to the world, letting anything in, no questions asked. We are question-askers. We want to know why you're here, what you bring, how long you plan to stay. In order to allow our country to thrive.
But soccer shows us that the world has great ideas, terrific approaches and sound principles and practices. So, we regularly look internationally for things we can put into play. Not everything. Not just anything. But the right things, done the right way, with good results.
Shutting out the world or disparaging what comes from abroad is surely not the way to "make America great."
I'll take my cues from the lowly cell. The most basic structure of life itself and the most perfect system ever created. No arrogance, posturing or politicizing. What is required is a healthy dose of humility, not limiting ideas but welcoming them. Even when they come via newsreel and viral video from a refugee crisis 5,000 miles away.
"Hey, that guy carrying his 7-year-old son used to coach a first-division team in Syria. He'd make a great addition to our coaching staff." Well played, Spain.
Perhaps Mr. Trump is watching. I understand he has an interest in soccer, played some as a teen, along with several other sports. Now his sport is golf. I've seen his swing and have heard he can play a mean round of golf, and by that I mean a strongly competitive 18 holes.
+READ: LeBolt: Plot your course from green to tee
I'm sure he realizes that the game of golf is as much a testament to the contributions of international competitors like Gary Player, Greg Norman, Rory McIlroy, Seve Ballesteros, and Nick Faldo, among others, as it is to famed American players like Bobby Jones, Arnold Palmer, Ben Hogan, Jack Nicklaus, Sam Snead, Tom Watson, Phil Mickelson and, um, Tiger.
One of my personal favorites was Mexican golfer Lee Trevino. A crowd favorite, Trevino went toe to toe with Jack Nicklaus and kept the gallery laughing along the way. When asked how he learned to hit the ball so straight down the fairway, he famously quipped, "I learned to play in the corn fields and I only had one ball." Ah, Trevino: The "Merry Mex" showed us the potential that sport can offer.
We may not be able to solve the whole crisis, but by even a small act of kindness that makes a difference for one kid or one family, we set an example the world may choose to follow.
College Recruiting Commitment Tracker