Track record shows NJ Stallions Dynamite among nation's best non-ECNL U-17 squads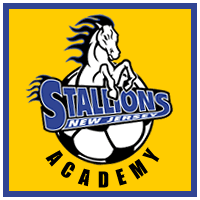 Coming off a year in which NJ Stallions Dynamite captured an NPL Finals and Region I Premier League championship, and won the top divisions of some of the nation's most prestigious showcase tournaments including Jefferson Cup, National Elite Women's Soccer Showcase (NEWSS), PDA Invitational, Dallas International Girls Cup and Disney Soccer Showcase, the team based out of Clifton, New Jersey may be the best non-ECNL U-17 club team in the country heading into 2015.
Also in the conversation would be reigning US Youth Soccer National Champion Beach FC Academy (CA-S), finalists Tampa Bay United Premier (FL) and fellow Region I powerhouses Beadling Wolfpack (PA-W), Maryland Rush Montgomery Coyotes and New Jersey Rush 97 among others.
[player_box id=49344 leftright=left]NJ Stallions capped off 2014 and rang in 2015 at Disney, advancing through Bracket A of the U-17 Showcase Red Division and beating US Youth Soccer National League side Tophat SC 16 Gold 2-0 in the final behind a balanced attack and a sturdy defensive unit. They enter the new year with no shortage of challenges ahead including the second half of their National League schedule coming up in Las Vegas, the highly-competitive Manhattan Kick-Off Classic Tournament, another run at the PDA Invitational Showcase and another chase for a State Cup, Region I and National Championship.
+Read: Breakout year for East Islip U-15s shows Tri-State talent wealth
Representing the NJ Stallions Academy which is one of the Tri-State area's strongest clubs on the girls side, Stallions Dynamite have come up together all the way from the U-8 age group under coach Shaun Cryer. Out of the 17 players on the roster, 12 have already committed to Division I schools and the other five are still considering their various D-I offers. With 100 percent of the roster likely going D-I, including to some of the NCAA's most storied programs such as the University of Virginia, UConn and Georgetown, even some ECNL sides would have trouble matching NJ Stallions' talent throughout the roster.[player_box id=49090 leftright=right]
"All of our players decided at a fairly young age that they wanted to continue their soccer careers into college, and it has worked out for all of them," Cryer told SoccerWire.com. "They're a hard working team and obviously a very good team."
The Stallions Dynamite players already committed to colleges include defender Amalya Johnson (Columbia), central midfielder Sophia Gulati (Princeton), midfielder Erin Spillane (UConn), winger Jillian Vassallo (Delaware), winger Juliana Mascelli (Fordham),  forward Samantha Rosette (Virginia), forward Ida Di Clemente (Villanova), forward Delaney Suarez (Seton Hall), winger Olivia Szeker-Cortes (UNC-Wilmingtnon), forward Tomison Kennedy (Princeton), midfielder Casey Richards (Georgetown) and midfielder Kristen Vinciguerra (UConn).
College Recruiting Commitment Tracker