The XX Factor: Be the boss of your body

I just finished some great sessions with the VYS Fire, a collection of mostly 10-year-olds from three different teams, who gave me a new mantra: "Be the Boss of Your Body." I love that.
We were doing the Fit2Finish Bs: Bend your knees, Balls of your feet, head up Be ready to play, and learning how to use resistance bands, which is a hallmark of the field training I do with young players.
Kids, especially girls, have some trouble with these. Weak lower limbs in newly sprouting bodies tend to give in to the band's pull. They lose the training effect by letting it pull them; exactly what we don't want. I told them to "be the boss of the band." They did me one better: Be the Boss of Your Body.
Kids are quick to tell you, "You're not the boss of me!" But do they know who is? And as they get older, will they remember this?
I think sport is a perfect place for this lesson to take hold. I grew up with it, learned it, earned it and now sow it in this generation of young people. But girls interpret it and live it their own way. No one who has girls or who has coached or trained girls will disagree with me on that one.
Sports are not just a man's world so, as Mia Hamm has said, "Coach us like men, but treat us like women."
Well, how in the world do you do that?
This was on my mind when I headed to a great session at the NSCAA Convention titled, "Great women coaches and ideas that work!" Celia Slater, then the Director of the Alliance of Women Coaches, acted as moderator.
A panel of prominent women's college coaches answered questions about what it's like to pursue the coaching profession as a woman, to coach women and, for some, to stay in coaching over the long haul. Each woman could claim success, some for their recent accomplishments, some for their longevity and the overcoming of long odds.
We tend to recognize people of either gender who win. Amanda Cromwell and her UCLA Bruins brought home the NCAA championship trophy this year. But Aliceann Wilber has been coaching at William Smith College for 35 years! Now THAT's a win. And she brought some seasoned wisdom to the table with regard to the question I came with: where are all the women in soccer coaching?
It's not easy being a women in competitive sports, especially at the highest levels. We fight and scrap our way to the top, compete for the coveted prize and then, it seems, most of us disappear. Yes, by most estimates, less than 30 percent of our college coaches of women's teams are women. Most of our women are still being coached by men.
The logical answer it seems to me is not to newly introduce women to the game. There are plenty of us out there. We are half or better of the number of competitors in high school and college. Title IX and the World Cup-winning women of '99 incited the frenzy of play with our soccer girls, but after their playing days, many hang up the cleats. Not many pick up the clipboard. Where have all the women gone?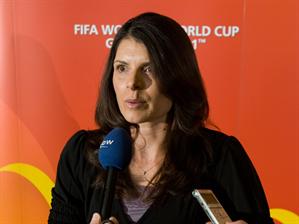 Well, who better to ask then a panel full of the most successful women coaches of women in the game today? If you want to know about hurdles to women in this profession, ask women who have clambered over them for years. And still stand to tell the tale.
One question yielded much food for thought: "What's the best piece of advice you've been given?"
Here's what the ladies had to say:
Find your best fit. Surround yourself with good people.
Make your head coach look good.
Catch them being good.
You make yourself happy. When you're happy, everyone else around you will be happy for you.
Take advice, but pay attention to the spirit in which it is given.
Comparison kills joy. Find your path.
There is no comfort in the growth zone, no growth in the comfort zone.
Learn to make and keep appointments with yourself.
Action over words. Head down. Do the work.
You're here to serve the players.
Not everyone is like you were as a player.
Q-tip: Quit taking it personally.
A terrific list for all of us, but it makes especially good sense to female ears.
Coach us like men; treat us like women. Yep. Put us through our paces, but thanks for getting the door. It's really not that complicated. You're not the boss of us, but you're welcome to come sit for a while. In fact, we insist on it. What's the best advice you've ever been given? And give this some thought because you never know when what you say is gonna end up at the top of someone else's list.
#13. Be the boss of your body.
College Recruiting Commitment Tracker