NPR's Frank Deford says "Americans don't care about Major League Soccer"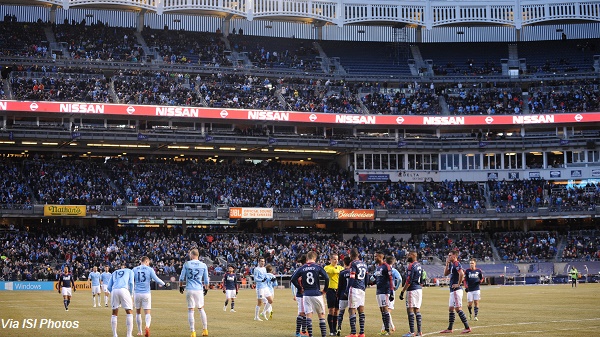 NPR sports commentator Frank Deford struck a nerve with the American soccer community on Wednesday morning with the release of a piece entitled "Americans Don't Care About Major League Soccer". +Read/Listen here
In the commentary, Deford offers a bleak outlook for Major League Soccer despite the growing popularity of youth soccer, international soccer and strong MLS attendance numbers. Despite acknowledging these factors that indicate an upward trend for the mainstream popularity of soccer in the U.S., Deford highlights current "miniscule" TV ratings for MLS as a primary point of evidence for why the sport will never be "Major League" in the eyes of American fans. Deford claims that more TV access to the English Premier League, widely accepted as the world's top professional league, will keep MLS on the periphery of American sports consumption.
Excerpt from Frank Deford's NPR commentary "Americans Don't Care About Major League Soccer": 
"…Major League Soccer is celebrating its 20th birthday with some attractive soccer stadiums and a respectable average attendance of 19,000 per game.
But what soccer fans really care about is European soccer, and that's quite available on TV. Even our most prominent soccer journalist, Grant Wahl, of Sports Illustrated, can't think of anything to call ratings for Major League Soccer but "miniscule." English-language ratings remain stagnant. Incredibly, David Beckham, at the height of his deification, could not get Americans to watch American soccer. Even the coach of the American team himself thinks our national players would be better off playing in Europe.
Yes, the World Cup attracted terrific interest, but then, so does Kate, the Duchess of Cambridge, every time she has a baby. Then it's back to all the first-rate exceptional diversions that we have right here.
Our fans for football, basketball and hockey have fantasy leagues. The fantasy for our soccer fans is that Major League Soccer will somehow become major league, because that's all that exceptional Americans are bred to expect."
Deford's argument has been met with widespread but not unanimous disagreement from the American soccer community on social media. While MLS media members such as Matthew Doyle and Steve Davis tweeted opinions in tune with what many fans have expressed, that Deford is once again proving himself out-of-touch and uninformed, former player and current ESPN analyst Taylor Twellman was hesitant to disregard the longtime commentator's outlook. Portland Timbers owner Merritt Paulson has joined the conversation as well, citing potential areas of growth in the MLS TV market.
Pfft. I was rolling my eyes at Frank Deford's benighted trolling waaaay before it was cool (legwork via /r/MLS): pic.twitter.com/3E9vRxNS4c

— Matthew Doyle (@MLSAnalyst) April 8, 2015
Frank Deford and dinosaurs like him keep telling themselves: The world isn't changing. The world isn't changing. This world isn't changing!

— Steve Davis (@SteveDavis90) April 8, 2015
So for all disagreeing with Deford and his "outlook" on soccer in this country I have 1 serious question: how do you defend TV ratings?

— Taylor Twellman (@TaylorTwellman) April 8, 2015
@TaylorTwellman 1) local #'s in strong mkts are good; 2) 2015 is 1st nat tv deal since MLS growth spike w consistent windows and #'s growing

— Merritt Paulson (@MerrittPaulson) April 8, 2015
College Recruiting Commitment Tracker