Players That Impressed: March 2021 (Girls)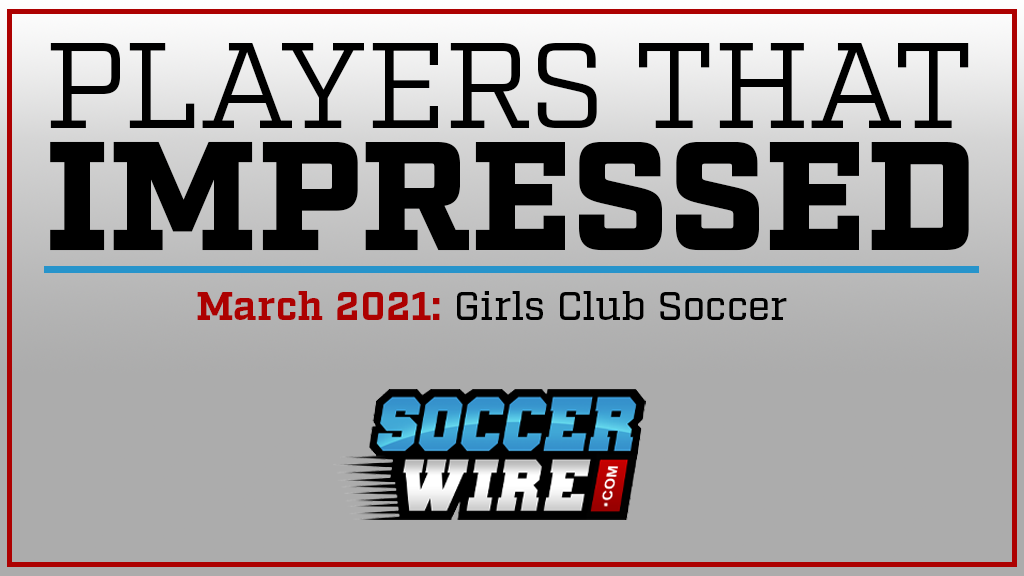 With club soccer back in action across the country in 2021, SoccerWire is re-launching its 'Players That Impressed' feature.
Each month, youth soccer players who stood out for their teams will be highlighted on a rolling basis. Coaches, parents and athletes are invited to submit nominations for up to two (2) players per team in a given month.
See below for a listing of Girls Players That Impressed so far in March 2021.
[Submit Your 'Players That Impressed']
Faith Johnston | Forward
IMG Academy U-14 (FL)
Took charge of the offense with 6 goals and a pair of assists during IMG's three-game stretch from March 5-7 against a trio of Florida opponents.
———————
Madison Hurst | Forward
Beadling Soccer U-15 (PA)
Stood out as a top performer for the Beadling 2006 Girls Academy team this month, relentlessly creating scoring chances for herself and her teammates.
———————
Summer Fishel | Forward
FC Pride U-15 (IN)
Set up both goals for FC Pride during their 2-1 win in ECNL play against Ohio Elite, serving up one on a corner kick and another on a free kick.
———————
Abby Lloyd | Forward
FC Pride U-15 (IN)
Recorded a brace in ECNL action against WNY Flash Academy on March 13.
———————
Chihiro Kigawa | Midfielder
Sockers FC U-15 (IL)
Boosted the Sockers FC offense by scoring one goal from outside the box, and assisting Stella Kohl on another.
———————
Rory Murry | Goalkeeper
Washington Premier U-15 (IL)
Continued her season-long streak of not conceding a single goal in ECNL competition, playing quality minutes against in-state opponents Eastside FC and Seattle United.
———————
Abigail Gemma | Defender
IMG Academy U-15 (FL)
USYNT prospect anchored the IMG Academy back line during tough Girls Academy matches against Weston, Tophat, United Soccer Alliance and West Florida Flames.
———————
Sydney Bushman | Midfielder
Beach FC U-15 (CA)
Led her team to a 3-0 start to the ECNL Regional League season, controlling the midfield while contributing multiple assists and adding a goal of her own.
———————
Sara Weigel | Midfielder
Beadling Soccer U-16 (PA)
Helped her team secure a hard-fought victory over SC Wave, one of the top-ranked sides in the nation, by providing the lone goal in a 1-0 contest.
———————
Samantha Miller | Forward
Beadling Soccer U-16 (PA)
Scored 2 goals vs Chicago FC United in a 4-2 win and provided the lone assist vs #4 ranked SC Wave in a 1-0 win, over the weekend of March 13-14.
———————
Samantha Erbach | Midfielder
Ohio Elite U-16 (OH)
The ECNL standout scored all 3 goals against Indy Fire in a 3-0 win and the only goal in a 1-1 draw vs FC Pride. Showed her versatility by scoring 2 goals with each foot, splitting time between midfield and forward.
———————
Ella Hamner | Midfielder
FC Pride U-16 (IN)
Scored the game-winning goal in a 1-0 match that featured strong defense by both teams, as FC Pride edged Racing Louisville FC in ECNL play.
———————
Camryn Ries | Forward
SC Wave U-16 (WI)
Netted the go-ahead goal and finished with a hat trick in a win over FC United with a score of 7-3. SC Wave continues to lead in the Girls Academy's Mid-America Conference.
———————
Ashley Falk | Forward
Pride SC U-16 (CO)
Converted a challenging scoring opportunity deep in the box with a quick-reaction volley just before the opposing goalkeeper could stop an incoming cross.
———————
Mercedez Paino | Midfielder
PSC Coppa Rage U-16 (PA)
Led PSC Coppa Rage in goals (3) over the USYS National League Playoff weekend in Greensboro, N.C. which helped punch their ticket to the USYS National Championships.
———————
Makayla Jaffe | Forward
STA Soccer U-16 (NJ)
Finished a great team goal to put her team ahead against a terrific Oakwood SC side in Girls Academy league play.
———————
Emma Radoncic | Midfielder
STA Soccer U-16 (NJ)
Scored the game-winning goal in the last minute against a strong Oakwood SC team on a free kick, helping STA remain unbeaten through seven conference games in the GA.
———————
Kaitlyn Killinger | Forward
Pittsburgh Hotspurs U-16 (PA)
Exploded for six goals in three Jefferson Cup games, leading Pittsburgh Hotspurs 05 Blue to top of the U-16 Superior Division.
———————
Grace Thao | Midfielder
West Coast FC U-17 (CA)
Controlled the tempo of several games for West Coast FC, switching the point of attack and dropping to support when needed. She scored 3 goals and added 2 assists on a weekend highlighted by her game-winner against Beach FC.
———————
Emma Van Meter | Goalkeeper
Riverhounds DA U-17 (PA)
Picked up a clean sheet in net for RDA as her side came out on top of a fast-paced ECNL match against Tennessee SC.
———————
Batoul Reda | Goalkeeper
Michigan Jaguars U-17 (MI)
The University of Dayton commit earned a spot on her club's Team of the Week after a strong effort against Girls Academy opponent Indy Premier, during Michigan's 2-1 win.
———————
Kylie Maderski | Defender
SC Wave U-17 (WI)
Assisted her team's only goal and contributed to a strong defensive performance, as SC Wave notched a 1-1 draw in their return to Girls Academy competition.
———————
Savannah Sabo | Goalkeeper
IMG Academy U-17 (FL)
Notched three consecutive clean sheets behind IMG's strong back line in victories over in-state foes from March 5-7, including a pair of tough 1-0 wins.
———————
Josie Bieda | Forward
Sockers FC U-17 (IL)
Found the net three times on a successful opening weekend of Girls Academy competition, highlighted by a brace Minnesota Eclipse.
———————
Zoey Lee | Midfielder
IMG Academy U-17 (FL)
Provided two game-winning goals for IMG in hard-fought games which both ended in 1-0 scorelines. She also tallied a goal and two assists during an 8-0 rout of Lee County.
———————
Kali Burrell | Forward
FC United U-17 (IL)
Contributed a goal and an assist in a 3-0 win against Century United in Girls Academy play. She also provided the assist on her team's only goal during a 1-1 draw against SC Wave.
———————
Naomi Splittorff | Forward
FC Pride U-17 (IN)
The Purdue University 2022 commit netted the game-winning goal for FC Pride, connecting on a chip shot as she finished off a through ball from Sammie King.
———————
Brooklyn Whitehead | Forward
North Carolina FC U-17 (NC)
Pushed her team into the State Cup final by scoring the game-winner in overtime of the semifinals, in a match that ended 1-0 after 120 total minutes of regulation and overtime.
———————
Morgan Roy | Midfielder
Nationals U-17 (MI)
The USYNT player scored the game-winning goal for Nationals while playing up a year against one of the nation's top-ranked teams in the 2004 age group, SC Wave.
———————
Gianna Paul | Forward
SUSA U-17 (NY)
Led SUSA's ECNL squad with 5 goals in 3 games in the top flight of the Jefferson Cup.
———————
Natalie Bala | Forward
STA Soccer U-17 (NJ)
Scored the opening goal in her team's 2-0 win over NEFC, capitalizing on a great build up with a run into the box followed by a fantastic finish.
———————
Alexa Debarros | Midfielder
STA Soccer U-17 (NJ)
Gave STA an insurance goal with a long range strike from 25 yards out in their victory over NEFC in Girls Academy play.
———————
Abby Reisz | Goalkeeper
Ohio Premier U-17 (OH)
Had three shutouts in goal to help Ohio Premier secure ECNL road wins over Internationals, FC Alliance and Tennessee SC.
———————
Jayden Sharpless | Midfielder
Riverhounds DA U-19 (PA)
Contributed a goal in each game on the weekend of March 6-7, highlighted by RDA's 2-1 win over FC Alliance in ECNL action on Saturday.
———————
Summer Curtis | Forward
Sockers FC U-19 (IL)
The Belmont University commit helped her team remain unbeaten in Girls Academy play by recording a brace during a 3-2 win over Salvo SC.
———————
Erin Hopewell | Midfielder
Metro United U-19 (VA)
Finished off a remarkable individual effort with a run across the field and a long-distance strike to help propel Metro United to a 2-1 win over Arlington.
———————
Rachel Deresky | Forward
Maryland United FC U-19 (MD)
Vanderbilt 2021 commit had a prolific showing at the Jefferson Cup, where she scored five goals and notched one assist as Maryland United swept the competition.
———————
Payton Patrick | Forward
Pipeline SC U-19 (MD)
University of South Carolina commit was dominant at the Jefferson Cup, scoring 2 goals and handing out 4 assists as her Pipeline ECNL squad were crowned champions of the top U-19 bracket.
College Recruiting Commitment Tracker