Ombudsman: The debate over SoccerWire.com's coverage of the Huffman-Wambach wedding
It's not often that two teammates on a major professional sports team get married – so rare, in fact, that it would appear to many to be an inherently noteworthy event for those who cover and consume the sport.
And yet, the realities of modern America and its complex approach to sexual identity ensure that such an occasion would be seen by the public as far more than just two co-workers falling in love. That's because, most team sports being gender-separated (and relatively conservative to boot), it would also mean that two pro athletes had openly acknowledged their homosexuality in addition to their choice of life partner.
That kind of revelation is a deeply personal decision, one that remains explosive in a world where culture wars and religious beliefs make sexuality a flashpoint topic for millions. The number of openly gay male athletes remains depressingly small in the face of rampant, sometimes violent, homophobia and while the picture is somewhat less imposing in women's sports, many players take a more guarded approach to matters of the heart than their heterosexual counterparts.
These and many other factors were broached among members of the SoccerWire.com staff last month when we learned of Abby Wambach and Sarah Huffman's Oct. 5 wedding and debated – like other publications surely did, too – whether this event was worthy of news coverage on our site.
First of all: What do sexuality, love, commitment and marriage have to do with soccer? Do the love lives of male athletes undergo this level of scrutiny from the media?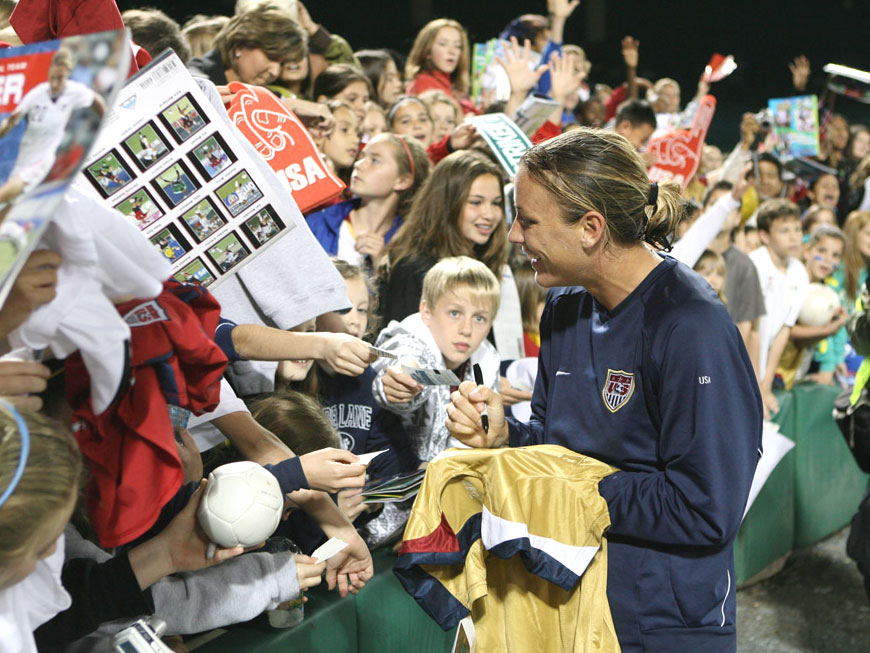 There's certainly a large gray area here, but after careful thought and wide-ranging consultation with members of the women's soccer and gay/lesbian/bisexual/transgender communities, we elected to cover this momentous event. The duo's relationship is well-established and well-known in women's soccer circles, and they have made little effort to hide it over the years, from flirtatious messages and photos together on social media to red-carpet appearances complete with commitment rings and public displays of affection.
[ +Soccer luminaries gather as WNY Flash teammates Abby Wambach, Sarah Huffman marry in Hawai'i ]
Their wedding registry website – headlined by both their full names – was publicly accessible, meaning that anyone could go see their choices of linens, kitchen appliances and other household goods, though a site set up to provide information to the wedding's attendees required a password for entry beyond its greeting page.
Yet while Huffman explicitly acknowledged her sexual orientation over the summer when announcing her support of Athlete Ally, an organization which works to combat homophobia and transphobia in sports, Wambach has never "officially" come out despite widespread perceptions that such an announcement would be a mere formality.
Many thus believe any discussion of her orientation is out of bounds until she broaches the topic herself. Over the weekend a FOX Soccer blog post about the wedding drew negative comments from some readers offended by what they called tabloidish, "not really anyone's business" and even "totally creepy and journalistically irresponsible" content. (Even though it pales in comparison to TMZ's coverage.)
"I am sure people would be interested in reading about it," said one member of our staff, "but they [Huffman and Wambach] haven't shown any interest in talking about it and it has nothing to do with soccer.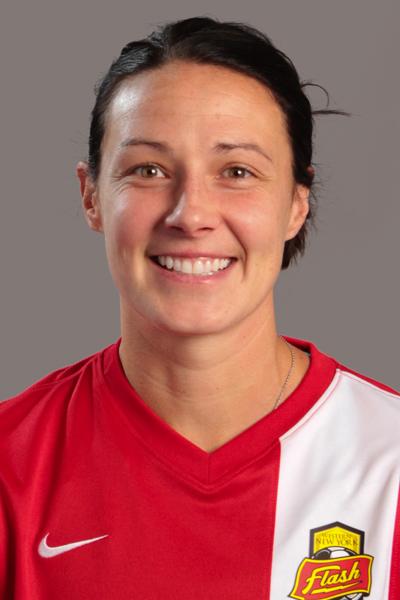 "I'm personally not really interested in focusing on anyone's personal life…Unless Abby and Sarah start talking about it, I think it would be very gossipy and not the right tone for a serious soccer site."
But another member of our editorial staff felt that it "would be putting blinders on" not to report on clear public evidence of a marriage between two pro teammates, one of whom just happens to be one of the best on earth to ever play the game.
"Two players on the same team getting married is news," went the argument. "It's happening, they're teammates, they've been together for years (dating back to the Freedom). Nothing wrong with it.
"To not acknowledge the dynamics of how relationships can affect a team's chemistry would be ignoring very real issues coaches have to deal with as part of the job. If there were co-ed professional teams and a female reigning world player of the year married a world-class male teammate, it would be reported on without any question, so what's the problem here?"
It remains to be seen whether the marriage could have any effect on the Flash's team chemistry, though given their long history together and the high esteem in which they are held by their teammates, it seems unlikely.
It may be worth noting here that LA Galaxy winger Robbie Rogers, the only openly gay male pro player in the United States and one of only a scant few in the world, received sweeping support from fans, fellow players and other members of the soccer community when he revealed his orientation earlier this year, and was persuaded to resume his career.
Perhaps the closest thing this situation has to a precedent is the 2005 marriage of Nick Rimando, a professional goalkeeper and U.S. Men's National Team member, to former pro women's player Jacqui Little in a ceremony presided over by Ben Olsen, Rimando's D.C. United teammate at the time. That unusual occasion drew coverage from the Washington, D.C.-area sports media, and thus eventually national awareness among the soccer community.
But homosexuality remains a sensitive and, in some quarters, even taboo topic. So I reached out to a close friend who works for a LGBT rights advocacy group, who caught up on the Huffman-Wambach relationship (cheekily dubbed "Huffbach" by some fans) via a few quick internet searches and saw little reason for a soccer media outlet to dodge the topic.
"I think if they really wanted it to be completely private they wouldn't have an accessible registry," said my friend, who requested to remain anonymous due to the sensitivity of the matter. "Maybe she [Wambach] doesn't like labels, so she's not going to say that she's lesbian, or gay or bi, but she's not hiding anything."
After this and other conversations with figures in the women's soccer community as well as a few hours of internet social media research, it became eminently clear to me that Huffman and Wambach's relationship is and has been serious, well-established and long-running.
It has overcome obstacles like distance and time-sucking career obligations in addition to love's usual challenges, and is more than worthy of celebration among their many dedicated fans as well as the close friends and family who took part in what was surely a beautiful ceremony in Hawai'i (and documented their trip heavily via their tweets, Instagram photos and Vine videos).
In fact, many of those fans have been aware of the wedding for months and have been discussing it among themselves online. Those who are more conscious of the happy couple's playing abilities than their sexual identities have no less right to the knowledge of its existence, even if Wambach exercises her right not to speak publicly of it.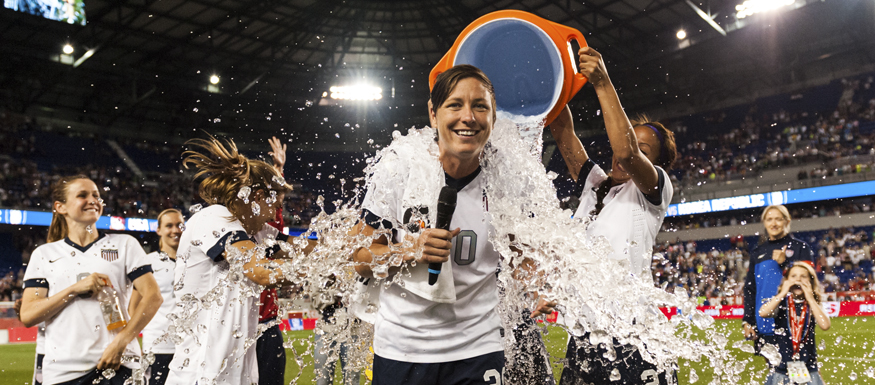 Based on the information I've gathered, I believe Wambach is open about her identity to those close to her, and leaves her most dedicated fans with no doubts even as she eschews dramatic statements or "revelations."
And as our society, slowly but surely, continues the movement towards a world in which sexual and gender orientation matters no more than a player's left- or right-footedness – a goal both these women passionately espouse – I also believe we can and should recognize and commemorate the official crafting of their lifelong bond without shame, fear or recriminations.
Congratulations, Abby and Sarah.
College Recruiting Commitment Tracker