NWSL couple Lianne Sanderson, Joanna Lohman featured in People magazine
Boston Breakers duo Joanna Lohman and Lianne Sanderson are prominently featured in People magazine's new feature story about sexuality in professional sports this week, contributing to the conversation sparked by Michael Sam recently making history as the first-ever openly gay player to be selected in the NFL draft.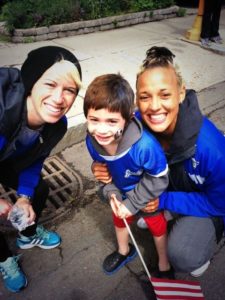 Lohman and Sanderson, who play midfielder and striker, respectively, for the Breakers, have been relationship partners since 2010 and are engaged to be married, which has helped make them inspirational figures for fans of all ages.
They shared their perspectives as out athletes with People in both print and video interviews, and were pictured together in their Breakers uniforms in the newstand edition of the magazine.
"We have young girls that come up to us after games and they thank us for being who we are. It's really impactful to me because I never thought that just by being myself, I could help so many people," said Lohman, a native of Silver Spring, Maryland.
"I'm hoping that Michael Sam can break a lot of the stereotypes that come with being a gay professional athlete," she added. "A lot of people are scared of what may happen if there's a gay athlete in the locker room, and I think they'll realize that Michael Sam is just like any other one of their teammates."
Both players recalled their childhood introductions to the game – both spent much of their early careers playing on boys teams – and discussed the tolerance and acceptance their relationship has received from teammates.
But Sanderson, who also made a successful return to the England national team this year, revealed that many other LGBT players face real adversity as a result of their identities.
"Our families were so understanding," she said. "We certainly have friends and people who have reached out to us who weren't that lucky."
College Recruiting Commitment Tracker