Maureen Hendricks Field the perfect home for Washington Spirit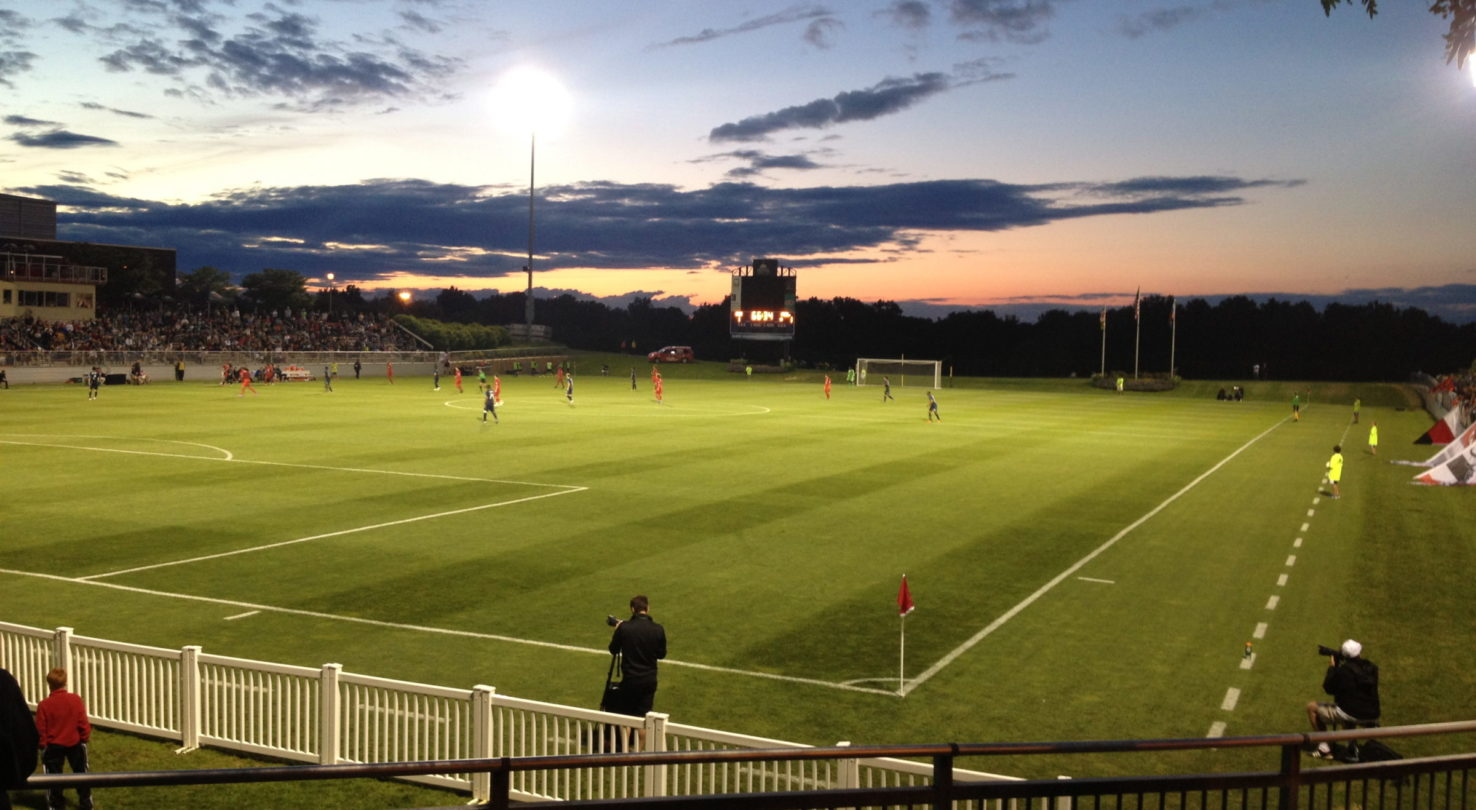 I've always wanted a soccer field in my back yard. And if I could have my choice, it would be a replica of Maureen Hendricks Field, the gorgeous pitch that is the highlight of the wildly impressive Maryland SoccerPlex in Boyds (not Germantown!), Md.
The SoccerPlex is home to a variety of youth soccer tournaments, occasional D.C. United Open Cup matches, and beginning Saturday, the 2015 season for the Washington Spirit of the National Women's Soccer League.
+Read: Maryland SoccerPlex grounds crew's passion, expertise on display at US Youth Soccer National Championships
Whether it features the old Washington Freedom franchise or the newer Washington Spirit, Hendricks field is simply a wonderful place to be on a cool spring night. The stadium is big enough to field a good-sized crowd, yet cozy enough and close to the field to clearly hear Ali Krieger's demands for the ball as she torches up the right sideline.
Some of the sunsets are absolutely Twitter- and Facebook-worthy.
This Saturday at 7 p.m., the Spirit host the defending NWSL champions FC Kansas City for their home opener as both teams search for their first win of 2015.
Washington opened the 2015 NWSL season with a 2-0 loss on the road against the Houston Dash last Saturday. Midfielder Carli Lloyd, a U.S. international, scored in first half stoppage time and Kealia Ohai found the net in the 50th minute to dash any hopes of the Spirit opening the year with a win.
+Read: Sky Blue FC defeats reigning NWSL champion FC Kansas City 1-0 in season opener
Goalkeeper and World Cup-bound U.S. international Ashlyn Harris made five saves for the Spirit in the loss, which left Washington without a win in the season opener for the third consecutive season.
Hendricks field would certainly be the place to get the first victory. The deep, wide field is ideal for Spirit Coach Mark Parsons' system, which includes overlapping runs from his outside backs, including U.S. Women's National Team starter Krieger on the right.
And Parsons wouldn't mind for history to repeat itself as his squad rebounded from a loss in the first game of last season with a home victory over FC Kansas City. The Spirit took the season series 2-1-0 against FCKC in 2014, and the visitors had the third worst road record in the league last year.
FC Kansas City also sits at 0-1 following their 1-0 defeat in Week 1 to Sky Blue FC.
+Read: Washington Spirit fall 2-0 to Houston Dash in NWSL season opener
There will be a considerable amount of talent on the lighted, dewy field Saturday night. The match will feature eight current U.S. Women's National Team players. Washington boasts national team members Krieger, Crystal Dunn and Harris, while FC Kansas City features Lauren Holiday, Amy Rodriguez, former Spirit defender Becky Sauerbrunn, and Heather O'Reilly.
Parsons, who led the Spirit to the playoffs last year with a 10-9-5 regular season record, will have to again field a squad without diminutive midfielder Diana Matheson, a Canadian international who terrorizes opposing defenses with her playmaking abilities and penetrating runs with and without the ball.
Matheson, who scored twice in Washington's win last season over FC Kansas City last year, is recovering from off-season knee surgery to repair a damaged ACL.
In the lineup, however, will be forward Christine Nairn, who netted twice in three games against the FC Kansas City last season.
+Read: How Maureen Hendricks Field Became the First Women's Soccer Venue to Win Pro Field of the Year
Other national team players on the team this season include Mexican internationals Veronica Perez and Arianna Romero, an off-season acquisition from the Houston Dash.
Perez and Romero are expected to join the Spirit following this summer's World Cup.
Other new signings include 2015 College Draft defenders Megan Oyster, Caprice Dydasco, and two-time Big Ten Defender of the Year, Whitney Church. Newcomers also include former Western New York Flash players Katherine Reynolds and Estelle Johnson.
In midfield, Parsons added holding midfielders Angela Salem from Western New York and Joanna Lohman from the Boston Breakers. Amanda Da Costa, who most recently played for FAWSL Champion Liverpool Ladies, will play as an attacking midfielder.
Up top, the Spirit will be looking to an international trio including Spanish striker Laura del Rio, Argentine striker Estefania Banini and Nigerian striker Francisca Ordega. Forwards Tiffany Weimer and Caroline Miller also return.
——-
If you can't make it out to the SoccerPlex on Saturday evening, you can watch the live stream below…
College Recruiting Commitment Tracker