LeBolt: Jozy Altidore injury not promising for a quick return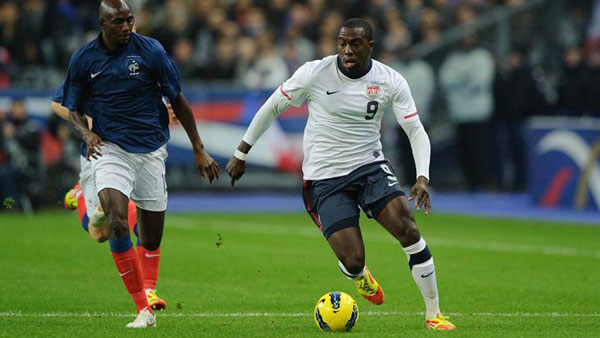 When you crumple in agony in the 21st minute of your first World Cup game, it's not good.
"I was sprinting and I felt something," Jozy Altidore says. "We'll see what happens. I'm praying for the best."
It's great to stay positive, but we'll have to hear from the medics back at the USA training facilities in Sao Paulo to know more. One thing's for sure. That sweet 2-1 victory definitely took the edge off the pain for Altidore.
But Jozy's odds for returning during this world cup don't look promising. Agony like that doesn't spell hamstring twang; a significant muscle strain has likely felled Altidore. And this isn't the first time the 24 year old striker has had hamstring problems. He missed the CONCACAF Gold Cup final against Mexico with a hamstring injury.
[+ READ: It will take a lot more than fitness for the USMNT to win the World Cup]
Strains come in all varieties. The severity of a strain depends on how much of the muscle and/or its tendon is damaged. The hamstring is actually a group of three muscles in the back of the thigh – any or all of which could be involved. A tear doesn't mean that the whole muscle is torn completely through; it is more likely that only some, perhaps many, of the fibers are torn. The more damaged fibers, the more impairment and the more recovery involved.
An MRI scan will assess the degree of damage and predict Jozy's time to recover. Jozy's, which appeared quite severe, may involve significant recovery time, perhaps 6 weeks or more. Matt Besler, who also experienced a hamstring injury in the game against Ghana, will probably be ready sooner. He reported feeling his hamstring "ball up."
[ + READ: World Cup Mania: Seeing starts believing]
What in the world happened to Jozy?
The replay doesn't give much of a clue. He's running, shifts into high gear and comes up lame. The culprit is the muscle's stretch reflex, a simple, pre-programmed nerve-muscle response. When a muscle is stretched quickly, it contracts automatically. The stronger the stretch, the stronger the contraction. This is a protective mechanism, designed to prevent tearing under normal circumstances. But world class strikers are anything but normal. Muscles working at that pace and with that force teeter on the edge of glory and disaster.
Could this have been prevented?
Proper warm up and balanced preparation in training reduces the risk of hamstring injury. I feel certain that the US training team has done their homework; these players are well prepared. But this is the World Cup, the chance of a lifetime. The adrenaline is flowing. Those juices – the same signals released in the fight or flight response – have players taut and ready. But now add the emotional surge. Young enthusiasm fuels brains telling their bodies to do the impossible. Their bodies say sure, why not, and turn it up a notch. Sometimes that notch is a knot in the muscle. Sometimes it's the tipping point.
[+ READ: Tired USMNT return to Sao Paulo as focus turns to Portugal]
Team USA is fielding finely tuned machines primed for peak performance, but just like pricey sports cars, timing is everything. A wrong step, an unexpected challenge, a quick cut, and they're double-clutching their hamstring and grimacing in agony.
Honestly, it will take a miracle for Altidore to return to the line-up before the end of group play. But, with rains of "biblical proportions" and "visions of winning headers coming true," who really can say that miracles are not at hand.
College Recruiting Commitment Tracker