Jeff Cup 2016: Everton FC Westchester Dreamers dominate boys U-18 play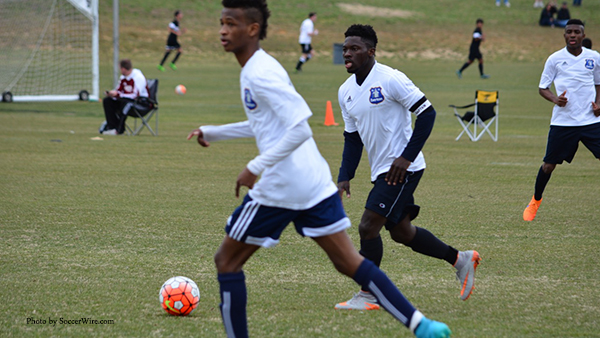 RICHMOND, Va. – Professional teams generally aren't supposed to be allowed to play in youth soccer tournaments. While not technically violating amateur status rules that keep them from doing so, here at the Jefferson Cup, Everton FC Westchester Dreamers are totally in a class of their own in decision making, technical ability and creativity.
Communication is still spotty, and they're prone to lapses in defensive shape. But what can you expect from a team that doesn't even practice together?
That's right. And not only does the team that's dominating the Under-18 Championship Division at one of the nation's top youth showcase tournaments rarely train together, their players' ages span five years. The Dreamers have scored eight goals in their first two games at Jeff Cup 2016, defeating Jacksonville FC 97/97 Armada (Fl.) 4-1 and SOCA 97-98 Boys Elite (Va.) 4-2.
+READ: Jefferson Cup 2016: Boys Showcase Day 1 Recap
The core of the team comes from a unique program out of Ghana called Right to Dream, which connects talented young players with educational opportunities in the United States and Europe. RTD has established a pipeline into many of this country's best private boarding schools, such as Kent, Hotchkiss, Salisbury and Canterbury, and has nurtured outstanding soccer prospects like UCLA star Abu Danladi and Georgetown defender Josh Yaro, who was recently selected by the Philadelphia Union with the second overall pick of the 2016 MLS draft.
And while they don't train together as a club team, they play against each other during the high school season, and with each other for fun on occasion.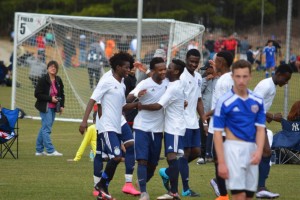 The Jefferson Cup is an amazing display of soccer talent that proves not all of the nation's best players – or even teams – are in the U.S. Soccer Development Academy. There are some great players and great teams here as always. But depending on your perspective, being "good" at soccer as a U-17 team can be far different than being a "real prospect."
The American youth club game is maturing for sure. Every year here in Richmond, you can see the soccer becoming less direct and more creative. But youth teams in America – even the ones that are state champions – still play a game much different than the way professional teams organize and their players make choices.
So it's no surprise then that a team made up mostly of foreign players who ALSO are every bit as athletic as the typical American player – and then some, in many cases – are having so much joy here.
+FIND SoccerWire's full range of Jefferson Cup coverage here 
And the college coaches are drooling.
Phrases like "I'll take every one of them" and "he'll probably just go pro anyway" were heard multiple times as word spread about Everton FC Westchester Dreamers' high soccer IQ. ACC schools in particular have flocked to catch a glimpse, with the team's most impressive player, left winger Emmanuel Twumasi, already committed to Wake Forest.
If you're in Richmond on Sunday, get out to West Creek Park field No. 4 by 10:30 am to see for yourself; that's when the Dreamers take on TSF Academy of New Jersey in their final game of the tournament. You may see some players that will be pulling on MLS uniforms in the not-too-distant future, but you'll definitely see the way the game could be played if American youths grew up in less structured environments and truly breathed the game as far back in time as they can remember.
And if you're a tournament director, when these guys apply…just say yes.
College Recruiting Commitment Tracker