Hummer: Quick thoughts on USWNT's win over Haiti in CONCACAF Championships at RFK
Confession: Watching the U.S. Women's National Team play lately is frequently one of the most frustrating things I do.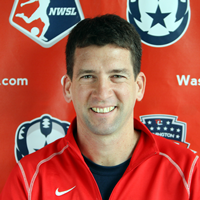 So frustrating is their constant reliance on overly direct play out of the back, turnovers in the midfield and poorly-aimed, floating crosses, that getting through 90 minutes is basically impossible for me unless there is something on the line.
Tonight was one of those nights where, had a result not been essentially necessary in order to see the USWNT advance to the CONCACAF Women's Championship semifinals next weekend in Philadelphia, I wouldn't have lasted 15 minutes.
I understand a team like Haiti is going to come in and bunker. Everyone knows that. But is a team like Haiti going to be so good at bunkering that Jill Ellis needs to actually game-plan around it?
+READ: USWNT cruise again in CONCACAF qualifiers, this time 6-0 over Haiti in D.C. 
Are Haiti so good at bunkering that even with a roster stocked with the most athletic, and several of the world's most technical and creative players, Ellis felt it was really necessary to play exclusively around and over the bunker?
I think not, and I think it dumbs down our players' strengths to alter tactics at all against supremely inferior opponents, who don't have a single player who would compete for playing time in our domestic league. This team was never going to lose by two goals to Haiti, so why not take the opportunity to play in a way we'll need to be able to do to win a World Cup?
Fortunately, the second half was better to watch. But how odd was it that it was not until the removal of our most creative and technical player, Megan Rapinoe, that the game was played more to feet?
The answer, of course, is that wasn't what changed things. It seems clear that Ellis made a concerted effort to have the team play wide and early crosses in the first half, while the second-half plan was to find feet around the box and either go to goal or look to get to the end line to play the ball back.
And it worked much better.
A few more notes taken during the match…
The Lauren Holiday/Carli Lloyd midfield combination has played every minute of the tournament so far, but it wasn't those two finally "clicking" that resulted in a 6-0 win tonight. Holiday in particular was constantly turning the ball over, getting hung up with her first touch (frequently using the wrong foot) and even got caught in possession a few times where better teams would have converted the resulting giveaways into at least a dangerous shot on goal.
Not a lot of teams in the world will be able to play THROUGH that midfield, but that midfield is not going to be breaking down the opposition with quick, one-two passing and cutting through balls. Both players are essentially converted forwards, playing there because they're athletically able to both defend and score from distance against any team in the world.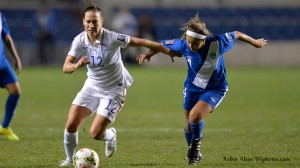 But just like the U.S. men's team, we just can't seem to find a way to play with a real playmaker. I didn't see a single time when one of those midfielders won a ball, then quickly found the feet of a forward in a central position, then got he ball back and did something dangerous.
Holiday wasn't the only frustrating player to watch. Given the amount of time and space several players still struggled with passing to the correct foot of a teammate, and those teammates frequently struggled with their first touch. The field at RFK Stadium is a bit choppy after hosting its third high-level game in three days, but the technique just has to be better.
+ READ: USWNT commentary: Wambach's no Xavi, Soca Princesses no pushovers for Ellis & Co.
It's fundamental to be able to half-turn with the ball with a first touch so the second touch can go anywhere. The bench could be heard frequently saying the ball needed to be played faster, and the fact that so many passes and first touches weren't "clean" is exactly why the speed of play was not up to snuff.
If serving it into the box is the game plan you decide to use, then how on earth can so many of the crosses be so poor? If there's one thing the U.S. should be better at technically than anyone else after over a decade of "play it to Abby's head" style, it should be service. But nearly every one in the first half (that has to be a record for number in a single half?) was either floated in straight or played no where near a target… and in most cases it was both.
If my strategy is to get it wide and play the ball in the air to beat a bunker, then the crosses need to be driven to a target's head or whipped behind a retreating back line… or both. Floating balls only played directly into Haiti's hopes by allowing literally all 10 field players to converge inside the box during ball flight time, with half of them challenging the first balls and the other half the seconds.
Only really bad clearances of those second balls by Haiti lead to so many of our goals. In fact, only one of the six goals didn't come off a Haitian player to the player who scored for the U.S. Only the last goal, a beautiful play by Christen Press and finish by Morgan Brian was a goal that was started and finished completely within a U.S. possession.
+ READ: USWNT improve wide play, finishing as minnows Guatemala crushed in Chicago
It was textbook soccer against a slower opponent: Get to the end line to face the defense at their own goal and then cut it back to a late-arriving runner. But even that took a college player to be smart enough to find the opening in the box for the cutback. Several other opportunities in the second half saw players make the end line, but no one really moving in the box.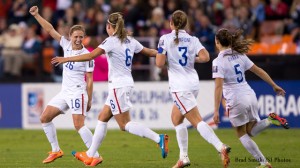 Meghan Klingenberg – just wow. Her strike won't be the most important goal of 2014 for the team, but should still be a goal of the year candidate. Hit from 25-plus yards out, her 53-mile-per-hour rope through traffic is the type of goal that every young player in the RFK stands that was paying attention will never forget witnessing live…because odds are they'll never see one live again. Just wow.
In summary, this may have been the best display during these qualifiers so far for the U.S. team, but it really wasn't a great game. The result was never in question even against a better-organized, more athletic opponent than expected, but the way the goals came and the poor quality in so many areas was just not good enough.
This team has a LOT to work on before next summer to have any shot at even making the final. They have the talent, and a coach who knows the game. But whatever is missing, they'd better find fast.
College Recruiting Commitment Tracker