Hall of Fame shame? Briana Scurry snub sparks doubts on voting process
The U.S. Soccer Hall of Fame's 2016 class of inductees was announced Thursday, and for the third year running, one of the best goalkeepers in U.S. soccer history – men's, women's or otherwise – finds herself on the outside looking in.
Briana Scurry earned 173 caps, 159 of them starts, in a 14-year career with the U.S. Women's National Team, racking up a 133-12-14 record – including a fearsome 22-2-5 mark in World Cup and Olympics tournaments – and 71 clean sheets. Most famously, she saved the penalty kick that enabled the USWNT to edge China in the epic shootout that decided the 1999 Women's World Cup final in front of more than 90,000 fans at a packed Rose Bowl.
Rising from an obscure Minnesota town where she was not only the only African-American but also the only girl when she began playing the sport as a child, Scurry won a long list of individual honors at every level of the game. Her USWNT teams won two Olympic gold medals and one silver medal. She helped found one pioneering pro league, the Women's United Soccer Assocation, and later took part in another, Women's Professional Soccer. Once calling herself "the fly in the milk," she broke a de facto color barrier in U.S. women's soccer, even earning the lofty honorific of "soccer's Jackie Robinson" in some quarters.
+READ: Michelle Akers, Briana Scurry reflect on growth of women's soccer, challenges ahead
Yet for the past two rounds of Hall of Fame voting, she has fallen agonizingly short of the threshold for the Hall's "player" category, one of three routes to membership along with the "veteran" and "builder" classifications. Two-thirds (66.7 percent) of voters must vote for a player for that nominee to earn admittance into the HOF; last year Scurry earned 65.6 percent, and thus fellow 'keeper Kasey Keller was the only one to earn entry via the player category in 2015. This year, she garnered 64.51 percent and was passed by her former teammate Brandi Chastain.
The irony, of course, is that millions have Chastain burned into their soccer subconscious because of her successful PK and subsequent delirious bra-baring celebration on that sunny day in 1999 – which took place after Scurry had done the harder work of stopping Liu Ying's spot kick, the only unsuccessful kick of the shootout.
Scurry also paid as high a price for her glory as any of the "99ers," having sustained a severe head injury in 2010 that ended her career and sent her into a prolonged period of suffering from post-concussion syndrome that was only eased by a 2013 brain surgery.
What may be more galling for some fans is that MLS commissioner Don Garber – a hugely influential figure who helped save that league, but one still in his job, and whose story is still being written – will enter the Hall first, as this year's builder selection.
The door isn't closed for Scurry yet, and odds are that she'll stride into the Hall of Fame sooner than later. She has only been eligible since 2014 and will remain so in the player category though 2020. If she's somehow still not in by then she'd transition to the veteran category, which is voted on only by current HOF members and has a lower voting threshold (50 percent) for admission – though only one person can be inducted per year.
She herself professes to be unaware and relatively disconnected from the whole process.
"I completely forget about it until I see something on Twitter about it," she said in an appearance on SiriusXM's United States of Soccer show on Friday. "So I didn't even know it was happening right now until I saw it this morning. I am very proud of and I respect Brandi, and Shannon MacMillan, who are incredibly worthy of being in the Hall of Fame, and I think those are fantastic choices.
"I really feel that if I'm meant to be in there, I'll get in there. But that's just a process that I don't really have any control over. I'm not even sure who votes or how that works or anything like that."
But her situation highlights the quirky, and perhaps unnecessary, vagaries of Hall of Fame voting. The electorate is drawn from a group that includes coaches and executives from the U.S. Soccer Federation, MLS and NWSL, current Hall members and selected members of the media. The Washington Post reported last year that there were 234 eligible voters, but not all of them necessarily submit their ballots; in fact it seems that a sizable minority do not.
+READ: U.S. Soccer, FC Dallas to unveil plans for Hall of Fame Museum
Each may vote for up to 10 players per ballot, but can also vote for fewer, meaning that in effect, players in the same nominee class are competing. The veteran and builder categories are decided by smaller groups of voters; only one person per category can be elected each year and that person must reach the 50 percent threshold of final votes cast (though "more than one may be elected in the event of a tie," according to the official criteria). Veteran nominees go through a "screening committee" en route to a spot on the ballot. [Official election and eligibility details, which were set by the HOF's board of directors, can be found here.]
The rationale for the two different percentage thresholds is that voters can elect more than one player to each class, while only one builder and one veteran can get in. A U.S. Soccer official pointed out to SoccerWire.com that Major League Baseball's Hall of Fame requires players to earn 75 percent of the vote taken among active or honorary members of the Baseball Writers Association of America, where each voter is limited to 10 selections per ballot. (The soccer HOF used a 75 percent threshold until a few years ago.)
That, however, is only one of several important differences between baseball's and soccer's processes. While the BBWAA is notoriously stringent and often passes over deserving candidates, several committees have the power to select Hall of Famers and have done so liberally, inducting well over half the baseball HOF's current membership of 312. Entering this year, the Soccer HOF had enshrined 144 players and 145 builders for a total of 289 members – though it's certainly tricky to compare the two sports and their vastly different U.S. histories.
So who IS meeting the voting standards required for admission as a player? Chastain strolled in at the first time of asking, with 91.39 percent of this year's tally, while MacMillan got in via the veteran category; last year Keller, the only player elected, made it onto 95.8 percent of the ballots. (Read more about HOF voting stats on Kenn Tomasch's excellent blog.)
The last few classes of players before that: Kristine Lilly and Brian McBride in '14, Joe-Max Moore and Peter Vermes (the latter as a veteran) in '13, Claudio Reyna and Tony Meola, along with Desmond Armstrong as a veteran, in '12. The trio of Cobi Jones, Eddie Pope and Earnie Stewart, along with veteran Bruce Murray, made it in '11, and 2010 saw Thomas Dooley and Preki elected along with Kyle Rote Jr. as a veteran. It's an impressive and deserving list that some would say is just right, while others might believe it holds room for an extra star or three.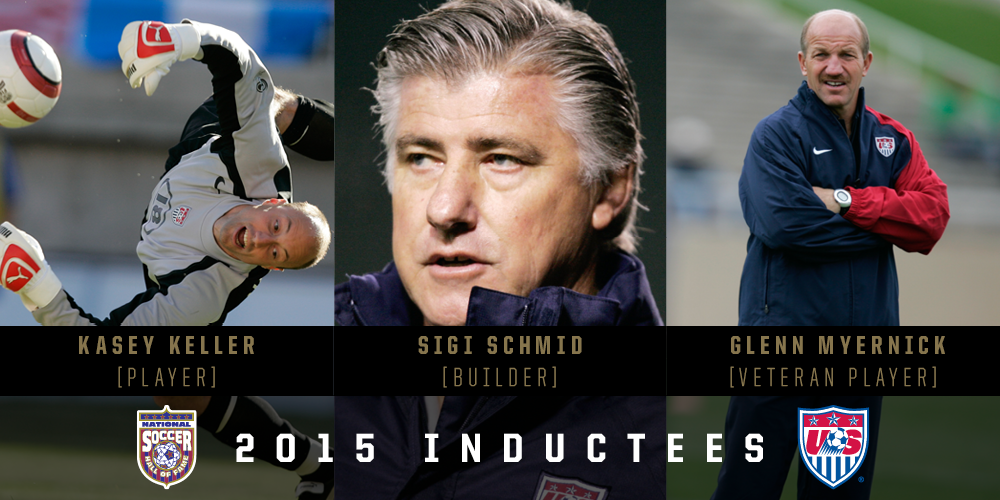 To her credit, Scurry is more concerned with a different sort of posterity.
"What I'm most focused on for myself is continuing to leave a positive legacy in soccer, not only on the pitch but off the pitch with my concussion awareness work that I'm doing now, and trying to grow the women's game in this country and across the world and be influential in a positive way as best I can," she said on United States of Soccer. "Eventually, if I'm meant to be in the Hall of Fame, I will be. But I'm doing some really great stuff now, some really positive stuff that I'm proud of, and that's fine by me."
It's tempting, and intriguing, to raise a fuss about this state of affairs, particularly given the timing of Garber's selection. A leading architect of American soccer's massive structural growth in the new century, only the most virulent MLS-hating skeptics would argue that he isn't deserving of the honor. Yet it makes for unsightly optics when a businessman who, by his own admission, didn't live soccer until he left the NFL to take his current post in 1999 takes up a Hall of Fame berth before an icon like Scurry.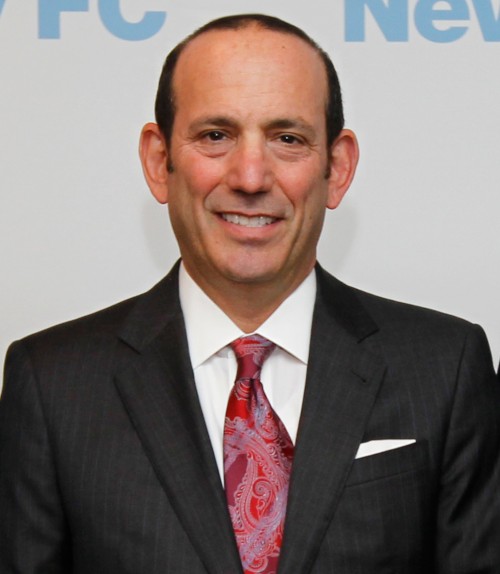 And that leads to a deeper question: Why are there so many builders in the HOF relative to players? Has American soccer really had so much heroism on the sidelines and in the boardrooms as to overshadow the action on the field? It's certainly possible, but I suspect consensus on the matter would be elusive.
In the meantime, I hope to speak soon with Jack Huckel, who served as Director of Museum and Archives when the Hall of Fame had its own facility in Oneonta, New York, to learn more about the process. With the Hall's homelessness finally nearing an end now that FC Dallas has broken ground on its future new home at Toyota Stadium in Frisco, Texas, now would be a great time for our soccer nation to think further about what we want our Hall of Fame to be.
College Recruiting Commitment Tracker