Four-time MLS Referee of the Year Paul Tamberino shares his knowledge at CCL Showcase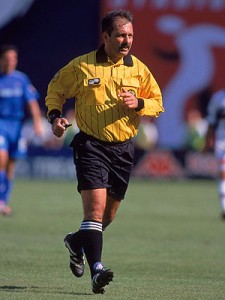 Following one of the most decorated careers ever for an American soccer referee, Paul Tamberino has continued giving back to the game in his new job mentoring and developing current referees at various levels.
Tamberino, a four-time MLS Referee of the Year, former FIFA and National Assistant Referee, and National Collegiate Referee, has since served as MLS Director of Competition and U.S. Soccer Director of Referees. Recently he has shifted his focus to the youth game, where he has taken a job as Referee Development Officer for the Pennsylvania West State Association, a position which is the first of its kind among U.S. state associations.
Earlier this month Tamberino traveled to Richmond, Va. for the Club Champions League Winter Showcase, where he and National Referee Assessors Don Torrenti, Arn Manila and Mort Sajadian mentored CCL officials throughout the event. Tamberino made it his goal to talk with each of the 82 refs in attendance, watching a few minutes of at least one of their games and asking them to come up with one thing they would have changed in each half. When he saw something on the field that he wanted to address, he took notes and talked to the referees afterwards, but mostly made a point to get to know them personally.
+Read: Creating an early engagement model in North American youth soccer
"Paul is the epitome of approachable, which is exactly what you want in a mentor," said CCL Referee Assignor David Hichak. "He has done a fantastic job working with our referees, teaching them from a technical standpoint and just connecting with them on a personal level."
Tamberino, who has worked in major CONCACAF tournaments, World Cup Qualifiers, Olympic Qualifiers and NCAA Final Fours, spoke with SoccerWire.com on his recent endeavors in raising the quality of officiating in American youth soccer. His approach to working with referees is simple and always begins with making sure they are mentally willing to look at their performance critically and constructively.
"Just like playing, refereeing is all about self-evaluation and making yourself think," he said. "I had one referee tell me he had been thinking about it all night, and there were five or six things from that day's game that he would have changed. I told him, 'That's great, let's talk about it.' That kind of self-evaluation is how you get better in this sport, and if you come off cocky you're not going to improve."
As player development continues to be emphasized more and more in American youth soccer, the idea of referee development is slowly gaining momentum as well. While officiating is still often considered a necessary evil, more leagues and tournaments are beginning to focus on the correlation between player development and referee development.
Tamberino has made it a priority to usher in ex-professional referees like himself into coaching referees in the same way that ex-players are taking jobs as Technical Directors and Directors of Coaching. Referees need coaches just like players do, he says, which is not the only connection he draws between players and refs. One of his primary points for improving officiating in the modern game is encouraging referees to not only watch as much soccer as they can, but play as often as they can at a high level.
+Read: Think first: Five simple ways to raise your team's soccer IQ
"Even if you've been involved in the game for 40 years but not over the last five, you're missing something every year that goes on," said Tamberino, who played collegiality at the University of Maryland. "With ex-professional players getting involved in coaching, the technique on the field is getting better and the sport is developing rapidly."
"I'm of the belief that the longer they've played, the more beneficial it will be to their ability to officiate a game," he continued. "Referees should have a feel for both sides of the spectrum in the sport."
On the field, Tamberino looks for a few crucial attributes when evaluating a referee's current ability and potential for development. Along with demonstrating an ability to think critically and make quick adjustments throughout a match, officials often see their speed and athleticism tested when working in the higher levels. Being able to keep up with the flow of play is a deal-breaker for Tamberino and referee assessors everywhere, because without being able to physically remain in good position to make calls, even the best refs will fall short. Referees who are not outmatched by the speed of play will possess the added level of confidence necessary to remaining calm under pressure.
+Read: Manchester United's Tony Strudwick shares youth development philosophy
Additionally, officials must have a deep knowledge of the game, becoming aware when teams shift tactics and formations, and must quickly be able to become familiar with individual playing styles on the pitch, making playing experience all the more vital.
"The referee needs to be aware of every change in the game," Tamberino said. "We had a team earlier change from a 4-3-3 to a 4-4-2 for the second half, and all of a sudden the referee was in the way and he didn't know why, because he didn't realize the coach has made that tactical change."
One of Tamberino's main motivations for working in referee development at the youth level is the 40 percent first-year attrition rate that haunts the profession. While working at the CCL Showcase, he noted that the culture among the league's referees was a positive one where teamwork was already being emphasized.
+Read: What college coaches want in a player
"It's refreshing to have administrations that embrace referees and really include the officials as part of a league," he said. "They're supporting the referees and they want to make it better, not seeing it as a necessary evil."
His goal as Referee Development Officer for the Pennsylvania State Association will be to spread that idea, making officiating a more positive experience at the youth level and helping bring down the daunting attrition rate.
"There's a saying among referees that started in Germany that basically says, 'They cannot play without us.' As long as referees are appreciated, they'll keep coming back," he said. "No one wants to go into an atmosphere where they're not wanted."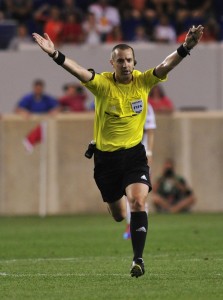 During his days as an official, Tamberino was known as a 'players referee', meaning he generally got along with the players and communicated throughout the match. His approach to the game was similar in many ways to current MLS and FIFA Referee Mark Geiger, who this summer became the first American to officiate a knockout round match in the FIFA Men's World Cup. Perhaps the most important key to success for both Tamberino and Geiger has been their calm demeanor on the pitch, which often carries over to the players, allowing for smooth and competitive play.
"What kind of person are you off the field, are you stand-offish or are you someone that enjoys people? Usually, the way you act in life is going to translate to the soccer field," Tamberino said.
In his role with the Pennsylvania West State Association, Tamberino will essentially serve as the Director of Coaching for the referees. One of his methods in developing the refs will be to travel with six or seven officials at a time to various tournaments around Region I, giving them extensive time to receive feedback and be mentored on and off the field.
"The objective is for our referees to feel wanted and to get them interested to the point where they realize that there are real opportunities to grow in this profession," he said.
The careers that Tamberino and Geiger have led have helped set the benchmark for quality American referees to this point, while others such as Armando Villarreal and Corey Parker are quickly climbing the ranks as well. With Geiger also deeply involved in referee development, the outlook for quality continues to improve.
College Recruiting Commitment Tracker