Ep 30: University of Washington coach Jamie Clark on the power of video analysis with InStat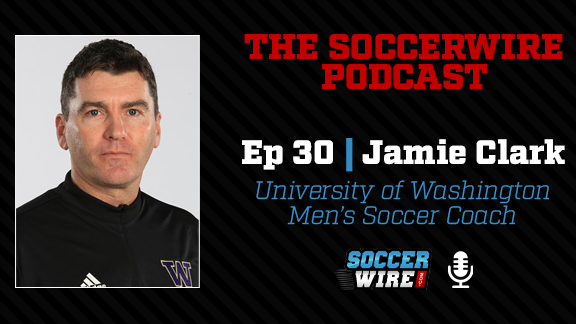 Episode 30 of The SoccerWire Podcast features University of Washington men's soccer head coach, Jamie Clark, joining SoccerWire analyst and host Charles Boehm.
The two chat about how the video analysis program, InStat, has aided college programs and the youth level in training, match preparation, and now recruiting. They also discuss the year-long schedule, the intriguing cases of college 'one-and-done' players, and the impact Jamie's father, Bobby Clark, had on him as a coach.
Use the links below to listen to the episode:
Show Notes
[2:40] Jamie explains the role that InStat plays in his coaching and player development at the University of Washington, and the prospect of recruiting using the video analysis platform.
[4:03] How to understand and analyze the data that comes from games.
[5:23] Encouraging those that can use to programs like InStat, to do so, to help their kids with recruitment as it's the only meaningful way for college coaches to see games right now.
[6:35] Jamie discusses the effects that COVID-19 has had on recruiting thus far and the future impacts expected, including: limited travel to youth games which highlights the need for video analysis programs.
[7:31] Sharing hopes for college recruitment to slow down, and for kids to wait until they're closer to attending college to commit to a program, to ensure programs and players are the right fit for each other.
[9:57] Jamie shares what he looks for in recruits for the University of Washington program and some of the gaffes he feels some players have made in their recruitment or professional playing process.
[15:05] Detailing the role that college soccer currently plays in the United States soccer landscape and the impacts it has, vs. skipping college to go professional.
[19:12] Jamie explains where he stands on the year-round schedule model proposed for men's college soccer.
[23:25] Jamie discusses how fortunate he feels he was to have his father, Bobby, to learn from as he was growing up, and how that has impacted his coaching.
[26:51] How the referees can "force" your team to play better due to 'questionable calls'.
[28:57] Wrapping up the episode discussing player development and whether players like Landon Donovan and Christian Pulisic were developed or just 'happened'.
College Recruiting Commitment Tracker