U.S. Women's player ratings show world-class performances, long-term questions

Player by player and point by point, here's a look at how the world champion U.S. Women's National Team fared in the Women's World Cup tournament as a whole (ratings on a scale of 1-10).
+READ: USWNT defeats Japan 5-2 to claim third Women's World Cup title
GK Hope Solo: 6/incomplete. She was busy and excellent in the first half against Australia. After that, she was a virtual spectator, with a total of 11 saves over seven games. Her inactivity makes rating difficult. She seemed a little imperfect on a couple of shots, punching away rather than catching. Her veteran savvy helped to ice Celia Sasic on the all-important penalty kick with the semifinal against Germany still hanging in the balance. She gets some credit for organizing the defense, but then. don't you also take away for the lapses against Japan?
Perhaps the best we could say for Solo: Off-field distractions had no legs. She hasn't blogged since June 2, when she wrote a tribute to Abby Wambach. The most controversial tweet on her Twitter feed was an enthusiastic retweet of the Seth Meyers/Amy Poehler sketch shredding a writer who scoffed at the World Cup and women's sports in general. We'll see how things go ahead of her next court date (Sept. 11), but for now, all is well.
How far we have come, yet…REALLY??? https://t.co/1XXante8oS

— Hope Solo (@hopesolo) June 25, 2015
LB Meghan Klingenberg: 8. Overshadowed by the center back duo, Klingenberg turned a question mark into an exclamation point. The left back spot was in limbo for months, but Klingenberg took it and ran. She was a fearsome defender who showed poise, along with some nifty moves, playing the ball up the field. She also got into the attack.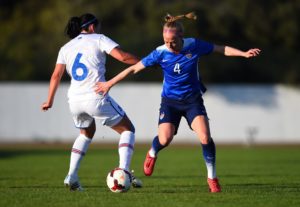 CB Becky Sauerbrunn: 9. Criminally omitted from the short list for the Golden Ball. In the NFL, people who defend the way she does are called "shutdown corners," and general managers fling giant amounts of money at them. A great study in perseverance, biding her time in the U.S. player pool and excelling at her peak.
CB Julie Johnston: 7. Take away the surprise factor of her late emergence in an otherwise inflexible lineup, and you're left with a very good defender who still makes a few mistakes — a yellow against Germany that could've been a red card and a costly goal, an own goal against Japan, etc. But she's also a major reason why Solo was so rarely challenged.
RB Ali Krieger: 7. Very few mistakes at the back and an occasional menace going forward, though it seemed some of her crossing was stuck in "direct to Wambach" mode. She and Klingenberg covered a lot of ground and allowed very little offense from the flanks.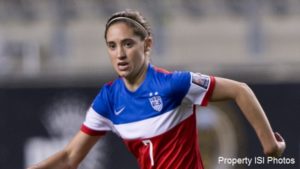 DM Morgan Brian: 8. The youngest player on an old team, the Virginia alumna was the key to the USA's tactical switch before the semifinals, nailing down defensive midfield to allow Lauren Holiday and Carli Lloyd more freedom.
CM Lauren Holiday: 6. Always miscast as a defensive midfielder paired with Lloyd in the center. In the last two games, she showed what she's truly capable of doing, including an array of incisive passes and an emphatic volley to give the USA a 3-0 lead in the final.
CM Carli Lloyd: 9.5. Maybe a 6 for the early games and a 10 for the rest. Though the formation as a whole wasn't working in the group stage and round of 16, she gets some of the blame for the USA's anemic attack and lack of midfield possession. She has long had a knack for clutch goals in the Olympics, and she went far beyond that with her four-game, six-goal streak in the knockout rounds, ranging from composed penalty kicks to her audacious strike from midfield in the final. Also noteworthy: Played all 630 minutes and still had her best game at the end.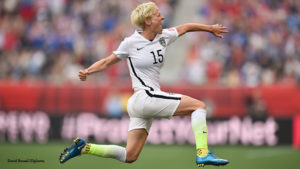 LM Megan Rapinoe: 8. Carried the offense through the group stage, providing a sorely needed creative spark and scoring twice against an Australian team that conceded little in the tournament.
RM Tobin Heath: 6. Rarely able to turn her prodigious skill into dangerous attacks, but she kept plugging away and stuck the dagger in Japan's comeback with a well-taken goal in the final. Also strong on the left flank when suspensions forced a reshuffling for the quarterfinal against China.
RM Kelley O'Hara: 7. Always nice to have someone on the roster who can play any position, and after her performance against China and her clinching goal against Germany, you have to wonder why we didn't see more of her in this tournament.
F Alex Morgan: 6. She has had and will have better days. Clearly not quite back from her injury, and yet she drew important fouls and scored the vital opener for a struggling team against Colombia.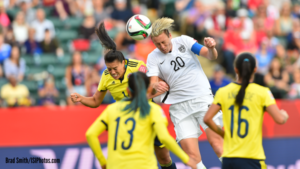 F Abby Wambach: 5. Never should've been more than a late sub and occasional starter in this tournament. Judged on that role and not the times Jill Ellis left her in place for 90 minutes, she did well, contributing vocal leadership and an important goal against Nigeria. One of the best players of all time.
F Sydney Leroux, Christen Press, Amy Rodriguez: 3. Combined for one goal and one assist in 479 minutes. Blame Ellis if you like for misusing them, and Rodriguez deserves some credit for revving up the high pressure when she was in. But this position has to be better. And though we didn't know in April that Crystal Dunn would be such an attacking force in the NWSL this season, it's hard not to notice what Dunn has produced and wonder if the versatile Spirit forward would be a better option in Rio next year.
Subs Shannon Boxx, Christie Rampone, Heather O'Reilly, Lori Chalupny, Whitney Engen, Ashlyn Harris, Alyssa Naeher: Incomplete. Backup defenders (Rampone, Chalupny, Engen) and goalkeepers (Harris, Naeher) are essentials on a roster. O'Reilly probably deserved more time. Boxx has had an outstanding career, but we have to question why she was on this roster ahead of more versatile players who could plug several holes as needed.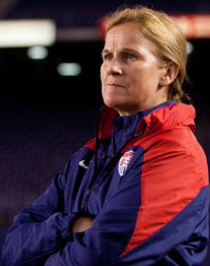 Coach Jill Ellis, the "what we know" interpretation: 3. From what we could see from a distance, Ellis only made good moves when they were forced on her. She barely looked at players who have excelled in the NWSL and gave older players places on the roster and in the lineup regardless of whether they earned them. Johnston got playing time this spring as an injury replacement. In the knockout rounds, she had to replace suspended players and give Wambach some rest, then found the replacements were worth keeping. By this interpretation, every good move she made was either lucky or simply a fix for something she had been doing wrong.
Coach Jill Ellis, the "mad genius behind the scenes" interpretation: 8. Perhaps Ellis wanted to ease the team into changing the roster and tactics all along but knew she had to take it slowly. Rock the boat, and it's easy to get tossed overboard along with predecessor Tom Sermanni. So in this interpretation, she waited for the right opportunity to make the right moves. And she knew all along that the USA could lurch its way through the weaker-than-expected Group of Death playing the old predictable style and then unveil the dynamic 4-2-3-1-ish formation we saw in the dazzling semifinal and final.
In either case, Ellis deserves credit for managing the bruising politics of this program and getting the players to buy into their roles in this Cup.
U.S. Soccer, long-term planning: 0. Record ratings for the final, and nary a tie-in with the NWSL, the league the federation is supposed to be bulking up so the USA can keep pace with the firmly-rooted, steadily growing leagues in Europe. Friendlies were used to trot out the familiar faces rather than develop much depth. The excuse was that Ellis needed to fine-tune the rotation of players she would use in Canada, and yet the USA's two best games in this tournament bore little resemblance to any of those friendlies, rendering such "tune-up" work pointless.
+READ: Women's World Cup: A (partial) reassessment of USWNT coach Jill Ellis
Maybe the USSF will take some firm steps toward the future in the coming weeks. But for now, every indication points toward the USSF hoping to squeeze one more title and a few more marketing bucks out of the established names, leaving the cupboard bare for the future. Look at recent U.S. youth results, and you won't be confident about World Cup and Olympic triumphs down the road.
That's a long-term fix. In the short term, USSF can restore some confidence by making sure the up-and-coming players in the NWSL aren't totally lost in the hype of the departing players on the Victory Tour.
College Recruiting Commitment Tracker