Dure: USWNT boss Jill Ellis gets a contract into the unforeseeable future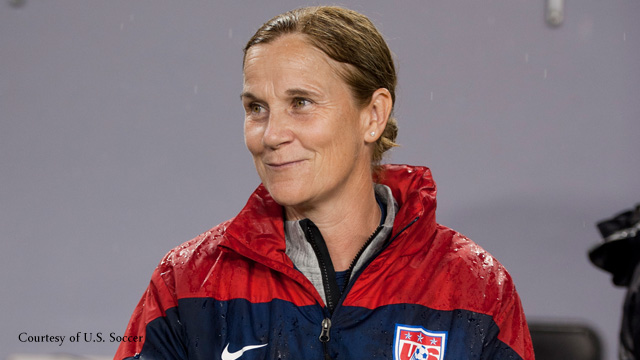 In January 2011, Jill Ellis got a job with U.S. Soccer alongside former women's national team coach April Heinrichs. The "technical director" title went to Heinrichs, while Ellis was named "development director."
Over the next couple of years, Heinrichs and Ellis made the occasional joint appearance to talk about their task of upgrading U.S. player development. Judging that task takes time, but the immediate dividends were paltry. At the U20 World Cup level, the 2012 champions (featuring Morgan Brian, Julie Johnston and Crystal Dunn) were followed by a quarterfinalist team in 2014. The U-17s didn't get out of group play in 2012 and failed to qualify for the 2014 competition.
And yet Ellis has just signed a new multiyear contract.
+READ: U.S. Soccer reach contract extension agreement with Jill Ellis
We should probably mention that she changed jobs along the way. She's now the U.S. Women's National Team head coach, and it's safe to say a World Cup win improved her bargaining position.
The win has not, however, reduced skepticism that the women's program is on the right track. Ellis has been a major part of that track for the past several years — she had other short-term roles before taking the development director job.
Few people could begrudge U.S. Soccer for wanting to keep Ellis on the job through 2016. With Olympic qualifying set to begin in a few months, now is not the time for a major transition. (Blowing up the staff after the 2007 World Cup debacle is an obvious exception to the rule.)
But reassessing after the Olympics, with a couple of years before truly meaningful games begin anew, should be a natural part of the women's national team cycle. (Ideally, we'd eventually see a women's Copa Americas or an Asian-American tournament to rival the Euro championships during that cycle, but that's another rant.)
+READ: USWNT: Jill Ellis' journey reaches storybook World Cup title run – but more work awaits
If you want to assess Ellis' performance now, you have to ask how much responsibility she deserves for the USA's championship. And to be sure, she should get quite a bit. She changed the team's tactics and personnel for the semifinals and final. In doing so, she also got instantly legendary performances from Carli Lloyd, whose tendency to challenge her coaches with inconsistent play and moods was one of Pia Sundhage's criticisms of the team this summer.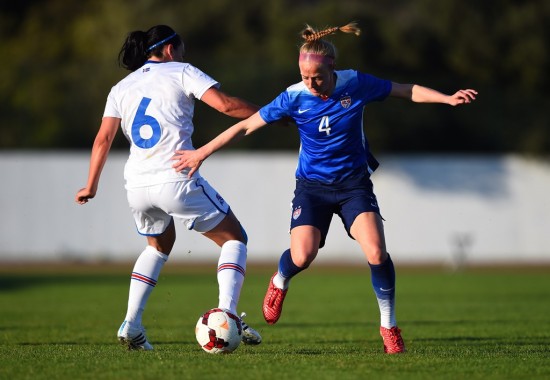 But she also benefited from a lot of circumstances out of her control. Sundhage's Sweden team turned up at the Cup in poor form. The knockout-round draw let the USA recover for two games while Germany had to deal with a French team that played some of the best soccer of the summer. The rock-solid central defense pairing was one long-serving apprentice who had already showed she could be the anchor (Becky Sauerbrunn) and one young surprise forced upon Ellis by injuries (Julie Johnston).
And while Lloyd has been more than kind in her words about Ellis since the Cup victory, it's also telling that Lloyd immediately shifted much of the credit to her outside trainer, James Galanis, both in postgame comments and an extensive Sports Illustrated piece that built Galanis into some sort of mystical sensei.
Ellis has a more difficult task than Galanis, surely. She has to build a roster with players who have, over several years of international play in a mostly static national team pool, become bigger than the sport. She has to deal with egos and the financial/political realities of having limited opportunities to experiment in friendlies.
U.S. Men's National Team coach Jurgen Klinsmann dropped Landon Donovan. Ellis couldn't bring herself to drop Shannon Boxx.
So it's no surprise that many of the questions that made it onto Twitter and into the recaps of Wednesday's conference call with Ellis hit the same theme: What is Ellis' vision for the future?
+READ: Women's World Cup: A reassessment of USWNT coach Jill Ellis, part 2
We're not just talking about getting two outstanding performances out of the long-serving national team players she had in 2015 and will surely have in 2016. Can she take the players who have excelled in the NWSL, Europe, the NCAA and club ranks, then build them into a team capable of winning another World Cup?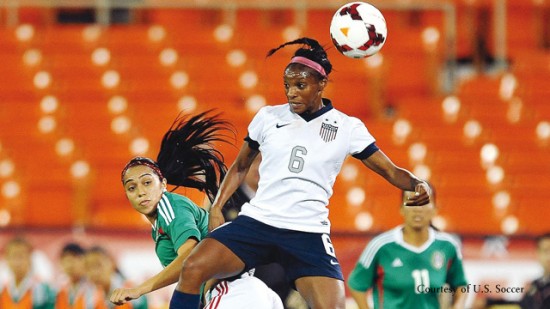 Even next year, Ellis will have a couple of difficult decisions between the Old Guard and the rising stars. If she ends up with a choice for the last spot between Abby Wambach and Dunn, will she take the declining Hall of Famer or the player who has blistered the NWSL this summer and can play multiple positions?
That decision may give us a lot of insight about Ellis' ability to lead this team into the future. But that's an academic question now. She already has the contract.
College Recruiting Commitment Tracker