Dure: NSCAA Convention shows soccer still needs to work on sales pitch

BALTIMORE — From all outward appearances, the NSCAA Convention in Baltimore is the temporary hub of a thriving sport.
Exhibitors hawk their wares with products that run from the ridiculous to the sublime. Scores of college seniors are drafted to professional teams in front of hundreds of fans. Thousands of coaches pack meeting rooms and the line at Starbucks.
But some of these meeting rooms are full of fretting about the state of the game. And they have stats and trends to back it up.
+READ: Dure: NSCAA Convention a great time for much-needed national youth soccer discussion
Start with Project Play and the landmark report it issued soon after last year's convention. Citing Sports & Fitness Industry Association data, Project Play showed youth sports participation from 2008 to 2013 is down across the board among kids ages 6-12. Soccer is doing better than softball (down 31.3 percent!) and football (down 28.6%), but it's still a 10.7% drop from 5.6 million to 5.0 million.
And they're not just aging out without being replaced, as several presenters noted. They're quitting. AYSO's Scott Snyder pegged the number at 70% of youth players quitting before age 13.
Why?
First, we're discouraging players by cutting them at younger and younger ages. "Ever cut a 6-year-old? It's not pretty," Snyder said.
The U.S. Olympic Committee's Chris Snyder, whose goal is to see healthy talent pipelines in every Olympic sport, said we're killing our soccer pipeline because we're cutting kids before they hit their pubescent growth spurts, which makes little sense.
But more generally: It's not fun. That was the conclusion of a 30,000-athlete survey Snyder cited. It's easy to see the problem — coaches and parents are squeezing the fun out of it. (And if you think "Well, *I* coach elite athletes, so I don't care," check your ego for a second and ask whether you're also squeezing the creativity out of it. Hint: Yes.)
Xara Soccer's Chris Price, giving a session called "Are Parents Soccer's Biggest Problem?," said the sport is declining because it's a negative atmosphere. Then if you look at so-called successful clubs, you find them charging 4-year-olds $2,200 a year for training that supposedly leads to college glory. No undue pressure there, of course.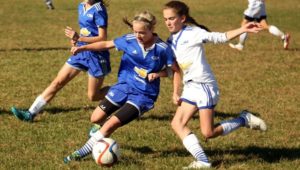 Snarky title notwithstanding, Price emphasized the need to make parents happy. To retain players, we the soccer people need to retain their parents. That means selling them on the value we can offer — not just the remote chance of getting that partial college scholarship, but the tangible benefits of sports in character development and giving kids something productive to do.
And we're making things more difficult for parent volunteers. Snyder said the standards for U.S. Soccer's coaching licenses have been changed so that it's tough for parents to get through the E and D licenses — something this parent-coach-writer has experienced first-hand.
"Today's parent-coach has the concentration span of a ferret on espresso," Snyder said. (Don't take it personally — the context was that parent-coaches simply have a lot on their plates. Which is true. What was I saying?)
Let's be clear: The goal can't be 100% retention of soccer players. That's unrealistic and counterproductive. We want kids to sample sports at early ages, avoiding burnout and developing their physical literacy. By age 14, some kids are simply going to find they're better suited to another sport. That's OK. The lessons we gave them on the U12 soccer fields should still be valid.
But if they're quitting before that point, and if they're quitting because the experience is horrible, we have a serious problem.
+READ: Dure: 2015 was a great year for arguing about soccer
The good news: Some of the solutions are in motion. We're doing more age-appropriate activities that keep players engaged and develop them properly. Snyder said the Philadelphia Union's youth programs have hula hoops and other gear to work on physical literacy because kids aren't getting the basic motor skills in limited elementary-school P.E. or from their soccer coaches. We can change the latter.
Snyder added something that might rival Eric Wynalda's upcoming session for controversy: Elite players will make it despite our involvement.
So we need to provide a fun, engaging and appropriately challenging environment for everyone. If we don't, the number of players will keep dropping — and with that, so will the number of elite players.
On tap later in the convention: Will U.S. Soccer's birth-year age group mandate cut even deeper into that player pool?
##
Beau Dure's new book, Single-Digit Soccer: Keeping Sanity in the Earliest Ages of the Beautiful Game, is now available in paperback at Amazon and in electronic form at Amazon, Barnes and Noble, and other online booksellers. Read more about it at SportsMyriad.
College Recruiting Commitment Tracker