Dure: Maybe Klinsmann's $2.5 million salary would be better spent elsewhere

Just like Bart Simpson's "I didn't do it," Jurgen Klinsmann's defenders have one good line at their disposal: "It's not his fault!"
The line gets weaker as time passes. He has been the U.S. Men's National Team head coach for more than four years now. Nearly two years ago, he was also given the title of technical director, which seemed to be what he was already doing, in U.S. Soccer's glowing words:
"In addition to guiding the senior Men's National Team, Klinsmann has been extremely active in building an integrated philosophy throughout the U.S. Youth National Teams, working closely with the coaches to develop performance driven standards both on and off the field."
+READ: Mexico downs U.S. Men's National Team in 3-2 OT thriller
Today, those youth national teams don't look so good, either. Saturday's loss to Mexico, which will keep the USA out of the Confederations Cup, followed a few hours after the U.S. U-23s lost to Honduras, leaving themselves a long road to get to the Olympics.
The reason Klinsmann got such wide-ranging responsibility is because we're supposed to be getting an across-the-board upgrade in how we do everything, all leading to a new American style. Which, four years into the Klinsmann administration, appears to be … praying for some random moment of magic to strike?
Soccer America offers up a double dose of "Where's the beef?" questions on the elusive Klinsmann-American style. Paul Gardner points out that "never-say-die spirit" Klinsmann hails on his team is something that certainly pre-dates Klinsmann. Mike Woitalla finds the U.S. team that was supposed to be getting more "proactive" has looked more reactive in the World Cup, Gold Cup and now the CONCACAF Cup. Maybe they should just tell all us youth coaches in the U.S. Soccer curricula: "Sit back and try to get it to Michael Bradley somehow."
Blame the player pool if you must. Perhaps Klinsmann honestly can't do any better than what he's doing right now.
But that's merely an argument absolving him. It's not an argument to keep him. If the USA can't do any better with this very expensive coach/technical director, then why keep him?
In 2009, the USA paid Bob Bradley $499,025. In 2013 and 2014, Klinsmann made roughly $2.5 million a year. (See U.S. Soccer's Form 990s for fun reading.)
+READ: Jurgen Klinsmann: Should he stay or should he go now?
So here's the $2 million question:
What else could U.S. Soccer be doing with that money that would improve the national teams in the long term?
No, it's not enough to remove the costs for all Development Academy players (and ECNL players — the women, World Cup win notwithstanding, have a few issues as well, and it's only fair to make soccer accessible for all). But it would be enough for several hundred scholarships.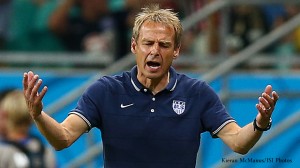 Or how about coaching education? That's how Germany, Klinsmann's home and supposed inspiration, turned things around in the 2000s. USSF is making slow progress here with the Digital Coaching Center and other initiatives, but the content smacks of something that isn't fully funded.
We can't really tell whether our current talent pool is good enough. On paper, this mix of MLS and Bundesliga talent that has racked up some good results on occasion should be good enough to make a better showing in the Gold Cup at least.
But we know we have so many potential players bumping up against high costs. And we have so many players whose first experiences with soccer are with coaches who barely even have access to proper education, much less any sort of solid license program.
+READ: Dure: Can a curriculum make a youth soccer club better?
Consider a Formula 1 analogy. Let's say you know your cars have fundamental flaws. Do you fix the car, or do you hire Lewis Hamilton to drive it and hope for the best? (Not that we have any evidence that Klinsmann is to his profession what Hamilton is to his.)
If the problems in U.S. Soccer are too deep for Klinsmann to fix, well, why pay Klinsmann and then not fix those problems? Why not fix those problems and also, as Woitalla suggests, develop some American coaches along with the players?
If Klinsmann thinks he's the man who can fix those problems with something other than "don't play high school soccer" (didn't seem to hurt prior generations of U.S. players) or "go play somewhere than MLS" (ditto), he should say so now. Or we should move on.
College Recruiting Commitment Tracker