Dure: Mapping the chaotic youth soccer scene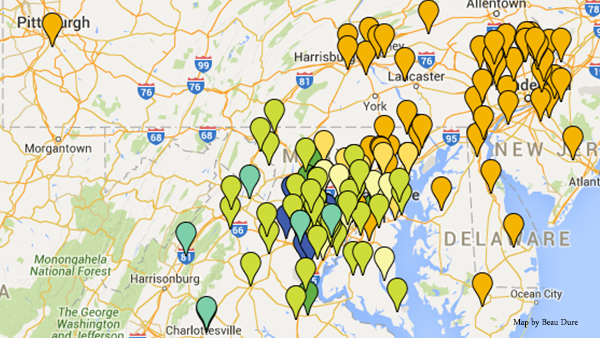 How far are you willing to go for a competitive soccer game?
Some parents consider a four-hour drive — whether it leads to a competitive game or not — a sign of their devotion to their kids' soccer dreams. Some parents want clubs and leagues to get real, and they're turning down invitations to "elite" leagues because they don't have unlimited gas money. Or they have perhaps more than one kid, and maybe the others aren't A-team soccer players, so spending a whole day driving the soccer player to Virginia Beach while the lacrosse player and young actor are scraping for carpools doesn't seem fair.
+READ: Dure: Travel soccer needs more soccer, less travel
To put the chaos in perspective, I've attempted to pull together a map showing all of the clubs in the Metro D.C. area and using different colors to represent the leagues in which their top teams play.
Sounds simple, right? Not really. Some clubs have their top teams in several competitions, maybe even within the same age group. And then "Metro D.C." expands when you include the competition in the U.S. Soccer Development Academy or the ECNL.
Another complication: Some area clubs have teams in Eastern Development Program (EDP) leagues. Some clubs put most of their top teams in those leagues. Some use EDP just to get a few extra games.
And sometimes, EDP play is relatively local. Sometimes, it means D.C.-area teams are trekking up to Pennsylvania and New Jersey.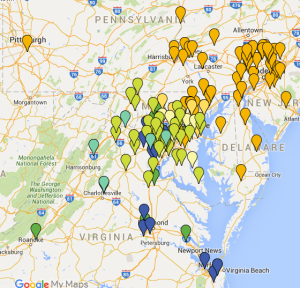 So on this map, "EDP opponents" is a separate layer meant to represent clubs that usually don't play in other D.C.-area leagues. When we take out that layer, along with the ECNL and DA clubs, we see the "local" clubs — those who may or may not have some teams in EDP but also play in the local-ish leagues: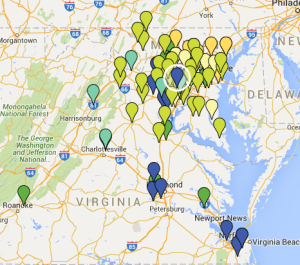 I didn't include clubs that play only in the Baltimore Beltway Soccer League (BBSL), the Central Maryland Short Sided League (CMSSL) or other Maryland-focused leagues. If those clubs are in the D.C. metro region, they usually have at least one team in EDP, NCSL or WAGS.
You can see the different levels of play in action if you take even a small slice of the map, reaching across Fairfax County and its environs.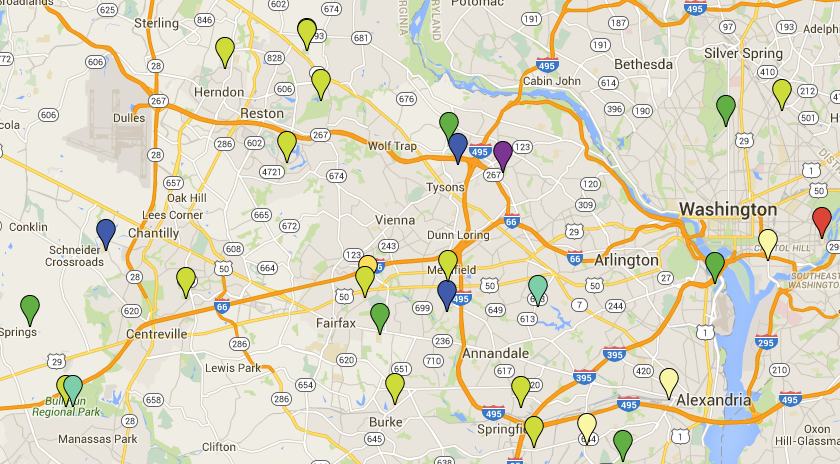 That gives you the general idea, showing how teams are traveling past their neighbors to play in different leagues.
Sometimes, they get good competitive matchups out of it. Sometimes, they don't. CCL and VPL are predicated on the notion that each member club will have a competitive team in every age group. Then without promotion/relegation, teams that struggle have few options. An Under-12 team that can't keep up is doomed to several years of lopsided games unless they can recruit some players from elsewhere.
VPL split this season into "A" and "B" based on past performance — not by team, but by club — but that split is only in effect for the spring season, when teams of high-school age are not participating.
EDP offers several tiers of play, and even its "All-In" clubs may not enter a particular team at all if that team isn't up to that level. Sometimes, that leaves a division with reasonable travel and reasonably competitive games. Sometimes, they don't have enough teams to make the tiers work, and you're driving to New Jersey.
Not that travel in NCSL, WAGS or ODSL is always ideal. The early age groups are generally broken down by region. As teams get older and settle into promotion/relegation tiers, they may be traveling the width of the league's catchment area.
Would it help if all of these clubs simply played in one league, perhaps with one top-tier regional league but then multiple second tiers and third tiers so teams can be subdivided by region as well as skill level? The local Department of Transportation would surely say yes.
But that would mean agreeing to an overarching philosophy and putting aside some egos. Much easier said than done.
A few notes on the map:
I have not done a separate breakdown of teams in this season's U.S. Youth Soccer National League or Region 1 Champions League. National League teams are usually in Region 1 league play as well. If you click on a particular pin, I've noted the number of "R1/NL" teams in each club. Note that this is only for this season — teams qualify for play each year. In many senses, these competitions are like Europe's Champions League — they're tournaments that clubs enter on top of their usual league duties.
Clubs in the Development Academy or ECNL have multiple pins — one for DA or ECNL, one for whatever league takes the rest of their top teams.
Labeling clubs as "EDP" required some judgment calls. If they have teams in most EDP age groups, they're listed as EDP. If they're split between EDP and NCSL(/WAGS), they're listed as "EDP/NCSL." Some clubs labeled "NCSL" have an occasional team in EDP as well — click on each pin for more info.
I have not included the U-9/U-10 YDL, which includes teams from Annandale, Chantilly YA, Gunston, VSA, PWSI and two FC Virginia branches.
Every effort has been made to be complete and consistent. But crowdsourcing is welcome. If a club has recently announced a switch to a new league or possibly a merger with another club, please pass along that info in the comments.
If the map won't open for you below, try the link in this tweet:
A layered map of Metro DC youth soccer leagues https://t.co/pVYmVGAgJv

— Beau Dure ?️⚽?‍? (@duresport) April 29, 2016
CORRECTION: A previous version of this story did not account for VPL's split into "A" and "B" divisions only applying to the spring season.
—
Beau Dure's book, Single-Digit Soccer: Keeping Sanity in the Earliest Ages of the Beautiful Game, is now available in paperback at Amazon and in electronic form at Amazon, Barnes and Noble, and other online booksellers. Read more about it at singledigitsoccer.com
College Recruiting Commitment Tracker