DC SCORES Poetry Slam puts "soccer problems" in perspective

Have you ever been to a poetry slam? I just attended my first one at H.D. Woodson High School in Northeast D.C.
The performers were elementary and middle school students who are part of DC SCORES, a program which serves 1,500 low-income D.C. youth at 47 schools through soccer, creative writing and service learning. The coaches are DC Public Schools teachers who have been working with these kids on the soccer field and in the classroom since September to orchestrate and choreograph the self-expression that has come to life in the poetry on stage this evening.
Bethany Rubin Henderson, the executive director of DC SCORES greeted me when I entered the auditorium and pointed me to a row of seats down front where the "coaches" sit. As all the surrounding seats were filled with kids in brightly colored, matching t-shirts, I chose instead to sit in the seats to the back reserved for the rest of us.
From the second I walked in, the SLAM kids' stepping and singing and speaking and preaching, had me riveted. They were totally poised and completely full of themselves in front of this sea of fellow competitors cheering wildly. From the rows of parents, relatives, neighbors and friends came hooting, applauding and shouted encouragement like, "Oh-kay," "That's right," "Tell it!" "Yeah girl!"
DC Scores was founded in 1994 by a DC Public Schools teacher who was concerned about what her students would find to do after school. What she started as an after school soccer and writing program now serves 8,000 students at more than 150 public and charter schools in 14 major cities. Their mission is "to inspire urban youth to lead healthy lives, be engaged students, and have the confidence and character to make a difference in the world."
The numbers and the stories behind those numbers say it's working. Ninety seven percent of these students feel they have a lot to be proud of, and that is on full display on the SLAM stage, along with some very honest self-expression.
+READ DC SCORES' Poetry Slam blog 
"I am Trayvon, I am Michael, I am Jayden. Bang, bang, our community isn't safe," begins one young artist from Thomas School United.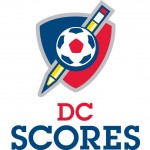 All of a sudden I feel every bit the middle-aged, blond, Caucasian soccer mom who stands out like a very sore thumb. As I sink in my seat I am in absolute awe of the wisdom and courage in this young man as he continues…
"I want UNITY, for my school and my community.
I want people to know I have potential.
I want people to know I have a dream.
I want people to believe in me.
I want people to think about their choices.
I want people to care about what happens to me.
I want people to know that at Thomas, I am someone.
Someone with thoughts, a choice and a dream."
Rescuing me from my discomfort, Aiton Elementary takes the stage and their theme song brings every kid in the audience to his feet. There's clapping and stomping and hand waving and singing. It's total mayhem. With camo headbands and faces painted half black and half white, each one comes to the microphone to proclaim why 'I am a Survivor.'
"I don't criticize. I exercise…
Ironically, DC SCORES has asked me to work with their coaches to reduce injury risk for these kids. How can I possibly do that? The issues I address are overuse, under-motivation, and training errors. These kids have none of these problems, and I can't recommend more street soccer for kids who have been playing in the streets their whole young lives.
But the streets and neighborhoods they come from are full of risk. They have every right to blame their circumstances for their hardships, but instead they have set it to poetry. Rather than letting it defeat them, it has motivated them. They're all about T-L-C. No, they don't want to be coddled. TLC stands for teamwork, leadership and commitment, and it's everywhere on this night.
+READ: LeBolt: Julie Foudy offers an alternative for our childrens' soccer development
Sometimes it just takes a SLAM to get my attention.
Next time I hear a kid gripe because we're late to practice again or complain about the coach, or the too-much training. Or next time I feel like grumbling about the $110 kit they're wearing or the $500 tournament entry fee or the referees who didn't show up or the ones who did and called a terrible game, I hope I'll remember these DC SCORES kids.
For $28 you can buy a kid a uniform like the one your kid wears, but you don't have to spend a cent. Just spend a few minutes reading their stories and listening to their lives. Nothing speaks truth like perspective.
College Recruiting Commitment Tracker