COLUMN: Scored a goal? Great, now go thank your teammate…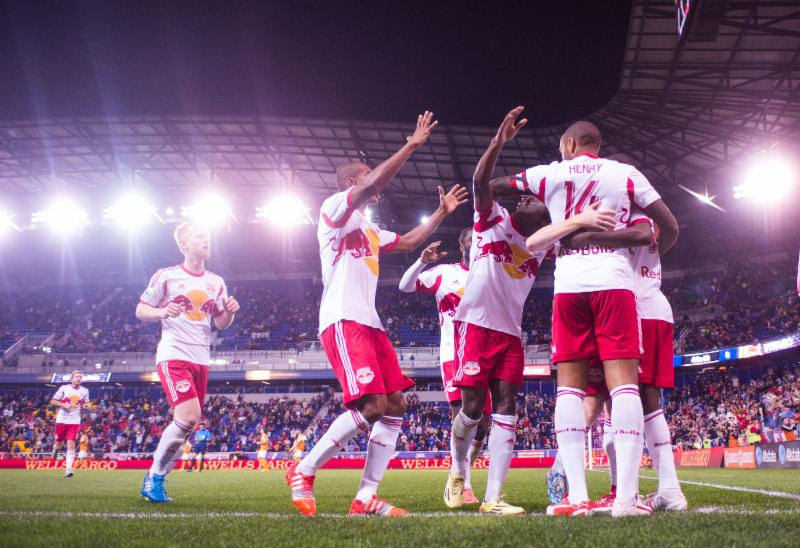 Thierry Henry is right.
The French international and former Arsenal/Barcelona/New York Red Bulls star has never been afraid to speak his mind. Whether it was facing down the racist taunts that followed him during his European career, or calling out teammates for not doing what he expected of them on the field, Henry tells it like he sees it.
This week the retired footballer called out Javier Hernandez for celebrating a game-winning goal like he had "won the World Cup."
Henry is spot-on for doing so.
It was the 88th minute of Wednesday's Champions League match between Hernandez' Real Madrid and their long-time rivals Atletico Madrid when Real Madrid's Cristiano Ronaldo received the second pass of a one-two and, with his usual style, penetrated Atletico Madrid's penalty area.
+Read: Over-coached college basketball can't measure up to The Beautiful Game
As two defenders AND the goalkeeper went for Ronaldo, the Portuguese star deftly slipped a pass to the wide-open Hernandez. The Mexican international, on loan from Manchester United, slotted home into an empty net for the eventual game-winner and, with it, a spot in the coveted Champions League semifinals.
Henry, now a television analyst before his next likely move into coaching, was unimpressed with Hernandez' post-goal reaction.
"That's Ronaldo's goal," Henry told Sky Sports,. "At that particular moment he couldn't shoot, so he didn't take the risk of doing something stupid and silly with it.
"[Ronaldo] saw a guy in a better position, which Chicharito was, and he gave him the ball. What I don't like is Chicharito seems like he's won the World Cup with that."
Indeed. Hernandez, who goes by his nickname Chicharito, immediately sprinted to a corner flag, arms wide open as he soaked in the adoration of the Real Madrid fans.
+Read: Doing the right thing, even when it hurts
"It's a tap-in," Henry said. "Turn around and celebrate with Ronaldo. Even the camera knew – the camera is on Ronaldo for a reason."
And so were the defenders. There's a reason Hernandez was so open – three players, including the goalkeeper well off his line, went toward Ronaldo fearing a shot on goal. As Henry correctly points out, Ronaldo – who is not afraid to put a shot on goal himself – passed to the open player who was in a position to score.
"If Ronaldo had done that I would have said the same thing," Henry said. "You have to pass the ball, but it's still a tap-in and you have to turn around and say thank you."
And that's where Hernandez made his mistake. Not the celebration per se. After all, the goal has sent his team to the Final Four of the second most popular soccer tournament in the world. It was worthy of celebration.
But it was Hernandez' complete failure to immediately acknowledge Ronaldo's effort that created the goal-scoring opportunity that grates at Henry. And others.
Watch an NHL game, for instance, and the winning team immediately surrounds the goalkeeper to lavish him with hugs and handshakes. Tim Duncan of the San Antonio Spurs points to Manu Ginobli, thanking him for the pass that led to Duncan's dunk. Field goal kickers hug their placeholder and the offensive line, thanking them for their work. Pitchers tip their hats to outfielders for making an athletic catch to save a run.
+Read: Why more coaches should use 'The Coerver Method' for soccer player development
In soccer, there may have been no better example of this than Henry. One of the greatest attacking players of his generation, Henry arguably has the ego to match. But he also appreciates the importance of teammates. The Frenchman scored his share of one vs many goals, some of them simply breathtaking. But far more often you'll find him on the end of a well-placed cross or a perfectly weighted split pass between two defenders into space. From there, it was just a matter of tucking the ball into the corner, or completing his trademark shot – opening up his hips to bend a shot around the goalkeeper and just inside the far post.
What did he often do next? Point to the player who created the chance, a non-verbal way of sending the message, "You did the work. Thanks."
Soccer is a game that requires individual brilliance. The "Matthews" feint to beat a defender, the curling free kick around a wall into the side netting, or the diving save of a penalty kick, for examples.
But it's also a team game. A goal is typically scored because a number of players on the attacking side did a lot of things well to put the ball in a position to be scored. The actual goal comes down to one player doing the right thing. But the opportunity was created because a number of teammates also did the right thing.
To celebrate the collective and ignore the individual beauty and creativity of soccer is wrong. But so is focusing only on the individual accomplishment and forgetting the teamwork that was necessary to getting the goal. Both are needed.
For a few moments, Hernandez forgot that. And Henry was correct to remind him.
College Recruiting Commitment Tracker