Chapter 49: CHANGE THE WAY YOU PLAY – ROOKIE: Surviving Your Freshman Year of College Soccer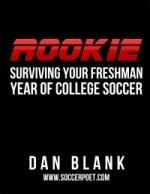 At our end-of-season individual meetings, we inevitably have this conversation with one of our freshmen. When she was playing for her club, she was much more dominant than she was as a first-year collegiate player. That's only natural. At the club level she competed against players her own age and there were geographic restrictions on the available talent pools. When she gets to college, she is playing against players who are four years older and who come from all over the world. Even some of her fellow freshmen are just plain better than she is. The speed of play is faster, the game is more physical and the players are smarter tactically. She shouldn't be as dominant as she was in the club system. The things she got away with down there won't always work so well up here. But the biggest problem she faced came from her own brain because she refused to adapt to the demands of her new environment.
The jump from club/high school soccer to college soccer is immense. College soccer is a club soccer all-star game, and some of those all-stars have the benefit of two or three years of experience under their belts. You can't expect to waltz in and have everything work as well as it did when you were in high school. You should enter college soccer with the understanding that you're going to have to change some things about the way you play. You have to adapt to survive. It's soccer's brand of Darwinism.
You have strengths and you have weaknesses, and some things that were legitimate strengths in high school are now just average abilities in your new world. Speed is an easy example. Many who were the fastest player on their high school teams wouldn't finish amongst the top ten in a race against their college teammates. Remember – bigger pond, bigger fish.
You may have been a dominant 1v1 dribbler in high school or club, but guess what… you're trying to dribble against better defenders now. They're faster, stronger, smarter and as a bonus, they're going to be more organized. Don't expect college defenders to stand there like some of the cardboard cutouts you played against in high school.
By and large, the goalkeeping in high school soccer is fairly horrendous. If the ball gets on frame, it has a reasonable chance of going in, so players shoot from all types of ridiculous angles and distances and they're often rewarded with goals. Well, the goalkeeping is much better at the collegiate level so it might be a wise idea to give greater consideration to your shot selection.
These are among the most common issues that players are faced with when they get to the bigger pond. You'll figure out what works for you pretty quickly. You may have been the fastest player on your high school team and then find that you are also the fastest player on your college team as well. If you are, well then rock on! But chances are, when you get to college, some of your strengths aren't as mighty as you once thought.
Knowing your strengths is the easy part. The tricky part is letting go of the things that will no longer work for you. If you can't let go of those things, you'll just end up banging your head against a wall. Some things just won't work for you, no matter how hard you work at them. Sometimes hard work just isn't enough. Sometimes you're better off changing what you're working hard at.
You need to identify your new weaknesses. Accept your limitations and create a plan to reinvent yourself. Your ability to adapt will determine whether you stagnate or keep improving. If you stagnate, you'll see a flood of teammates passing you by in the quest for playing time.
At the end of your first season of college soccer, you should be able to definitively answer this question: How have I changed as a player? You should be able to produce some type of clear cut answer. In some form or fashion, there should be something different about the way you think and play the game. If there isn't, you are failing to adapt.
I guarantee you that your coach will have given you plenty of feedback on how he wants you to change as a player, even if you haven't asked for it. It's up to you to process that feedback and use it to your advantage to become a better college soccer player.
Feedback << Previous Chapter | Next Chapter >> The Response
College Recruiting Commitment Tracker