Chapter 44: TAKE THE ANSWERS – ROOKIE: Surviving Your Freshman Year of College Soccer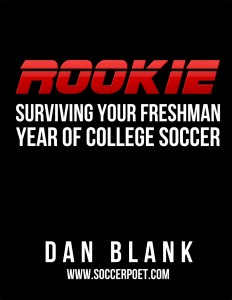 Here's the thing about your coach… He's sort of like a professor who has decided to feed you the answers to the next exam. That's literally what he attempts to do. Every day your coach tries to feed you the answers to a one-question exam, and the question is: How do I get on the field?
When you're trying to position yourself as the best of the rest, you've got to be smart enough to take those answers. It was actually a player who made me realize this.
In my current job, I am in charge of coaching the defenders at the University of Georgia. Every Wednesday night I meet with the defenders to review video of our most recent games. At certain points I'll freeze the video and ask the players, "Okay, what should happen next?" Or, "Where should this player be moving to?" I want each player to understand not only her position, but also the positions of all the other defenders. So I show them these situations and ask them to give me the answers.
A few years ago, during one of these meetings, I noticed that one player was answering the majority of the questions, and she wasn't exactly knocking people out of the way to do it. She would sit there and wait until it was obvious that no one else knew the answer, and then she would, almost regretfully, answer the question with absolute precision.
That's not the amazing part; the amazing part is that this player, Jenna Buckley, wasn't one of the starters. The starters could answer most of the questions, but not all of them. Jenna, on the other hand, could spit out the answer to each and every question I asked. This became a bit of a trend. Each week there was at least one question that no one could answer except Jenna. When I asked her how she always knew the answers, she said, "I just pay attention."
What a revolutionary concept!
I give my defenders a handbook that details our system and how to play it. I watch video with them at least once a week. And oh yeah, I work with them on the field. The questions I ask during videos aren't brain-busters; they are things we've covered time and time again. Every day I gave them the answers, but only one player was really paying close attention.
Jenna could have easily checked out. She wasn't starting and we almost never substitute our defenders. Jenna was a very talented player, but her chances of playing were slimmer based solely on her position. Still, she paid attention. And yes, she took the answers.
A few weeks later our starting center back got injured very late in a game. Jenna got to start the next game and she was absolutely sensational! Her understanding of the position was so remarkable that by the end of the game, Jenna Buckley was anointed as our new starting center back. Three months later, her teammates elected her as captain.
Jenna never checked out. Her training habits never dipped. She focused on the things she could control and did her best to own every single one of those things. And she paid attention. When I fed her the answers, she was clever enough to process and internalize them.
The coach wants to see you do well. He wants you to succeed. That's why he gives you the answers day after day after day. That's not by accident. If you want to ace the test, you've got to be smart enough to take advantage of his generosity.
And oh by the way, I hope you realize that I've been feeding you answers since you started reading this book. That's not by accident either. The question is: Have you been paying attention?
Positioning And The Great Mistake << Previous Chapter | Next Chapter >> Your Most Abundant And Undervalued Resource
[table "" not found /]


College Recruiting Commitment Tracker