Chapter 37: THE FOUR TIERS – ROOKIE: Surviving Your Freshman Year of College Soccer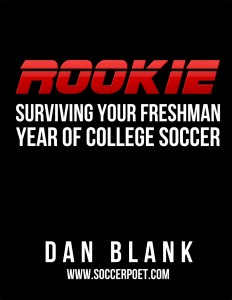 When it comes to playing time, there are four tiers to a college soccer team:
– Starter
– Reserve
– Travel Squad
– Roster
The starters and the reserves are the players who actually get on the field on game day. The travel squad includes the players who make the trip to an away game but don't play. The roster players are the ones who aren't selected to make the trip.
There is a constant shifting amongst these tiers. Players are continually moving up or down depending on performance, injuries and suspensions. Making the travel squad is a very reasonable goal for any rookie who has joined a strong program. It means you're in the hunt to get on the field. When you aren't selected for the travel squad, you've got your work cut out for you.
It'll be pretty easy to know where you stand after a week or two of games. If you're a starter, then obviously you're doing something right. Just be aware that you do not own that spot; you are just renting it by the day. There are people on a lower tier who want what you have so you better keep working hard to defend it.
Just Say No << Previous Chapter | Next Chapter >> The Truth About Playing Time
[table "" not found /]


College Recruiting Commitment Tracker