Chapter 29: PLAY TO YOUR STRENGTHS – ROOKIE: Surviving Your Freshman Year of College Soccer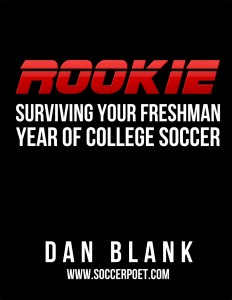 I wish there was one magic formula for impressing your coach, but every coach is looking for something a little bit different, so there's no one-size-fits-all proposition. Your coach is going to have his own criteria and it might take you a little while to figure out what he's looking for. In the meantime, you've got to figure out how to make your strongest case as a player who will help his team win.
Before we move into what to do to win your coach's favor, let's talk about what not to do, and this one is in fact universal. If you want your coach to see you as an asset to his team, the one thing you absolutely cannot do is give the ball away any more than absolutely necessary. You have to show that you are trustworthy with the ball.
If you make 15 passes during a game, and 8 of them go to the opponent, your passing percentage is less than 50%. That means you passed the ball to the opponent more times than you passed it to your own team. In effect, you are playing for the opposition, and that won't help your cause. As a baseline for making your case, focus on keeping the ball for your team. Being dependable with the ball, in and of itself, may be enough to propel you into the top half of the talent pool. However, you probably bring some other things to the table that you'll want the coach to notice, and preseason is the time to unveil those suckers.
The best on-field advice I can give you is to play to your strengths and away from your weaknesses. As over-simplified as that may sound, each year I see rookies who fail to put their best weapons on display.
If you are fast, then you need to look for opportunities to run footraces. You need to show off your horsepower every chance you get. When a teammate passes you a ball into space, sprint like an Olympian! If, on the other hand, you're not so fast, then you need to avoid those footraces whenever possible. You can't necessarily hide from footraces when it comes to your defensive responsibilities, but when your team has the ball, ask for it at your feet instead of into space.
If you are a 1v1 specialist, you'll have plenty of preseason chances to put those skills on display. Don't save them for a rainy day! Bust out your greatest hits as early as you can. And when you have the chance to go 1v1 at a defender during scrimmages or small-sided games, make the most of those opportunities.
If you specialize at taking free kicks or corner kicks, make sure you take some of them during your scrimmages. You may have to summon three seconds of courage to claim the rights to those kicks, but if you deliver, your stock can skyrocket!
Preseason may seem like an eternity, but at some point it actually will end. Make your best case as quickly as you possibly can. Give the coach a reason to notice you. If he sees something he likes, he'll see something he can work with, and then he'll begin looking for ways to mold your special characteristics into the framework of his style and system.
I once coached a player who had a 40-yard throw-in that nobody knew about until there was a week left in her rookie season. I coached another rookie who everyone thought was pretty slow until, with two days left in the regular season, she beat the entire team in a footrace. And I was left wondering, 'Where the heck has that been?'
Had these players unveiled their weapons earlier – like during preseason – they would have undoubtedly seen more playing time. But for whatever reason, they took the wholly impractical approach of hiding their special talents.
Don't make that same mistake. Do your best to play the game on your terms. Give the coach a reason to notice you and then make the adjustments as he coaches you.
R*E*S*P*E*C*T << Previous Chapter | Next Chapter >> Tell, Don't Ask
College Recruiting Commitment Tracker