Chapter 10: DON'T BURN BRIDGES – ROOKIE: Surviving Your Freshman Year of College Soccer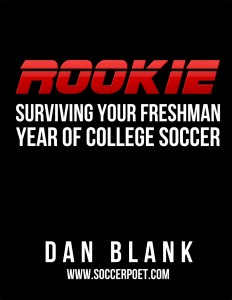 This is one of those topics that you're much better off learning ahead of time.
Here's the thing about college and college soccer…it might not work out, and there's a thousand reasons why. You might not like the academics. You might not like the social life. You might end up unhappy with your playing time or t he style of play. You may end up not liking some of your teammates. And one or more of these factors may unsettle you to the point that you decide to transfer.
Now obviously we both hope that this isn't the case and that you are thrilled with your college choice and that your college soccer experience is exactly as you had imagined. But we're better off preparing for the worst and hoping for the best.
If you decide to transfer and continue playing college soccer, make no mistake, your coach is going to be a major part of your Plan B. You're going to need a release that allows you to speak with other universities, and your coach decides whether or not you'll get that release. Once you have a release, chances are that you're also going to need a recommendation from your coach.
The college coaching world is far smaller than you might imagine. I would bet that there isn't a college soccer coach in this country who isn't, at the very least, the friend of a friend of mine. If I don't know him myself, I know someone who does. Yes, we have a bubble of our very own.
When a player from another university contacts us about transferring to our university, the very first thing we do is call her coach and ask why she is leaving. And these coaches are brutally honest. They have to be, because in our bubble, what comes around goes around. We may be competitors, but we cooperate in these situations because we have to protect our names and because eventually the shoe will be on the other foot. My point is that your coach won't lie for you. He won't make you sound better than you are. He won't sugarcoat your abilities or the effect you've had on team chemistry. And, if the situation so warrants, he won't hesitate from telling us that you're a jackass.
The bottom line is that you need your coach, so even if you don't hit it off with him, do your best to maintain a positive relationship. If you're unhappy, don't go around lighting fires because you'll only end up burning yourself. Minimize your losses so if the time to transfer rolls around, your coach will be inclined to say nice things about you.
If you should decide to transfer, I strongly suggest that you inform your coach immediately once your season has ended. He'll want as much time as possible to replace you, particularly if you are on a scholarship. He might not like that you're leaving, but he'll appreciate the early notice because it gives him the best chance to find another player. In his eyes, when it comes to recruiting, every day matters. If you wait until mid-March to announce your intentions, you've left your coach with very little opportunity to find your replacement and he won't think so highly of you. And that's not the person you want talking to other coaches on your behalf.
If you decide to transfer, keep this in mind: At the moment you ask for your release, you basically cease to exist as a soccer player at your university. You won't be allowed to attend training sessions or other team functions. All of the resources you had at your disposal a day earlier will vanish. You won't even have access to a bag of balls.
I've seen players go through this and it's a little bit sad watching them search for other soccer opportunities around town, scrounging for pick-up games or kicking a ball against a wall. This is why, if you're set on transferring, I suggest you transfer at the Christmas break and start the spring semester at your new university on your new team. Hanging around won't do you or anyone else much good. You're better off making a clean break and getting your fresh start as quickly as possible.
Make Your Own Decisions << Previous Chapter | Next Chapter >> Your Shopping List
College Recruiting Commitment Tracker