A look back at the 2013 Virginia Tech Women's Soccer season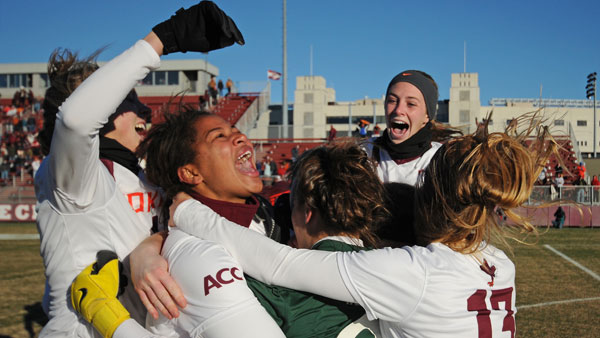 Editor's Note: The 2013 season was a historic one for the Virginia Tech women's soccer program, as the Hokies earned a No. 1 seed in the NCAA Tournament and advanced to their first-ever NCAA College Cup. Sophomore goalkeeper Caroline Kelly had the following players' perspective published on Hokiesports.com and gave us permission to reprint it on SoccerWire.com for your enjoyment.
By Caroline Kelly, via Virginia Tech Athletics,
Being a member of Virginia Tech women's soccer team this season was one of the most incredible experiences of my entire life. One of the most rewarding aspects of our team was our ability to believe in ourselves, that we were capable of doing anything. It may sound cliché, but it is the affirmed belief in a group by every member that allows great feats to be accomplished.
VTWS starts every season by coming together as a group and creating goals for our season. Once a goal is achieved, there is a tangible feeling of satisfaction, but that didn't happen this year. We were never satisfied with how far we'd come because we knew there was further yet to go.
The creation of this unified belief within our team can be in part attributed to our coaches bringing in Mark Tribus and Scott Pelletier during preseason training and Dr. Gary Bennett, our sport psychologist, throughout the season. Before the season kicked off, Mark and Scott used their Army background to break each of us down individually, through physical and emotional tasks requiring us to build each other back up as a team.
The other aspect of the season that motivated us was the incredible support from Hokie Nation. The boys (who became known as the Shirtless Boys within our team) who painted their chests for every home game no matter the temperature were regular guys with no prior connection to the team, yet their commitment made them a fixture at Thompson field. Having them travel to Cary for the ACC Tournament and the Final Four helped bring Thompson Field's incredible atmosphere with us.
There were countless acts of kindness sent our way from so many different directions. Video shout-outs from Frank Beamer, a dinner party presented by a group of boosters, being honored during a men's basketball game, a good luck poster from the lacrosse team: all of these moments demonstrated to us once again how incredible our Hokie community is. It allowed us to focus on ourselves rather than the situations that were out of our control.
The highlights of our season are pretty obvious when you look on paper and see our results, but the true impact of what our accomplishments mean is hard to put into words. Things like rushing the field after sudden-death overtime winners, beating No. 1 UVA 4-2 in the ACC Tournament Semifinal to hand them their only loss of the season, getting a No. 1 seed in the NCAA Tournament, beating Santa Clara in penalty kicks and beating Duke to make it back to Cary for the College Cup were all moments of true elation that will never be forgotten.
With that said, there are always a few "behind-the-scenes" moments from every season that become just as important and meaningful as the results we get on the field and this season was no exception. Every season, we embrace a song that becomes our "anthem" and this year it was "Timber" by Pitbull and Ke$ha. Whenever this song blared through the stereo system in our locker room, it was mandatory for everyone to get up and start dancing. It was only fitting that it played over the speaker system, sparking the celebration of our Final Four berth after we beat Duke.
Obviously, the one song that is a staple for our team (and all Hokies) year in and year out is "Enter Sandman." We all know it's game time when the lights in the locker room are turned off and we begin pounding on the walls, letting the opening crescendo of the song pump us up before we walk out onto the field.
One of the simpler pleasures that we have on the road is when a hotel offers complimentary cookies. There is nothing better than being handed the road trip itinerary and seeing that the hotel accommodates our love of sweets. We especially appreciate the staff that let us take as many as we want (which can be a dangerous thing).
If we're being honest though, nothing gets this team motivated more than the promise of dessert. On one of our five-day road trips this season, Coach Lycan and Katie Baer (one of our assistant coaches and our athletic trainer) created a version of Amazing Race for us to break up a long day cooped up in a hotel. For the winning team, there was the promise of dessert at dinner, while the losing teams would get to watch. Once in teams, we all quickly tried to complete the first task: correctly naming 35 state capitals. It's safe to say that the competition could have started and ended there, as all but one team struggled with it.
At the beginning of this season, nobody in the soccer world predicted that we were capable of what we achieved–except the 30 women that make up this team.
We took our program to new heights in more ways than one. It was all capped off this past Friday, when Jazmine Reeves became the first-ever Virginia Tech player drafted into the pro ranks by the Boston Breakers.
It is now time for us to head into our offseason to prepare for the upcoming season. The focus will be to continue to take our program to even greater heights. We shattered the glass ceiling already this year, but we will never be satisfied when there are still accomplishments to be had.
College Recruiting Commitment Tracker