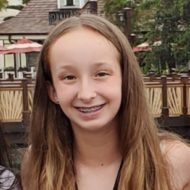 Alana Woods
Dual nationality – USA and Portugal
Alana has been playing soccer since 5 years old. She was born in 2005 and is currently playing in the Florida Premier League (FPL). She previously played for a local Liverpool affiliate in West Florida. She has also played internationally, in Colombia and France. She is primarily a defender and typically plays in the right-back or center-back position.
In addition to soccer, Alana plays basketball. During the 2019/20 season, she became the first athlete, male or female, at her high school to play both basketball and soccer in the same year. Because the seasons were exactly overlapped, this was a testament not only to her athletic ability but also to her ability to manage multiple competing tasks and excel at communication, for which her coaches commended her on both.
Academically, Alana maintains an accelerated, advanced course track while achieving goods grades and having a high GPA. Upon graduation from high school, she is on target to be awarded a certificate in medical studies and a College Associate's Degree. Her aspirations include playing soccer internationally and/or collegiately and studying to become a neurosurgeon.
Alana is also very active within her community. She volunteers her time with charity, Special Olympics and holds various responsibilities at her church.
She is a well-rounded, level-headed, humble young woman.
Location:
Trinity, FL, United States
Player Specifications:
Position:
Defender, Forward
USNT Eligibility:
Eligible